Bayliss doubles up, but they're getting closer!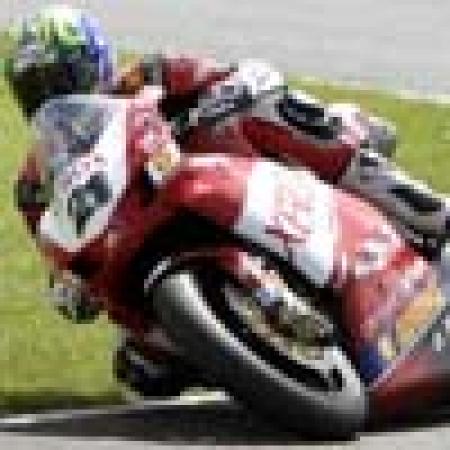 Raceline Photography
By Rob Every
June 4 2006
Troy Bayliss again took a double victory as World Superbike made the first of two UK visits in 2006. The Aussie, no stranger to UK tracks with a BSB win in 1999, took his Xerox Ducati to victory on the fiddly Silverstone National circuit, but the opposition, especially Nori Haga, is getting closer.
On to the first race, then, and the Santander Yamaha R1 of Nori Haga shot into the lead - the Italian based team having tested new parts back home recently, and the new pace showed at a track Nori has won at before.
Chris Walker, as usual got a great start and held third for a while, behind Haga and second man Bayliss - the Brit now equipped with the 'fast' engine Régis Laconi had at Monza, and re-establishing his place as the pacesetter in the PSG-1 Kawasaki team.
Another man making great strides here was Spaniard Rubén Xaus. The Sterilgarda Ducati rider showing the form that won him plenty of races a few years back on factory Ducatis, and finally looking fit and mean after his broken leg during the winter. Xaus indeed caught and passed Bayliss as the pair pulled away from the field, and simultaneously chased Haga, who had bolted to a decent lead. Rubén though couldn't really catch Haga, and Bayliss seemingly did his usual trick of saving a bit of tyre mid race and waiting 'til the end.
Another man making a recovery was James Toseland - the former champion - as most Honda riders seem to do, making a poor start from a lowly grid position, but thereafter showing race winning pace.
Up front then, and the battle was Bayliss-Haga. Troy did manage to get in front in the complex section, running right the way round outside Haga, until the Japanese got him back for the fiddly chicane that ends the lap. That was around half distance, and sure enough with three laps left Troy pulled the same move and Nori was powerless to resist. But the Japanese gamely tried and looked closed enough on the last lap, before a small error lost him time and space to challenge. It was a good job for Nori as well, as Toseland was hammering in faster laps than either and, with another lap, would have been right with both!
Xaus rode brilliantly for fourth, and Andrew Pitt continued his run of excellent consistent finishes with fifth. Troy Corser, Alex Barros and others were caught up in a first corner crash that saw Corser somehow get missed by the pack as he slid under them into turn one, causing a restart. The reigning champ finally bowed out with a very slow crash at the awful chicane and couldn't restart.
Race two, and the same pattern really, bit of a dustup in the early laps and some interlopers getting good starts, then Haga and Bayliss breaking away to battle for the race win.
It was Chris Walker again who launched the PSG Kwak into an early lead, that pleased the home crowd immensely, but the bike doesn't seem anywhere near the real pace yet. Also in there was surprise pole winner Tommy Hill on the Virgin Yamaha, having a run out from the BSB series and nabbing pole in a wet Superpole session. Walker held on for three laps until first Haga then Bayliss fought past, Chris holding on gamely though. Bayliss then decided that leading was preferable to following, and made a super pass on Haga to lead the way yet again.
Further back the battle was on yet again for Toseland, as he fought off many riders striving to nick his second podium place of the weekend, among them Corser, Walker and Pitt!
James though hung on to get third, really ticked off though at a poor qualifying effort that left him too much work to do in the races. Can't have been too bad though, coz he stripped completely after the races, leathers and all into the crowd! Pitt yet again impressed hugely with fourth, the Aussie can't be far away from a podium now and has the consistency, just not quite the speed.
Barros again was quick without really setting the world alight, but this is a track he has no experience of, which is an excuse that can not be blamed by Lorenzo Lanzi - the Italian really must have a wake up call if he thinks 16th places are gonna be any good for his future.
Another man out of sorts on a track he knows better than anyone was Yukio Kagayama, the Japanese struggling to 13th and 14th places. It seems the Suzuki team are in a bit of trouble currently, unlike their friends in the US and the UK who are doing pretty well right now!
Grid positions (wet Superpole session): 1 Hill, 2 Bayliss, 3 Walker, 4 Haga,
5 Fabrizio, 6 Barros, 7 Xaus, 8 Muggeridge, 9 Laconi, 10 Corser, 11 Pitt,
12 Gimbert, 13 Nieto, 14 Toseland, 15 Abe, 16 Kagayama, 17 Lanzi, 18 Clementi, 19 Neukirchner, 20 Brookes, 21 Nannelli, 22 Rolfo, 23 Jones, 24 Foret.
Standings after ten races: Bayliss 225; Corser 149; Haga 133; Toseland 129; Barros 113; Pitt 103; Lanzi 62; Xaus 56; Abe and Walker 51.