Ryuichi Kiyonari's day at Snetterton BSB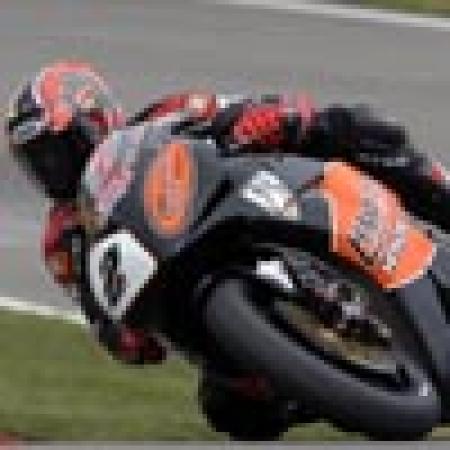 Raceline Photography
By blue2bikes
June 21 2006
As the British Superbike series met the halfway mark at Snetterton, in the Norfolk countryside, all eyes were on the Ducatis of Leon Haslam and Gregorio Lavilla, along with on-form Ryuichi Kiyonari and his Honda.
There was excitement in abundance as the young 'Pocket Rocket' Leon sent the previous lap times tumbling, to accomplish the first sub 1min 5sec lap during qualifying - taking his third pole of the season. Expectations were at a high as this could be the first win for Leon, who had previously been leading races only for his team-mate to overtake him and collect the win.
Young gun Tommy Hill, having been released from hospital on Tuesday after a serious bout of food poisoning, was to take a very creditable fourth place behind third placed man Ryuichi Kiyonari and second placed man Gregorio Lavilla. So the scene was set for what promised to be a battle between the two Ducatis, the Honda FireBlade, and the Virgin Yamaha come race-day.
Rizla Suzuki rider Shane 'Shakey' Byrne was not in the line-up due to a brake failure whereupon the pivot pin on the brake lever fell out, and he was left with no front brake and crashed at 187 mph - suffering from bruising and being concussed during Friday's practice session, leaving him with no ride due to suffering from concussion.
Shane's stand in for the race was to be young up and coming rider Jon Kirkham, who Rizla have been watching for some time and knows the Suzuki machine. James Haydon was in the Rizla Suzuki line-up, although suffering from his damaged shoulder sustained at the Mallory Park round two weeks ago.
Top ten qualifiers for race day:
1 Leon Haslam
2 Gregorio Lavilla
3 Ryuichi Kiyonari
4 Tommy Hill
5 Karl Harris
6 Michael Rutter
7 James Haydon
8 Johnny Rea
9 Simon Andrews
10 Dean Thomas
As the lights turned green for race one it was to be Ryuichi Kiyonari to take the lead, with a hard charging Karl Harris behind, followed by Gregorio and Leon. The first lap wasn't without incident, with Simon Andrews falling at the Esses and his machine sliding across the grass and across the track - narrowly missing Jon Kirkham. Gary Mason also fell at the same spot but in a separate incident.
After a hard fought battle between the two Ducati team-mates, Leon managed to pass Gregorio and, shortly after, Karl fell at the Bomb Hole - losing the front-end of his machine, which went airborne and landed on the tyre wall. This brought out the safety car as Karl was attended to, and debris was removed from the track. Fortunately Karl got away from any serious injuries.
The safety car was out for the next four laps before the racing continued on lap nine. Unfortunately more crashes followed, with Jon Kirkham falling at Coram, and with James Buckingham following him.

Kiyonari leads Haslam © Raceline Photography
By lap nine it was Ryuichi still in front, with the two Ducatis fighting for second place, with Leon coming out the best and breaking the lap record in the process - but even his fast pace was not enough to catch the fast 'Kiyo Kid'.
Back down the field Jonathan Rea and Tommy Hill were having a battle of their own, with Jonathan passing Tommy at the Bomb Hole; but Tommy was having none of that and promptly took it back - but Jonathan came off the better, retaking fourth place from Tommy at Riches, followed by Michael Laverty punting Tommy back down to sixth place.
Unfortunately Sean Emmett, standing in for the injured Steve Plater, retired on lap eleven; and Scott Smart retired with suspension problems.
Race one results:
1 Ryuichi Kiyonari
2 Leon Haslam*
3 Gregorio Lavilla
4 Johnny Rea
5 Michael Laverty
6 Tommy Hill
7 Michael Rutter
8 James Haydon
9 Billy McConnell
10 Ben Wilson
* New lap record by Haslam, 1min 05.054secs
Race two: The lights turned green and it was Ryuichi who took the lead, followed closely by Leon who, after coming second in the first race, was in determined mood to take a win. Leon took the lead only for Ryuichi to swoop by, out-dragging him down the Revett Straight. Leon, hard on the brakes, re-took the lead at the Esses, putting Ryuichi into second, with Gregorio in third place. Uncharacteristically, Gregorio went wide at Russell's, relegating him down the field to sixth place.
Tommy Hill and Jonathan Rea were now having yet another battle for third place, left vacant by Gregorio, with Jonathan taking it at the Esses, only to go wide at the Bomb Hole allowing Tommy through.
Ryuichi continued his charge and broke the lap record in his efforts to catch Leon down the Revett Straight, but yet again Leon closed the door at the Esses. Fighting his way back up the order, Gregorio managed to retake third position. At this point James Haydon went down at the Esses, taking out Dean Thomas in the process, whereupon the race was red flagged as the two riders were attended to.
Both riders sustained injuries, with Dean having broken ribs and a collapsed lung, and James breaking bones in his left ankle. Both riders will be out of the series for quite some time. At this time it is thought that James has left hospital with his ankle in plaster, and Dean is still hospitalised.

Snetterton podium © Raceline Photography
The race restarted for the remaining eight laps, and it was Ryuichi who got the drop at the off, with Gregorio in second place followed closely by Leon. On the run into the Esses, Gregorio lost the front end and fell, leaving his bike partially on the track but not being hurt. Yet again the safety car was deployed to allow removal of his bike.
Whilst the safety car was out, Jonathan Rea was to highside, leaving riders scattering around him as he landed on the circuit. Fortunately everyone managed to avoid hitting him.
The safety car came in on lap three, leaving the riders with a five lap dash. Ryuichi broke the lap record yet again, leaving Leon in second place. Tommy Hill battled to a well hard earned third place. Leon crossed the line in second place shaking his head, obviously in disappointment at being the bridesmaid yet again.
A great ride by Craig Coxhell, with a fifth position. A young man who will get better as the series progresses. Unfortunately Sean Emmett retired to the pits again.
The championship now takes a four week break before the next round at Knockhill in Scotland, on 14/15/16th July 2006 - a fast and twisty circuit, where I am sure Leon will be all out for his first win.
Race two results:
1 Ryuichi Kiyonari*
2 Leon Haslam
3 Tommy Hill
4 Michael Laverty
5 Craig Coxhell
6 Chris Martin
7 Scott Smart
8 Glen Richards
9 Jon Kirkham
10 Peter Hickman
* New lap record by Kiyonari, 1min 04.688secs
Standings after twelve races: Lavilla 239; Haslam 201; Kiyonari 199; Harris 110; Byrne 105; Rea and Laverty 96; Rutter 90; Hill 87; Thomas 64; Smart 59; Richards 57; Coxhell 43; Mason 40.