Colin Edwards loses out in dramatic Dutch TT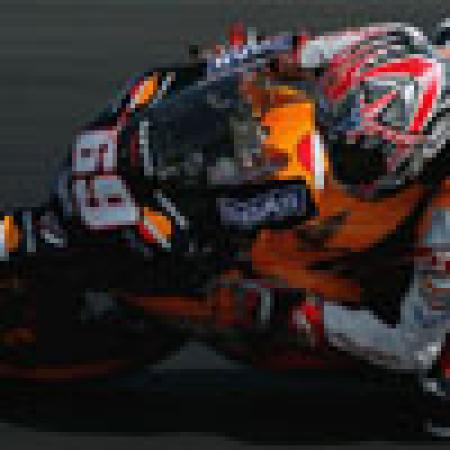 © Getty Images
By blue2bikes
June 25 2006
Could the 2006 Dutch TT race match the drama of the immediately preceding MotoGP of Catalunya? The Camel Yamaha team of Colin Edwards and reigning champion Valentino Rossi were about to find out, as the championship leader took his first win of the current season. The Dutch TT at Assen did not disappoint, even though Rossi was to start as last man on the grid - Rossi's team-mate set the circuit alight with a stunning start, to lead into the first corner from his third placing on the grid.

He was to lead the race with others having to work hard behind him to catch up, and it was Nicky Hayden (Repsol Honda, pictured) who became the challenger to Colin during the latter part of the race. On the penultimate lap, Nicky dived under Colin under braking on the back chicane.

Colin tried to keep alongside Nicky, but was left with no option but to stand his machine up and straight-line down the escape road, to rejoin the track one second behind Nicky. Looking like the race had finished at that point, with Nicky taking the honours, Colin dug deep and caught up to Nicky with only half a lap to go.

Both riders, on their absolute limit, thrashed it out - with Colin getting the better of Nicky through the fast kinks prior to the final chicane. Colin then ran wide at the fast left hander, giving himself a defensive inside line into the final chicane.

Nicky, not a man to give it up, at that point took the outside line in an effort to overtake Colin. Arriving at the first apex side by side, Nicky couldn't hold the line and took to the gravel. With the win in sight it wasn't to be Colin's day, as he too was offline - missing the apex he ran over the Astro Turf and was high-sided from his machine, handing the win to a delighted Nicky.

Colin managed to remount and cross the line in 13th place, and was obviously distraught at what had happened, but was applauded into his pits by all of his crew members.

Nicky was delighted with his win, and now has a stranglehold on the lead - taking his first win in almost a year and taking Honda to their 200th premier class win; also taking his points lead from 20 to 42 points.

Rossi climbed steadily through the field to cross the line in eighth place, with the still injured Marco Melandri (Fortuna Honda) one place in front in seventh. Loris Capirossi finished the race, and it must have seemed like an eternity for the injured rider, who was suffering badly during qualifying with his breathing.

Kawasaki rider Shin'ya Nakano had his best ever MotoGP result, taking second place and equalling Kawasaki's best ever result in the class - Olivier Jacque in the wet Chinese race of 2005. Dani Pedrosa (Repsol Honda) took third place after a strong ride, with Casey Stoner (LCR Honda) only 0.030s behind.

The series now moves on to Donington Park next weekend - one of Rossi's favourite circuits - and will provide an exciting race for the British fans, especially with Rossi being injured and Colin obviously up to pace - he will want to make amends for his giveaway first place, and will be hungry for the win.

1 Nicky Hayden USA Repsol Honda Team, 42min 27.404 secs
2 Shin'ya Nakano JAP, Kawasaki Racing Team, 42min 32.288 secs
3 Dani Pedrosa ESP, Repsol Honda Team, 42min 34.929 secs
4 Casey Stoner AUS, Honda LCR, 42min 34.959 secs
5 Kenny Roberts Jr USA, Team Roberts, 42min 35.482 secs
6 John Hopkins USA, Rizla Suzuki MotoGP, 42min 44.469 secs
7 Marco Melandri ITA, Fortuna Honda, 42min 45.494 secs
8 Valentino Rossi ITA, Camel Yamaha Team, 42min 51.355 secs
9 Carlos Checa ESP, Tech 3 Yamaha, 42min 56.431 secs
10 Chris Vermeulen AUS, Rizla Suzuki MotoGP, 42min 59.031 secs
11 Makoto Tamada JAP, Konica Minolta Honda, 43min 0.245 secs
12 Alex Hofmann BRD, Ducati Marlboro Team, 43min 1.547 secs
13 Colin Edwards USA, Camel Yamaha Team, 43min 7.816 secs
14 Randy de Puniet FRA, Kawasaki Racing Team, 43min 31.052 secs
15 Loris Capirossi ITA, Ducati Marlboro Team, 43min 44.707 secs
16 Iván Silva ESP, Pramac d'Antín MotoGP, 43min 14.455 secs
17 José Luís Cardoso ESP, Pramac d'Antín MotoGP, 42min 30.046 secs
DNF James Ellison ENG, Tech 3 Yamaha, 5min 4.700 secs

Standings after eight races: Hayden 144; Pedrosa 102; Capirossi 100; Rossi and Melandri 98; Stoner 78; Edwards 63; Nakano 57; Roberts 55; Tamada 54; Elías 53; Hopkins 50; Gibernau 44; Vermeulen 37.
Honda 176; Yamaha 127; Ducati 103; Suzuki 64; Kawasaki 57; Roberts-Proton 55.