Ferrari qualify a poor 5th and 8th at season opener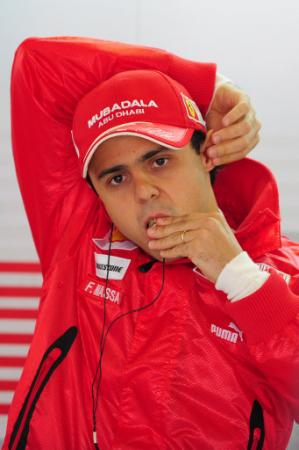 no clue?
By Jay
March 26 2011
All the winter testing hype of being closer to the Red Bull's pace went in to smokes today, as Ferrari struggled for pace in the season's first qualifying at Albert Park, Australia.
The 150 Italia struggled for most part of first and the second sessions of qualifying, while they raced late, to save tyres, in the final qualifying session.
The pole position went to Sebastian Vettel of Red Bull, followed by Lewis Hamilton of Mclaren and Mark Webber of Red Bull. Last year's winner, Jenson Button qualified for fourth position.
With a timing of 1.25.974 seconds, Fernando Alonso ended the session in fifth place, which is almost 1.5 seconds behind the pole sitter Vettel, while team mate Felipe Massa was eight, spinning on his final stint and looking completely lost.
Alonso later stated, "We were not super-competitive today [compared to] practice. In qualifying we took a very conservative approach. We knew if we took a big risk we may be fourth, if we are safe, we go fifth or sixth, so no need to take risks in the first qualifying of the season. Position we are happy, distance from pole we are not happy. So we need to look at that overnight."
"Overall grip was where we lacked. We were not so bad yesterday, so we missed something today. Also the distance to Sauber, Toro Rosso, Renault, in winter testing we were one second ahead of them and here it is only 0.2-0.3secs. So we missed something in our car. I suspect this was not normal pace from us and we will get better and better tomorrow," he concluded.