Double points finish for Ferrari at Belgium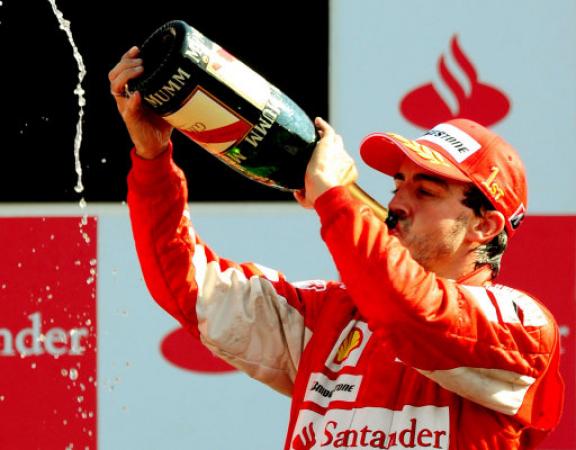 no cause for champagne
By Tifosa
August 30 2011
Fernando Alonso and Felipe Massa both scored for Ferrari in the just concluded Belgian GP. That's probably the most one can say about the team in a race where there were several other noteworthy performances and examples of individual brilliance, as the championships now look a forgone Red Bull double, with the 1-2 finish for Sebastian Vettel and Mark Webber.
Alonso started in 8th position and finished 4th, thus ending his run of 4 consecutive podium appearances. Massa, started 4th and finished 8th after tire issues forced him to make two back to back pitstops due to a puncture.
Spa, as always, promised much excitement and pretty much delivered. There were some stand-out performances, a little intrigue regarding tires and some head-scratchers as well. Indeed, Alonso started off very racy and was one of the better performers early in the race, moving to 2nd and even leading the race at one point. An unexpected safety car and perhaps a dicey non-call to the pits at the time cost him a podium. Massa was also fighting for second position at the start but mysteriously lost out to both Alonso and Hamilton, just as he was about to make a move on the then 2nd placed Nico Rosberg.
There were two outstanding drives that were headline grabbing. One was Jenson Button's drive from 13th to 3rd with some nice overtaking; the other was Michael Schumacher's, who started last and finished 5th, ahead of his teammate who qualified 5th. Both drivers were helped somewhat by the SC, caused by Hamilton's crash but then, both could be considered unlucky for their qualifying woes of the previous day.
Other than a less than spectacular show from Ferrari, the real concern is how the F150 Italia performed on the hard tires which arguably cost Alonso P3. The alarming drop in performance from the soft to the hard tires was quite staggering and left the Scuderia bereft of answers. The team had gone back to using an old configuration of the suspension, but whether that was the main reason for lack of performance on the hard tire is difficult to say.
Next up is Monza, home of the tifosi. Ferrari will hope for a better result as well as a clue about its tire woes.