Slow start for Fernando Alonso at first outing with F138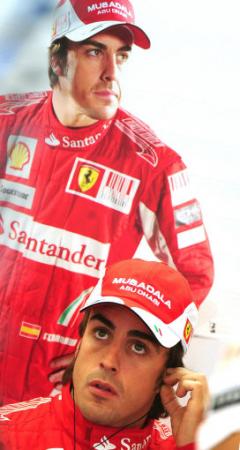 By Jay
February 19 2013
Fernando Alonso driving the Ferrari F138 Challenger for the first time at the Barcelona circuit recorded the fourth fastest time at the tend of the first morning session of the second pre-season test.
Sergio Perez set the fastest lap with his Mclaren while Rosberg for Mercedes was 0.158 seconds slower than the Mexican.
Paul Di Resta was third fastest for Force India being 0.297 seconds off the pace.
Fernando Alonso who had decided to sit out of the first test, that happened two weeks ago at Jerez, is all geared up to take from where his team-mate Felipe Massa and test driver Pedro de la Rosa left.
Felipe Massa drove for the first three days at Jerez and development driver Pedro de la Rosa drove on the final day. Alonso was, meantime, in Dubai focusing on his mental and physical preparation.
After driving in Jerez, Felipe Massa declared the testing to be optimistic but was cautious, "the F138 is a much better starting base than the F2012 and only a constant development work will say if it will be better than the competitors' cars as well."
The Brazilian even stated he was more impressed with Jenson Button's lap times but the fact that Felipe set the quickest time of the four days had already been seized on by observers as a sign that the Prancing Horse will gallop away with the title.
It seems the Ferrari have started their testing campaign on a positive note, and the team and its fans look forward to Fernando Alonso taking it further ahead.