Casey Stoner dominant again in Czech MotoGP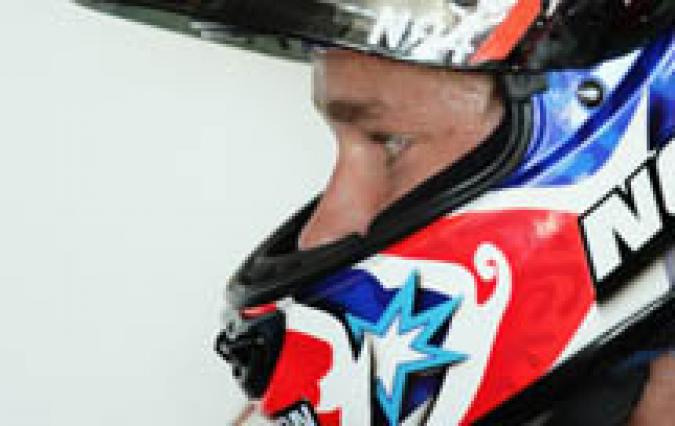 © Getty Images
By Dan Moakes
August 19 2007
The four-week summer break was over, and the MotoGP competitors reconvened at Brno, for the Czech Republic Grand Prix. On the 800cc Ducati, Casey Stoner was firmly established as the man to beat, with the Bridgestone tyres also looking strong across the season as a whole. The other teams and tyre manufacturers would be hoping that they had made progress during the racing layoff.
But the signs were all on the side of Stoner and Ducati, as the 21-year-old Australian would start from his fourth pole position of the year, and his third in a row. Marlboro-backed team-mate Loris Capirossi qualified seventh, and would race with softer compound Bridgestones. Meanwhile, Repsol Honda were also looking good, with German race winner Dani Pedrosa third, and champion Nicky Hayden second, in his best slot of the year to date.
Three more Japanese motorcycles filled the second row, with John Hopkins (Suzuki), Randy de Puniet (Kawasaki) and Valentino Rossi (Yamaha) each leading the way for their respective teams. The second Rizla Suzuki of Chris Vermeulen (eighth) and the second Fiat Yamaha of Colin Edwards (ninth) completed row three, in front of Dunlop tyres' first representative, Sylvain Guintoli on the Tech 3 Yamaha.
Shin'ya Nakano (Konica Minolta Honda) took P11, from Carlos Checa (LCR Honda) and Alex Barros (d'Antín Ducati). Toní Elías was back from injury for Gresini Honda, in P14, and this time team-mate Marco Melandri was missing. The Italian had got his ankle back to racing fitness, but on Friday had discovered the extent of neck and shoulder damage from Laguna Seca, with nerve problems stopping him from using his left arm properly, and ending his weekend.
Makoto Tamada would start 15th for Tech 3, followed by Anthony West (Kawasaki) and Kurtis Roberts on the Team KR-Honda. Last place went to Iván Silva, for the d'Antín team, in place of injured Alex Hofmann. The 25-year-old Spaniard would be entering only his eighth GP, even with his 250cc début as long ago as 1998, and with a previous best result of 16th for the same team.
The modern Brno is a circuit of short straights and long radius turns, including left-then-right switchbacks at four places. It also takes the riders a way downhill to turn ten, at the far end, then back up to the start-finish area. Good weather prevailed on race day, which could well favour Bridgestone over Michelin, as it had at the US GP.
Ducati's works riders made good starts, with Stoner retaining first position, and Capirossi going around the outside of de Puniet in the long, right-looping turn one, for fifth. Pedrosa, Hopkins and Hayden were between the red bikes, with John soon getting the better of Dani to go second. Rossi also ousted de Puniet for sixth, then came Vermeulen, Edwards, Elías and Checa.
From the outset, both Stoner and Hopkins, on the Bridgestone tyres, began to edge away from the pursuit, led by Michelin runners. The leaderboard changed with Hayden passing team-mate Pedrosa for third, getting by at the right-handed turn four, straight after the left-handed turn three. Turn four was to spell grief for Edwards, who crashed there when the front of his Yamaha let go. He got back on track, but the damaged bike allowed him only a slow trip back to the pits.
Capirossi was next to pass Pedrosa, at turn three, and then came Rossi, de Puniet, Vermeulen and Elías. But Hopkins set the fastest time on lap two, and Stoner took his turn on lap three. The two young riders were getting clear of Hayden, with a smaller gap opened from Casey back to John. The race for fourth was the closest at this stage, as Capirossi, Pedrosa, Rossi and de Puniet were fairly closely linked still.
Pedrosa regained the initiative from Capirossi, making his move on the inside between the two linked right-handers, turns five and six. While Rossi attacked the Ducati rider, Dani started to pull away, and at the same time Vermeulen was arriving to join in behind de Puniet. Their rapid circulation distilled into a pair of pairs, with the first four now separated from one another by comparison.
Capirossi's choice of tyres had apparently taken a bit of time to come into their most useful performance band, but now they seemed to be suffering a bit. Rossi looked threatening, and he tried to go inside for turn nine, a right-hander, without having the acceleration onto the following straight. Loris seemed to let Valentino past on the climb for turn eleven, and then de Puniet also got ahead, when the Ducati went wide at the final right-handed turn fourteen. Capirossi came back at him braking for turn one.
Stoner was now on his own in the lead, as was Hopkins in second. A larger gap had opened back to Hayden, and Pedrosa was matching this pace also a little way back. With more than half the race gone, Rossi started to pull away from the next three, and Vermeulen was the next to pass Capirossi, when he dived onto the inside braking for turn eleven. This soon put Chris on the tail of Valentino, and he tried for a pass at turn three. He tried again in the left-handed turn eight, getting through at the immediately following right-hander.
Capirossi had gone from fifth back to seventh, but now his rival Rossi seemed also to be developing problems, possibly with his rear tyre. Loris took back sixth on the power along the start-finish straight, which put de Puniet right back onto the rear of the Yamaha, as he had been from the start. Rossi lost ground to Vermeulen and Capirossi, but Loris was not quite close enough to threaten the Suzuki man ahead, with Chris easing clear.
There were no further changes among the leaders in the last few laps. Stoner kept extending his comfortable lead, with Hopkins, Hayden, Pedrosa, Vermeulen and Capirossi all secure in their positions to the flag. Rossi was in a lowly seventh at the finish, with de Puniet still pretty close behind, and then a bigger gap back to the remaining runners.
Guintoli had looked good on the Dunlops, passing Elías to run behind ninth-placed Checa. Nakano had been in P12 before losing out to both West and Barros. But the experienced Brazilian was just getting started on a good charge, which took him past West, and then past Elías at turn three. In a few laps, Alex led Sylvain, Toní, Carlos and Anthony; but the last two were both about to get by the returning Spaniard.
With Barros moving into a clear ninth for the final laps, and Checa also getting away for tenth, the racing at the end was between West, Guintoli and Elías. Toní made back a place at turn thirteen, the left-hander before the final right, and now Guintoli and the Dunlop-shod customer Yamaha began to drop away. Elías also passed West by the finish, with Guintoli, then Nakano, Roberts, Silva and Tamada the other finishers.
The steamroller keeps on going, with Casey Stoner now up to a sixty-point lead in the championship, as his two main rivals finished off the podium. Valentino Rossi was not on his usual form on this occasion, and it has been said that he does not want the 2007 tyre regulations to carry on into next year. Presumably the problem lies with Michelin not being able to compete with Bridgestone consistently. Dani Pedrosa was three places ahead of the Italian, and so moves a bit closer in third place overall.
John Hopkins' second podium result was his best achievement in Grands Prix, and now only a race win eludes him, as it does Colin Edwards. Fourteen riders in the Czech entry have GP wins in the bank. The twenty points enabled John to catch team-mate Chris Vermeulen in joint fourth, as Suzuki have looked revived at the start of the 800 era. And Nicky Hayden's rehabilitation continues, now with three thirds in four attempts, and his second 2007 on-track defeat of Pedrosa.
MotoGP 2008: Who will be where for next season? Ideas on this are starting to take on a more defined shape, with some rider moves in the offing. The second Yamaha team, currently known as Dunlop Tech 3, will have factory specification M1 machinery next season, even if the priority on development parts will surely stay with Rossi and his crew. But the bike situation was enough to tempt Superbike star James Toseland to join Tech 3 for his first GP experience, rather than go for a year-old Honda at the Gresini team.
Not yet decided is the tyre contract for Tech 3, and nor is the second rider. But Dunlop will probably not be used by them next year, which was apparently a factor in James' decision. And his team-mate is thought to be between current rider Guintoli and works rider Edwards. The Texan is apparently giving way to 250 star Jorge Lorenzo in the works team.
Following Hopkins' signing with Kawasaki, Vermeulen will stay with Suzuki. With Capirossi pushed out of Ducati for Melandri, Loris has arranged a move to the blues, and his first Suzuki experience. Stoner stays with Ducati for two more years, with Melandri to be only the sixth full-time rider for the team in MotoGP. West and de Puniet will likely contest for the right to stay on at Kawasaki, while the likes of Elías and Pedrosa have not yet signed - although Honda would be expected to keep Dani.
Standings after twelve races: Stoner 246; Rossi 186; Pedrosa 168; Vermeulen and Hopkins 124; Melandri 113; Edwards 93; Hayden 89; Capirossi 87; Barros 83; Hofmann 60; de Puniet 58; Elías 54.
Ducati 258; Yamaha and Honda 206; Suzuki 172; Kawasaki 82; Team KR 13; Ilmor 0