First MotoGP title to Casey Stoner and Ducati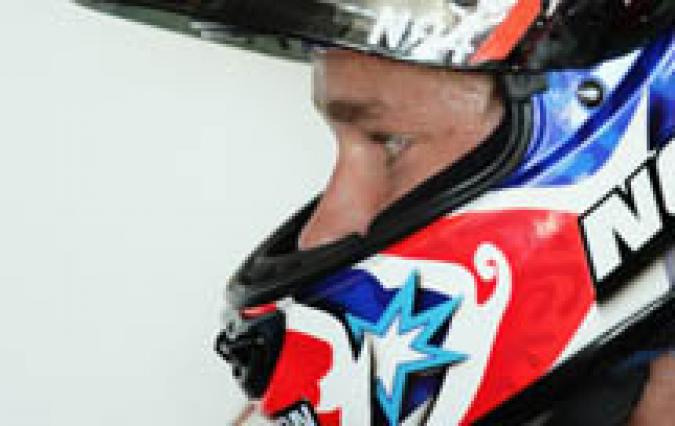 © Getty Images
By Dan Moakes
September 23 2007
21-year-old Casey Stoner, with the Ducati Marlboro Team in the MotoGP world championship, was just one more race win away from the 2007 title, with four races left to run. Even if Valentino Rossi could win all of those, on the Fiat Yamaha, Casey would only need a ninth and three tenths. But of course nobody expected the Australian to opt for anything so lowly.
The Japanese Grand Prix was round fifteen, at the Motegi road course, with its fast, curving and tight set of features. After Michelin tyres' prominence at the Portuguese race, the same was true of qualifying in Japan. This put the works Honda and Yamaha riders at the front, with Rossi in the middle of row one, in between two of his rivals. It was only the third time in the season that a Honda man had taken pole position, with Dani Pedrosa in front of Rossi, and Nicky Hayden third on the other Repsol machine. Colin Edwards was seventh on the sister Yamaha to Rossi.
Bridgestone's riders therefore missed the front row, and in fact the Ducati and Suzuki teams were surprisingly far from the front. Fourth went to Randy de Puniet on the first Kawasaki, with team-mate Anthony West getting a highest yet sixth. They were split by the Gresini Honda of Toní Elías, and team-mate Marco Melandri was in P10. Behind Edwards came the works Ducatis, with Loris Capirossi this time ahead of partner Stoner, eighth and ninth.
John Hopkins followed Melandri on the first Rizla Suzuki, with regular team-mate Chris Vermeulen back in P17. A third bike was being run for local wildcard Kousuke Akiyoshi, who got his blue machine into P13. Shin'ya Nakano was twelfth on the Konica Minolta Honda, and Carlos Checa followed Akiyoshi on the sixth of the Hondas, for the LCR team.
The Pramac d'Antín Ducatis were towards the rear, with Alex Barros in fifteenth. Alex Hofmann had been dropped by the team after Portugal, and so 40-year-old local man Shin'ichi Itoh was on the bike, for his 65th GP, but with only three other entries since 1996. He would start from P20. After qualifying heroics in Portugal, the Dunlop Tech 3 Yamahas were towards the rear again here, with Makoto Tamada in P16, and Sylvain Guintoli two places back. Akira Yanagawa made a rare GP appearance on a third Kawasaki, in P19; and Kurtis Roberts was last with the KR-Honda.
There were twenty minutes of running in very wet conditions during the race day warm-up session, with Melandri fastest, and by race time conditions were still damp. A little rain was drizzling, and so a wet race was declared, even though support classes had generated some drier lines on track. Flag-to-flag rules came into play, and the riders went into battle with rain tyres, and the option to stop for a spare bike set for the dry.
The race start saw West move forward fractionally early, brake, and launch away again. Further back, his compatriot Vermeulen was left at the start and got away late. Pedrosa took the lead, and on the first lap started to pull out from the pursuit of Elías, Hayden, Stoner, West, Akiyoshi, Edwards and Rossi. West moved up one, passing Stoner, but was always likely to be penalised for his start. In fact, Elías was going backwards, and West was into second when he passed both Stoner and Hayden at the acute, left-handed V Corner. Casey passed Toní at the following right-handed Hairpin, onto the back straight, then the Australian got by Nicky down the hill at the right-handed 90¢ª Corner.
The riders shuffled here and there as they got used to the track conditions, and how their tyres were working. West closed down Pedrosa's lead, and he went ahead going down the hill for the heavy braking 90¢ª Corner. Then Stoner moved ahead of Pedrosa along the main start-finish straight whilst, behind, Melandri was the quickest as he moved into the lead group, passing Edwards, Rossi and Elías. Marco overtook Akiyoshi on the inside of the long, right-handed S Curve, part of the left-right Esses; and next he passed Pedrosa going into the back straight.
The early stages therefore saw West leading, but yet to take an assessed pitlane ride-through penalty, from Stoner, then a gap to Melandri, from Pedrosa, Akiyoshi, de Puniet, Rossi, Edwards, Hayden, Elías, Capirossi, Nakano, Barros, Hopkins, Itoh, Checa, Guintoli and Tamada. But the order was changeable lap by lap, and then there was the factor of pit stops. Roberts and Yanagawa were early men to switch to their alternate bikes, with slick tyres, but the conditions did not yet allow either to make any capital from the decision.
There are always riders with that extra bit of delicate skill to benefit from treacherous track conditions, when out-and-out motorcycle performance is negated to some extent, and at this stage it looked to be the case for West and de Puniet, as well as Melandri. Anthony took his penalty at this stage, rejoining the field in about fourteenth, where he quickly began climbing again; and Randy had overtaken Akiyoshi for fifth, until an off-track mistake dropped him back. Melandri set another new fastest lap as he challenged new leader Stoner, and he went past at the V Corner.
Melandri and Stoner had a very good lead over the next group, where Rossi went through inside Pedrosa at the long, right-handed 130R bend. Valentino had about five seconds to make up at this stage. Dani headed Akiyoshi, with the rest also having lost ground - led by Edwards, Capirossi, de Puniet, Elías and Hayden. But now the track was getting pretty dry on the racing line, and more of the teams were preparing the spare, slick-shod bikes.
The flag-to-flag gamble often looks better if you aren't right at the front - because the leaders don't want to stop in case those following do not, and so they are more likely to wait almost until they have no choice. The first men to stop through this period, therefore, were Checa, then Hayden, then Elías, then Capirossi, then Vermeulen (after rising to twelfth). The pace demonstrated by these runners would clue in the teams of the front men as to when the change was worth doing.
But, of course, that would also depend on the relative performance of the different makes of tyres in the prevailing intermediate conditions. Guintoli, Hopkins and Nakano joined the group to have made stops; but while some were not making any notable impression, Guintoli and Capirossi now showed some great pace. Ten laps had gone, and Sylvain's first pair of fast laps on the intermediate Dunlops were three to four seconds better than the leaders.
Meanwhile, Melandri had been edging away from Stoner, with Rossi closing in on his title rival, leaving Pedrosa well clear of next man Edwards. Despite new fastest laps from Guintoli and Capirossi, the leaders kept out of the pits. Rossi went ahead of Stoner at 90¢ª Corner, braking late and taking a tighter inside line. Then he started to catch Melandri, while Pedrosa did the same to Stoner. Edwards was fifth and had not stopped, but the next lot all had: Capirossi, de Puniet, Elías and Guintoli.
Roberts was out, but Michelin's riders who had stopped - Hayden, Nakano and Checa - were not looking competitive with their opposition now. Perhaps this deterred Yamaha and Honda from calling their men in just yet. Having had moves defended, Rossi now passed Melandri for the lead, going ahead through the first left-hander which follows the 90¢ª Corner, under the bridge and only moments before the final Victory Corner. There were ten laps remaining, and Marco went straight into the pits after being passed, followed by Stoner, also on Bridgestones. Rossi and Pedrosa stayed out.
With Guintoli setting another fastest lap, Rossi made his stop a lap later. Just before this, Pedrosa had crashed out at 90¢ª Corner, having lost the rear. We would find out that Valentino's second bike was equipped with a cut slick rear, and intermediate front tyre. Capirossi now led, and Rossi returned to the track in fifth, just in front of Guintoli, who was lapping Yanagawa. Sylvain was able to pass Valentino at 90¢ª Corner, and the works Yamaha man went wide and slow round the turn. Looking at his front tyre, he made another quick pit stop but continued.
Rossi was in trouble and ran twelfth, and meanwhile Stoner was in fifth, with the title now virtually assured. Vermeulen passed Rossi at the right-handed turn five, with Hopkins and Tamada soon to also get in front, when Valentino went wide at 90¢ª Corner and onto the grass briefly. There were six laps to go, and lap times continued falling, as Capirossi, Guintoli and de Puniet traded best times.
Timing of the stops for Melandri and Stoner had indeed proved to be a lap or two late, as they had rejoined behind four of the earlier pit visitors. Capirossi had an impressive 14s lead, and de Puniet was second, closely pursued by Elías. Guintoli was catching with his Dunlop tyres. Stoner was alone in fifth, with Melandri next and just in front of Akiyoshi. The first set of Michelins was on Hayden's Honda, a long way back in eighth.
Capirossi was secure, and the pace of de Puniet eased him away from Elías, often sliding the rear on the brakes, who had Guintoli homing in. With three laps remaining, Melandri passed Stoner as the pursuing Akiyoshi disappeared on the leading Suzuki, becoming the third retirement after a notable wildcard performance. West had continued his recovery, with obviously a change of bike as well as his penalty pit visit, and he took Hayden for seventh.
Still the positions were changing in the last couple of laps, as Guintoli attacked Elías for a podium result; and as Edwards dropped back and was passed by the faster Rossi. Capirossi secured a convincing and deserved win for the Ducati team, who were also celebrating Stoner's achievement. Behind de Puniet's delighted second, Elías fought off Guintoli, who had gone past briefly at Esses but ran wide there. Melandri was clear of Stoner, but the Australian was more than happy in sixth, well clear of the rest.
West was seventh, with Hayden and of course Michelin relegated further by Barros, with a good late race into eighth. Suzuki's Hopkins and Vermeulen followed Hayden, ahead of Tamada. Rossi took just three points, and would confirm that his front tyre had been the problem - although he was clearly not helped by making an extra pit stop. Edwards, Itoh, Nakano, Yanagawa and Checa followed him home.
Casey Stoner was the new 800cc MotoGP World Champion, with Ducati's achievement capped by a canny race-winning ride from older statesman Loris Capirossi, with his 40th podium result in the top GP class. On a day when conditions were key, and therefore strategy and tyres were key, Bridgestone and Dunlop clearly put Michelin in the shade. And the day had also seen Randy de Puniet, Toní Elías and particularly Sylvain Guintoli show what they can do, even as some of the regular leaders failed to do so.
Some dates of significance, then:
1958-59 125cc Grand Prix race wins taken for Ducati by riders Alberto Gandossi, Bruno Spaggiari and the great Mike Hailwood.
4th September 1983 At Imola, Honda rider Freddie Spencer becomes the youngest GP champion in the premier class, 500cc. He is 21 years 7 months and 15 days.
3rd April 1988 At Donington Park, Marco Lucchinelli is the first winner for Ducati in the Superbike World Championship, at the first ever event for the series.
11th November 1990 At Phillip Island, Raymond Roche secures the first of many Superbike World Championship titles for Ducati, riding the 851/888 model.
6th April 2003 Ducati make their début in the premier class, MotoGP 990cc.
15th June 2003 At Barcelona, Loris Capirossi takes the first MotoGP race win for Ducati, in only the sixth race for the Desmosedici model.
23rd September 2007 With eight race wins under his belt; at Motegi, Ducati rider Casey Stoner becomes the second youngest GP champion in the premier class, now MotoGP 800cc. He is 21 years 11 months and 23 days. And 80 races after their start in MotoGP, Ducati take their first Grand Prix title.
For six years, Stoner has raced with the number 27, and the year 2007 is his year. His first event appearance as the champion will be at home, as the Australian GP at Phillip Island is next.
Standings after fifteen races: Stoner 297; Rossi 214; Pedrosa 188; Hopkins 156; Vermeulen 152; Melandri 148; Capirossi 130; Hayden 112; Edwards 108; Barros 91; Elías 87; de Puniet 78.
Ducati 324; Honda 255; Yamaha 251; Suzuki 208; Kawasaki 114; Team KR 14; Ilmor 0