Stuart Easton wins the 2008 Macau Grand Prix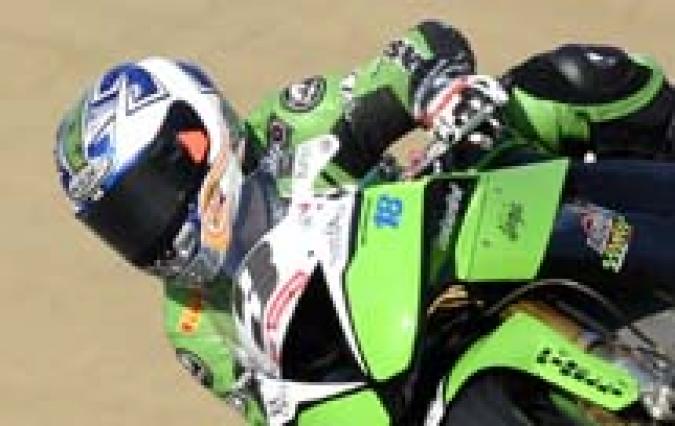 © Raceline Photography
By blue2bikes
November 16 2008
Disappointment for Conor Cummins, Michael Rutter and elation for Stuart Easton: The Macau Grand Prix, as always, never disappoints for excellent racing and a twist of fate. Pole sitter and lap record holder Conor Cummins failed to finish after suffering mechanical problems on lap eight, whilst catching Stuart Easton and Michael Rutter.
Stuart Easton started in sixth position but quickly gained third, behind Michael Rutter and Cameron Donald. Cameron was looking more than comfortable, but then on lap five suffered mechanical problems allowing Stuart to take up the lead, some four seconds ahead of Michael.
Michael moved to within less than a second of Stuart with six laps remaining, but Stuart kept his nerve and increased his lead crossing the finish line nearly three seconds ahead of Michael, followed by John McGuinness in third, more than half a minute adrift.
This is the first win at Macau for Stuart, and yet another disappointment for Michael whose endeavours to gain that coveted seventh win ended with it eluding him yet again.
2008 Macau Grand Prix, final positions:
1 Stuart Easton SCO, Doosan Honda, 15 laps
2 Michael Rutter ENG, Discover Ireland NW200 Ducati, +2.722secs
3 John McGuinness ENG, Ventaxia VK Honda, +31.711secs
4 Luis Carreira POR, Benimoto Suzuki Yoshimura, +39.962secs
5 Michael Barnes USA, Ventaxia VK Honda, +39.982secs
6 Stephen Thompson NIR, Sloan Developments, +45.910secs
7 Ian Hutchinson ENG, Aviva Kawasaki, +49.067secs
8 Jeremy Toye USA, Corona Extra Honda Racing, +1min 16.206secs
9 Marc Fissettee BEL, Ixo-Churrascao Racing, +1min 29.503secs
10 Rui Reigoto POR, Vodafone Kawasaki KMS, +1min 34.367secs
11 Keith Amor SCO, AIM Racing, +1min 39.608secs SSP
12 Steve Mercer ENG, DMR Racing, +2mins 04.529secs
13 Gerald Muteau FRA, Halfen Team of Paris, +2mins 04.846secs SSP
14 Fabrice Miguet FRA, Halfen Team of Paris, +2mins 21.831secs
15 Amaury Baratin FRA, Halfen Team of Paris, +1 lap
16 Scott Jensen USA, Moto Garage Racing, +1 lap
17 Joao Fernandes MAC, Macau Racing Team, +1 lap SSP
18 Cheung Wai On HKG, Cheung Wai On, +1 lap SSP
19 Sou Sio Hong MAC, Sou Sio Hong, +1 lap
20 Leong Iok Choi MAC, Leong Iok Choi, +2 laps
Did not finish:
21 Gary Johnson ENG, BTS Racing, 11 laps completed
22 Michael Weynard BEL, IGT-Bike Promotion Racing, 10 laps completed
23 Mark Miller USA, Corona Extra Honda Racing, 8 laps completed
24 Conor Cummins IOM, Team of Paris AIM Racing, 7 laps completed
25 Steve Allan SCO, Aviva Kawasaki, 6 laps completed
26 Cameron Donald AUS, Relentless Suzuki by TAS, 4 laps completed
27 Pierre Chapuis FRA, Halfen Team of Paris, 4 laps completed
28 Jose Leite POR, Suzuki Caepsa BPN, 2 laps completed
29 Ric Penzkofer GER, IGT-Yamaha Austria Racing Team, 1 lap completed SSP
30 Bruce Anstey NZL, Relentless Suzuki by TAS, 0 laps completed
31 Dan Linfoot ENG, Rob Mac Racing, 0 laps completed SSP
32 Thomas Hinterreiter AUT, Macau.com Yart, 0 laps completed