Valentino Rossi wins Spanish MotoGP race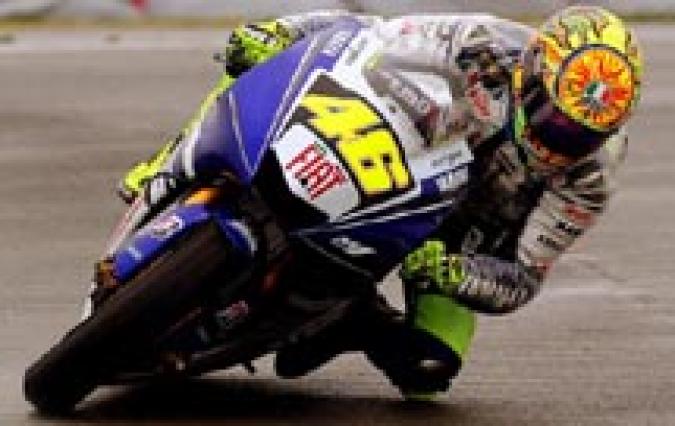 © Empics / PA Photos
By Dan Moakes
May 4 2009
It was back to Europe for round three of the 2009 MotoGP World Championship, after wins for two different riders and two different makes of bike in Qatar and Japan. Ducati and Yamaha had been on top in those events, and Fiat Yamaha riders Jorge Lorenzo and Valentino Rossi headed the standings with two rostrum results each. Now the points leader took on his home race.
Spain is a nation keen on motorcycle racing, and has produced many champions. Their riders have won six GP titles in the last six years, and would likely be contenders again today. The Spanish Grand Prix is held at the Jeréz de la Frontera circuit, and the four local riders in this MotoGP race had each won here in GPs, with Dani Pedrosa on top last year, and the lap record holder. But the man with most success here is Italian rider Valentino Rossi, with the reigning champion a seven time winner.
Spain's riders led the way in qualifying this time, with Lorenzo's Yamaha first, but just 0.05s ahead of Pedrosa on the Repsol Honda. The RCV made the front row of the grid for the first time this season, with Dani getting fitter all the time. Also available for local support were Toní Elías, ninth for San Carlo Honda Gresini; and Sete Gibernau, twelfth on the Grupo Francisco Hernando Ducati.
In third place was Marlboro Ducati rider Casey Stoner, who had managed fifths and sixths in previous GP races at Jeréz, but no better than that. Rossi was 'only' fourth on the grid, but his team indicated that a number of changes for the race day warm-up session had made the M1 machine a lot better for the race proper. Now with sponsorship from Playboy, the LCR Honda team would start fifth with rider Randy de Puniet.
The third different bike appeared in sixth, with 2006 Jeréz winner Loris Capirossi putting the Rizla Suzuki in that position. Team-mate Chris Vermeulen was tenth. Seventh went to Colin Edwards on the Tech 3 Yamaha, and then came Pedrosa's Repsol partner, Andrea Dovizioso. Behind Elías and Vermeulen, and ahead of Gibernau, was Hayate Kawasaki man Marco Melandri.
Row five consisted of Yuki Takahashi (Scot Honda), James Toseland (Tech 3 Yamaha) and Alex de Angelis (Gresini Honda). The last row was all Ducati, with works rider Nicky Hayden heading Pramac team-mates Mika Kallio and Niccolò Canepa. Kallio had won the 250cc race in 2008. With nothing much to lose, these last three went for softer rear Bridgestone tyres for the race.
Dry and bright conditions prevailed for the race, as well as winds, although these were reduced from levels experienced during qualifying. Some of the bikes, however, therefore went to the grid with holes drilled in the fairing - Stoner's among them. At the start, the Australian moved into second behind Pedrosa, as Lorenzo dropped to third, where he was under attack from Rossi. Fifth was held by de Puniet, then it was Edwards. Dovizioso quickly took seventh from Capirossi.
Initially, Pedrosa and Stoner were moving away from the rest of the field. Lap two saw Rossi pass Lorenzo on the inside for the Curva Angel Nieto right-hander, only a few corners after Dovizioso had got ahead of Edwards on the inside through the long Curva Sito Pons right-hander; the two corners named after two of Spain's bike racing heroes. This meant that Pedrosa led Stoner, Rossi, Lorenzo, de Puniet and Dovizioso, with a gap developing to the unfolding battle between Edwards, Capirossi and Melandri. Elías, Takahashi, Gibernau, Vermeulen, Kallio, de Angelis, Canepa and Hayden completed the field.
The first three now edged clear of the rest, with Pedrosa quick to improve his lap record as the gaps between the three also began to ease out. Lorenzo was soon left to power on alone in fourth. There was contact during the contest for fifth, this coming at the final left-handed Curva Ducados hairpin when Dovizioso tried to get on the inside of de Puniet and found there was no gap. Behind, Melandri overtook Capirossi, but these positions changed again and then Loris also went past Edwards at Ducados where he did find room.
Pedrosa's lead over Stoner was growing as Rossi improved on the fastest lap and moved in to challenge the Australian. Valentino was on Casey's tail through the successive final right-handers leading to the Ducados turn, and went to the inside to pass in the left-hander. However, the red machine stayed with the blue one on the main straight, and Stoner went back into second with a move at the first right-handed Curva Expo 92. By now, third man Rossi was 1.3s from leader Pedrosa.
Ducados was the scene of another attack from Rossi on Stoner's position, with the Italian characteristically putting his left leg down as he made his late braking pass on the inside, this time staying ahead. Into second, Rossi was about 1.2s from Pedrosa, and this margin would fluctuate which at times saw it under a second. However, Rossi's pace edged him out of range of Stoner, who at this stage seemed safely clear of fourth man Lorenzo.
Behind the first four, Dovizioso had spent some time behind fifth man de Puniet, then got ahead and started to ease clear. But Andrea undid this work with a trip through a gravel trap, ending up back on track in a lowly 16th, and starting from scratch as he got to work among the slower runners. Initially, the Honda man found himself on the back of a battle for 13th, involving Kallio, Toseland and de Angelis.
Half way into the race, Rossi had got Pedrosa's lead at about 0.8s, but at that stage he began to make more noticeable inroads. It wasn't too long until he was right with the Honda man, and he went to the inside at Nieto, went past, and straight away started to move clear. The lead went up to the 0.7s range, then quickly beyond one second. When Dani ran deep on the brakes at the tight right-handed Curva Dry Sack, at the end of the back straight, the lead went out to three seconds, and after that Rossi just kept going away and was not challenged further to the finish.
Stoner was already over 3.5s back when the lead changed ahead of him, so that Pedrosa took a secure second. However, Casey's advantage of around three seconds over Lorenzo had been dwindling in the second half of the race. With five laps left to go, Jorge had got this down to a single second. But the second of the Yamaha riders was about to get into trouble. A right-hander saw the front end fold and Lorenzo go down as the rear of the bike slid away from the corner. With the machine damaged, all he could do now was go slowly back to the pits - and his championship lead was obviously going to be lost.
Stoner was saved from a late challenge and therefore took third and his first podium at Jeréz. And Lorenzo's exit, plus Dovizioso's excursion, also meant that de Puniet took a steady and impressively secure fourth place. It was his best dry weather MotoGP result other than another fourth in Malaysia 2007 - the year he was second in Japan in wet conditions. Also doing well was the man who triumphed in the race for fifth.
Most of the race had seen a tussle between Edwards, Capirossi and Melandri. This had been for seventh to begin with, but by the end it was fifth that went to 'non-works' Kawasaki man Melandri - and by the flag he had just about got clear of the other two. Marco had only once matched this result on the works Ducati with which Stoner was winning regularly. Capirossi took sixth just ahead of Edwards, with Dovizioso tagging on by the end.
Kallio had stopped at mid-distance with a rear brake problem, so after dealing with de Angelis and Toseland, Dovizioso had then been behind Gibernau. Takahashi, Vermeulen and Elías had been successive victims of the Repsol rider as he recovered for eighth place. Toní, Chris, Sete and Yuki were followed home by James, Alex and then by Hayden and Canepa as these two men on Ducatis struggled.
Race winner Valentino Rossi, first for the first time this season, took a diversion to a portable toilet for one of his choreographed celebrations. He had once again been unbeatable on this day, and took over the championship lead. Dani Pedrosa was looking better all the time after starting the year recovering from injury, and because it was Rossi the crowd were not too worried that the home rider had been defeated. But Jorge Lorenzo, after starting from pole, was no doubt unhappy that he'd gone out without even being the pace setter. Casey Stoner's result was damage limitation by contrast.
British race fans were surely pleased by events at Jeréz, although not because of James Toseland's 13th place. In the 125cc race, 18-year-old Bradley Smith - sixth in the series last year, and with a best result of second - was a first time winner for the Bancaja Aspar Aprilia team. How close can James come to emulating him in the next MotoGP race?
Standings after three races: Rossi 65; Stoner 54; Lorenzo and Pedrosa 41; Dovizioso 30; Edwards 26; de Puniet 24; Melandri 23; Vermeulen 21; Capirossi 19.
Yamaha 70; Ducati 54; Honda 47; Suzuki 28; Kawasaki 23.