Josh Waters wins in the rain at Brands Hatch in BSB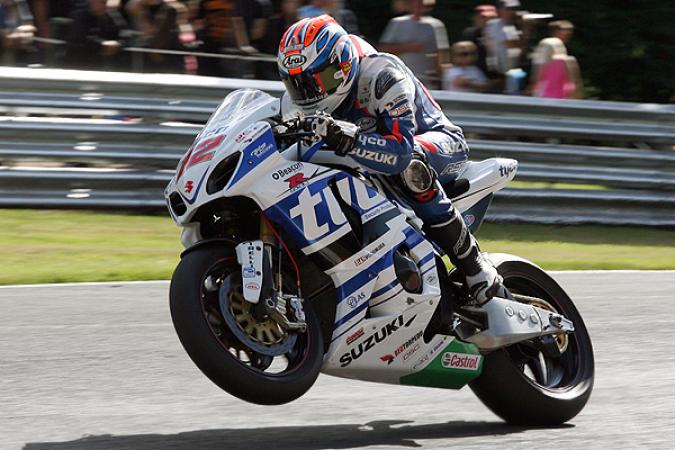 © Glynne Lewis
By Dan Moakes
October 6 2014
Round five of the 2014 British Superbike Championship took place on the full Grand Prix circuit at Brands Hatch on 20th July, where Shane 'Shakey' Byrne on the Rapid Solicitors Kawasaki was surely going to be, once again, the man to beat.
Byrne had won six races in 2014 and taken second place in the other two; with Brands also his local track and the scene of so much success for the three-time champion. And sure enough he qualified on pole position again, joined on the front row of the grid by another pair of Kawasakis. These were piloted by the Lloyds British GBmoto duo, with Chris Walker second and James Ellison third.
Josh Brookes on the Milwaukee Yamaha had suffered a crash that kept him back in eighth position, with Jakub Smrž fourth for Millsport Ducati, followed by Tommy Bridewell (Milwaukee Yamaha), Ryuichi Kiyonari (Buildbase BMW) and John Hopkins (Tyco Suzuki). Behind Brookes were four more Kawasaki riders: Richard Cooper (for Anvil Hire TAG Racing), Dan Linfoot and Howie Mainwaring (both Quattro Plant) and Stuart Easton (Rapid Solicitors).
Brands Hatch
Form guide: BSB wins on both GP and Indy circuits
Shane Byrne · 2003, 2008 (x3), 2011 (x4), 2012 (x5), 2013 (x2), 2014 (x2)
Josh Brookes · 2011, 2013 (x4)
Ryuichi Kiyonari · 2005 (x2), 2006 (x2)
Chris Walker · 1998, 1999, 2000
James Ellison · 2010, 2013
Michael Rutter · 2000
Jon Kirkham · 2012
In hot weather conditions, the first start for race one was aborted when Hopkins had clutch problems, and as the field set off on a second warm-up lap he was left at the back. The actual start saw Smrž lose out the most, as Byrne led away, ahead of Ellison, Walker, Kiyonari, then a slight gap to Brookes, Bridewell and the rest, with Cooper heading Easton, Linfoot, Mainwaring and Jon Kirkham (Halsall Kawasaki).
The right-handed Druids hairpin saw some early action as Ellison took the inside line on Byrne to pass, but he went a bit wide and let the number 67 back through. A couple of corners later, at the left of Surtees, Walker was then able to go through to second on the inside of his team-mate. On lap four, the WD40 Kawasaki rider Barry Burrell suffered a crash at Druids when the back of his bike got away from him, and this led to a safety car period.
The restart saw the same quartet up front, with Byrne heading Walker, Ellison and Kiyonari, but the Yamaha riders behind had some drama as Brookes went wide and there was contact with Bridewell as Linfoot went past them both. Josh resumed in eighth behind Cooper. Walker lost out again to Ellison, and had to fight off Kiyonari at Hawthorn Bend; but in fact Kiyo was soon past both Walker and Ellison, after the latter's efforts to take the lead from Byrne, on the outside over the start-finish line, had been fended off.
The four leaders were clear of Linfoot and the rest, and Kiyonari was looking to get to the front. The first right-hander is Paddock Hill Bend, and Ryuichi went for the inside on the brakes to get through, only for Byrne to respond with a move at the right-handed Hawthorn Bend. A similar move from the BMW man worked once more, but this time it was at Druids that the response came. Third time lucky saw the Japanese rider retain the position and just head Shakey at the finish.
Ellison and Walker remained just about in touch at the flag, but with the gaps just enough to be comfortable, and Linfoot also retained his fifth position. Bridewell had been seventh behind Cooper but then went missing, and at the end it was Brookes in P6, from Smrž, Cooper, Hopkins, Easton, Mainwaring, Peter Hickman (RAF Reserves Honda), Kirkham, Josh Waters (Tyco Suzuki) and Patric Muff (Bathams BMW).
For race two, the new grid based on fastest lap times saw Byrne heading Kiyonari, Ellison, Smrž, Walker, Linfoot, Cooper, Brookes, Bridewell, Hopkins, Easton and Hickman. This time around the conditions were cloudy, and they got away with Byrne ahead until Ellison went past at Druids, then Kiyonari, Walker and Smrž, who would soon lose a couple of places, then Linfoot, Easton, Cooper and Brookes.
Ellison and Byrne were starting to get away, but on lap two the leader suffered a big crash at the right-handed Westfield Bend, when his bike strayed over the line marking the outside of the corner and onto the grass. Ellison's highside exit resulted in him sustaining a hip injury and meant the race was red flagged. The same thing happened for Mainwaring's crash shortly after the restart and, after that, in came lightning and rain. Part three of the race would be fifteen laps on wet weather tyres.
In difficult conditions, Byrne led from Kiyonari, with Easton up to third and Hopkins quick to pass Walker for fourth. Then it was Cooper, Waters, Keith Farmer (PR Racing Kawasaki) and Bridewell. Some less familiar names were obviously showing well amongst the leaders, and Cooper was soon contesting third with Easton, who would then go backwards quickly. Waters came through into fourth, ahead of Walker, and soon enough Byrne was back to fourth.
Cooper had qualified his ageing Superstock Yamaha in fourth place for his one-off BSB début in 2009, at Mallory Park, and had gone on to lead the second race in the rain. That kind of form was repeated at Brands, with the 31-year-old passing Kiyonari to head the field, but only until he ran wide at Surtees, where Waters went through. At this point the order behind had Byrne third, from Walker, Kiyonari and Farmer.
Waters was apparently the master of the conditions, with the Australian champion continually increasing his lead and in the end comfortably giving Suzuki their first win of the season. With Byrne dropping to fifth, behind Farmer, the race for second was between Cooper and Walker. The TAG Racing man fought back, but then Farmer went through into second on the inside at Druids. Kiyonari had to pull off at this stage, and those managing off-track excursions included Ian Hutchinson (FFX Yamaha), Walker and Brookes.
Farmer ran second, ahead of Cooper, Byrne and Bridewell, but Keith went wide on the exit at Druids, where Cooper regained the spot - which he would keep to the finish. Towards the end, with the racing line drying, Bridewell passed Byrne for fourth. Kirkham, with BSB wins earned in similar conditions, was sixth, ahead of Linfoot, Brookes, Walker, Hopkins, Gary Mason (for Anvil Hire TAG Racing), John Ingram (Morello Kawasaki), Hickman, Easton and Ben Wilson (Gearlink Kawasaki).
Josh Waters had shown strongly at Brands Hatch at the end of 2013, and the same venue had now seen him join the British Superbike winners list in emphatic style. But the top scorer for the meeting was once again Shane Byrne, giving him an increased championship lead of 92 points. Ryuichi Kiyonari continued closing on second man Josh Brookes, with James Ellison inevitably going to lose out as he would now miss races. Will anyone close down Shakey?
Standings after ten races: Byrne 221; Brookes 129; Ellison 124; Kiyonari 107; Bridewell 101; Walker 96; Linfoot 90; Easton 82; Cooper 69; Hopkins 64.
podium credits: Byrne 39, Brookes 14, Kiyonari 3, Ellison 9, Waters 5, Walker 4, Cooper 3, Bridewell, Easton and Farmer 1.