Tragedy hits BSB racing at Mallory Park 2007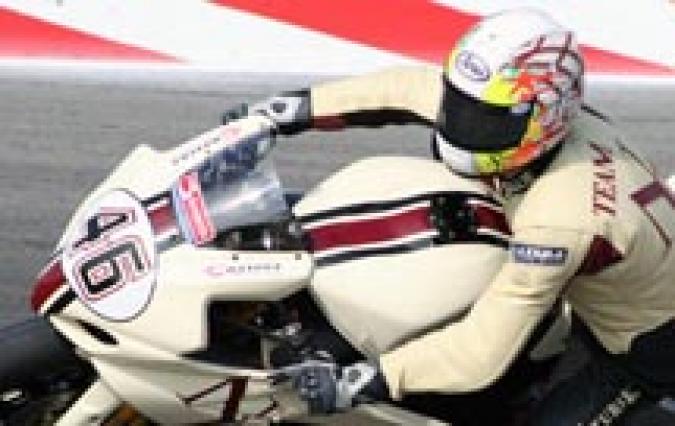 © Graham Etheridge
By Dan Moakes
July 22 2007
The attention at Mallory Park, for the ninth British Superbike meeting of 2007, should have been on the race for supremacy between HM Plant Honda team-mates Ryuichi Kiyonari and Jonathan Rea. Sadly this is not always how things work out, and this weekend's meeting was the scene of tragedy, as 21-year-old Team NB Suzuki rider Ollie Bridewell lost his life.
The accident happened during Friday practice, with torrential rain in the process of sweeping parts of the country. On a wet track, Ollie's K6 Suzuki GSX-R1000 crashed at the Lake Esses section, which is a fast right-left combination without an excessive run-off area. Ollie sustained head injuries and, despite the usual prompt medical attention, he could not be saved. Team NB, which also runs Ollie's younger brother Tommy, of course withdrew from any further participation in the meeting. Mallory is a circuit which in recent years has added chicanes to improve safety, whilst still offering some good racing challenges, and hopefully the venue will continue to be part of the series.
---
Ollie Bridewell was a likeable young man from Wiltshire with a promising future, having only just given a really good account of himself in the rain-affected Superbike meetings at Knockhill and Oulton Park. Riding as ever with the number 46, also beloved of his hero Valentino Rossi, Ollie had scored four top ten results in a row, the best of them being eighth.
He had started out in the Aprilia Superteen championship, moved on into 125cc competition, and then began to make his name in the Yamaha R6 Cup. He scored ninths and tenths in 2003, but then got points in every round of the 2004 series to take second overall. Ollie had been in the top six in ten of twelve races, and his four podium results included a win at Croft.
Moving into the National Superstock championship in 2005, Ollie was fifth overall, and in the mid-season had a run of top five results with his Kawasaki. He finished twice at both Snetterton and Silverstone. He also scored points on the FIM Superstock Cup 1000 series visit to Brands Hatch.
The same Vivaldi Racing/Naturally Best team brought him forward to British Superbikes for 2006, with Suzuki, and he twice had eighth place as a best finish. Mondello Park this year saw his first third row qualification, and consistent race results to boost him to 13th in the table on a non-works bike.
This site offers its condolences to the Bridewell family and all those affected by Ollie's passing.
---
Quite apart from the obvious distress of the accident, another unsettling role in the race weekend came from the bad weather. The rain was severe enough for Saturday's practice and qualifying sessions to be cancelled, and dangerous enough for some teams to forgo the final session and a chance to get some running in. Fortunately, race day was dry. The grid was determined by championship positions. And the first race would commence after a minute's silence.
The line up had 'Kiyo' and Rea leading Airwaves Ducati pair Leon Haslam and Gregorio Lavilla. The Spaniard still suffered with sore ribs after his Oulton accident, and found the physical nature of the circuit quite painful. Stobart Honda riders Shane Byrne and Tom Sykes were on row two, split by Bike Animal Honda rider Leon Camier, and flanked by Rizla Suzuki rider Chris Walker, in eighth on a 2008-spec machine.
Row three had Karl Harris (Hydrex Honda), Tommy Hill (Virgin Yamaha), Cal Crutchlow (Rizla) and Michael Rutter (MSS Kawasaki), the last a three-time former Mallory winner. Kiyo and Lavilla both had a Superbike win apiece here, as did Hawk Kawasaki rider Scott Smart. Walker had two previous wins here in the series, plus the 2006 non-championship Race of the Year, his first Rizla Suzuki outing.
Race one saw Rea lead away, from Kiyonari, Walker, Byrne, Haslam, Lavilla, Hill, Camier and Smart. It looked like the two Ducati riders might have had a minor clash as the field jostled through the first chicane, Charlie's, which is a right-left-right section to break up the very long and rapid right-curving Gerard's Bend. In any case, both Haslam and Lavilla continued undeterred, and in the same positions.
Walker's usual good start translated into a robust early race. He soon passed Kiyo, and was attacking for the lead at Shaw's Hairpin, a heavy braking right-hander. Before Rea could make it five wins from six starts, Kiyo was back ahead of Walker. He went by on the Suzuki's right along the start-finish Kirkby Straight. Ryuichi's next pass was for the lead, on the inside where they brake at the end of Stebbe Straight for the left-right Edwina's chicane.
Kiyo was really getting on with it, and had soon established a handy lead over Rea. Byrne was up to third, having passed Walker on the inside at the exit of the hairpin. Even by half-distance, Haslam and Lavilla were still in touch, which made it a five man group for second place. The order changed again as Leon braked on the inside of Chris for the hairpin, to take fourth.
'Shakey' Byrne got a step nearer the front when Rea went a little wide at Shaw's, the 30-year-old going tighter to get the inside and the position at the exit. Kiyo was well clear by now, but not for long. Sliding the Honda on the brakes for Edwina's, not untypically, the Japanese rider then lost the front through the left-hander and crashed. He was able to get a push start and continue, but with a pretty second-hand bike and a smashed fairing. He soon pulled out altogether.
All of which gave Byrne the lead, which he held with a handy margin over Rea. The Ulsterman had to be more concerned about the threat from Haslam, with Leon mounting an attack at Shaw's. He went past on the inside going in, but the momentum took him wide and gave Jonathan the run back through. Even as Byrne secured the win, the last lap saw Haslam try to find another challenge for Rea. He never quite had the chance to make a move, but it was a close finish. Kiyo was the new lap record holder, but with his non-finish Rea took over the points lead.
Byrne's victory was his first in Superbikes at Mallory, adding to others at eight different UK venues. For team boss Paul Bird, not actually present, it was the first Superbike victory for three years. The last one had been not as Stobart Honda, but as MonsterMob Ducati, with Sean Emmett riding.
Walker held onto fourth from the bruised Lavilla, with Sykes moving through for sixth, at the expense of Hill (seventh), Camier (eighth) and Smart (tenth). Crutchlow took ninth, with Simon Andrews (Jentin Yamaha) and Dean Thomas (Samsung Suzuki) following on, the latter back from injury. Rutter had gone out with engine problems, and Harris with tyre problems.
Kiyonari lined up for race two with his number one Honda repaired, but again he lost the lead to Rea. The next few were in a similar order to earlier on, with Walker third, from Haslam, Byrne, Lavilla, Hill, Sykes, Rutter, Crutchlow, Smart, Camier and Harris. Again Kiyo took the lead from his team-mate at Edwina's, while moments later Haslam passed Walker for third at the hairpin.
Leon then tried for second by going to the outside of Rea for the same Shaw's corner, only to leave himself open to attack from Chris, who recovered his lap one position. Sykes was looking racy as he attacked Hill's seventh place along the Kirkby Straight, and sure enough he soon made up the place. Crutchlow followed the example of his former Supersport rival, passing Tommy at Edwina's. Kiyo was getting away again, but the group for second comprised Rea, Walker, Haslam, Byrne, Lavilla, Sykes and Crutchlow, as Hill and the rest lost touch.
Haslam braked late to pass Walker on the inside at the hairpin, cutting across the Suzuki to just seal the move as he made the turn and powered for the exit. This put him in behind second man Rea, but Kiyonari's decent lead was about to be negated at one-third race distance. James Buckingham, Marty Nutt and Aaron Zanotti became entangled at Charlie's when Nutt's Yamaha went down. For the scene to be cleared, the safety car was sent into action. The entire field closed ranks again.
But on the restart Kiyo was able to begin pulling out a gap again, with Rea chasing and therefore starting to get away from Haslam. Jonathan continued to slide the rear on the brakes for the hairpin, but at this stage got in there too hot and was perilously close to his team-mate for a moment. Behind, the next six were once again pulling out a margin to Hill and the rest, but they also were beginning to get more spaced out themselves.
Sykes attacked Lavilla at the hairpin, out-braking the Spaniard, but also out-braking himself and passing the place back to Gregorio. As Kiyo started to try and move out of sight of his pursuers, Rea and Haslam also began to clear off from the rest. The Stobart Honda riders seemed to have most to offer in response. Byrne went from the hairpin through the left-right-left Bus Stop chicane, taking a good run onto the downward fast curving left Devil's Elbow to make an unusual pass on the inside of Walker, and onto the Kirkby Straight. Sykes finally got by Lavilla, and he then took Walker at the hairpin.
Byrne and Sykes now headed the loose five man group for fourth, with Kiyo out on his own and Rea racing Haslam for second. Leon was putting on plenty of pressure in the closing stages, and unfortunately it told on the less experienced Jonathan. As Rea went wide again at the hairpin, Haslam went to the inside. The Honda man defended the place, holding it going into the Bus Stop, but untidily. The momentum saw Rea run out to the air fence barriers on the way out and crash.
The red flag went out and, with enough race distance covered, the race was declared over. Kiyonari was the clear winner, Haslam was second, and Byrne inherited a fourth consecutive podium result. Team-mate Sykes was fourth and, with Crutchlow having passed Walker, these two rookies both equalled their best BSB results to date. Behind Walker came Lavilla, Rutter, Hill, Smart, Camier, Andrews, Harris and Thomas.
Just like at the preceding Oulton Park round, the HM Plant Honda riders managed a crash apiece at Mallory Park. But with Ryuichi Kiyonari winning one race, and Jonathan Rea second to Shane Byrne in the other, the Japanese rider moved into a sixteen-point lead. But again it was Byrne and Leon Haslam to score best across the weekend, with the Ducati rider starting to come back into the championship reckoning, at the expense of his somewhat second hand team-mate Gregorio Lavilla, who now must look out for Byrne. Also of note today is that Honda moved onto 36 podium results for the year, with four more, which is their best total for many a season.
Next time out at Croft cannot help but have better news than on this weekend. And for Rob McElnea's Virgin Media Optoma Loans Yamaha team that may come in the form of a new team-mate for Tommy Hill. Currently on their shopping list is 38-year-old Australian Steve Martin, a long term Pirelli tyre development rider in World Superbikes, and five-time podium man in 2004. His experience will be of likely benefit to a team with only four wins in six seasons.
Standings after eighteen races: Kiyonari 298; Rea 282; Haslam 267; Lavilla 246; Byrne 228; Camier 179; Sykes 171; Walker 151; Hill 110; Harris 102; Crutchlow 85; Rutter 67.