Ryuichi Kiyonari gets closer to the 2007 BSB title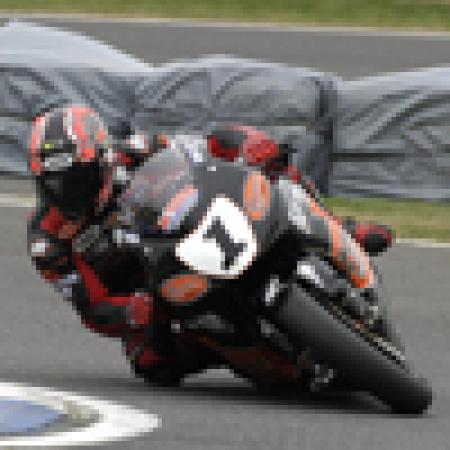 © Raceline Photography
By Dan Moakes
September 1 2007
HM Plant Honda were fully in control of British Superbike competition, after the Croft round, with reigning title holder Ryuichi Kiyonari on a three-win streak to extend his points lead. Team-mate Jonathan Rea was double runner-up at Croft, but with the gap between them therefore out to 26. Ducati might prove a threat at Cadwell Park, but could Rea beat 'Kiyo'?
Cadwell is in fact the home track for the UK Honda Racing team, but they hadn't won there since 2004, whilst Ducati had taken three successes since then. The woodland circuit is a true mix of all the challenges found on British closed courses, with a couple of fast blasts, but also a wide variety of twists and corners. High-speed turns are offset by intricate and undulating sections, and spectacular gradient changes make for a popular venue.
Many of the leading Superbike riders had previous wins at Cadwell on their records, with the Rizla Suzuki pair topping the list. Chris Walker took four victories in the class during the years 1998-2000, and Cal Crutchlow had a win each in the Junior Superstock, R6 Cup and Supersport classes. Without wins, however, were Jonathan Rea, Leon Camier, Tom Sykes and Kiyonari - whose best was a second three years ago.
Qualifying saw Leon Haslam take his first pole of the season, and only the second for the Airwaves Ducati squad. Team-mate Gregorio Lavilla was on the other end of the front row of the grid in fourth. Up against them came the five leading Hondas, with HM Plant riders Rea (second) and Kiyonari (fifth) joined by Stobart riders Sykes (third) and Shane Byrne (eighth), and Bike Animal man Camier sixth.
'Best of the rest' was Crutchlow, in seventh, and Suzuki partner Walker was tenth. Tommy Hill was ninth for Virgin Yamaha, Karl Harris in P11 for Hydrex Honda, and Michael Rutter in P12 for Isilon MSS Discovery Kawasaki. Hawk Kawasaki riders led the fourth row, with new recruit James Haydon heading established Scott Smart. They had briefly been Rizla Suzuki team-mates in 2005, when Haydon substituted for John Reynolds.
Lavilla made a stuttering start in race one, as he managed to jump the lights, then had to brake because of his mistake. This left him at a disadvantage, but the breach of the rules nevertheless landed him with a 20-second penalty, to be added onto his finishing time. Rea, Sykes and Kiyonari led away for Honda, but with Haslam quick to move into third, along the first fast section, followed through by Camier on the brakes at the next corner. Byrne and Lavilla swapped places behind, pursued by Hill, Crutchlow, Walker, Harris, Rutter, Smart, Simon Andrews and Haydon.
The main place to overtake at Cadwell is on the brakes for the Park right-hander, at the end of the lengthy Park Straight. With Rea starting to creep clear in the lead, this is where Haslam went by Sykes for second. Camier followed on in impressive style at the downhill left-hander Mansfield, putting Sykes fourth, with Kiyo on his tail. At this stage, Harris was already out, having lost the front at the long, right-handed Charlies bend.
Haslam chased after Rea, and it was at Park where he made his move to take the lead. Jonathan had a go at recovering when they arrived at Park again, but by now Camier had broken the lap record and closed in behind them. The man on the yellow bike looked on course for his best result since the second round, but disaster was awaiting. Leon shaped up to pass Jonathan at the right-left chicane, which slows riders on the approach to the famous Mountain section. Rea kept ahead on the brakes, but Camier was on the inside at the first apex. He managed to clip the right rear of his rival's Honda, and both crashed. Camier tweaked a knee, but Rea at least got back into the race.
This left Haslam in a clear and unchallenged lead, with Sykes and Kiyonari now battling for second. The Japanese rider took it at Park, and was just ahead as the first three finished in that order. Lavilla had been racing around in fourth, but his penalty meant that the pursuing Byrne and Crutchlow battled for that slot, with Gregorio in fact eighth. Byrne got by Lavilla on the road, but the Ducati rider did enough to move up to seventh on corrected time, behind Hill and at the expense of Walker. Haydon beat Smart for ninth. Rea had rejoined battle with these two and Rutter, but later crashed out for good.
Karl Harris had hurt an elbow in his crash, and ultimately had to sit out race two. Rea, Kiyonari, Sykes and Haslam led this one, with Leon up to third through the first left Coppice. He then passed Kiyo at Park, but was travelling too fast to make the turn and ran wide to the kerb, losing places. Rea led Kiyo, Sykes, Haslam, Lavilla, Byrne, Walker, Crutchlow, Hill, Camier, Rutter, Smart, Andrews, Steve Plater and Haydon.
Rea set fastest lap as the field started to get stretched out, with a gap opening behind sixth man Byrne, and another behind Camier and Crutchlow, who now headed Hill, Walker and the rest. Haslam looked less comfortable in fourth than when winning the earlier race, but still improved the lap record and put pressure on Sykes. HM Plant's Rea and Kiyonari looked like they might start to clear off now in front.
The Mountain at Cadwell is a famous place in British Superbike racing, where riders arrive at a left-right chicane which exits onto an immediate fast climb where the bikes become airborne. It's the landing that can be the problem, though, and now Camier came to grief at this point. The 21-year-old Honda rider crashed spectacularly, and his bike ended up in the middle of the track. But more worryingly he had clearly broken his left leg. While he was flown to hospital, the accident was cleared with the safety car on track.
The race restart saw the leaders take off in the same order, but with Haslam again trying to move up a spot at Park. This time he went so wide that he was onto the grass, losing more than two places and resuming ninth. Leader Rea was able to start to pull clear of the next five, with Crutchlow beginning to lose ground behind Kiyo, Sykes and Byrne; and with Haslam taking the lap record again to join in behind the lead Suzuki.
The drama was not over, as Sykes tried to get second from Kiyo at Park. He also went in very fast and took himself wide, dropping five places in the process. Second would now be between Kiyo, Lavilla and Byrne, but then 'Shakey' crashed at the Mountain, this time without injury. After Sykes' excursion, and having passed Crutchlow, Haslam was back up to fourth, and could see the battle between Ryuichi and Gregorio ahead of him.
Rea took his fifth win, whilst the next pair raced it out on the last lap. Haslam wanted to join in, but he managed to go off at Park when his front brake locked there, and he tried but failed to restart. Leon later said that he'd been having sustained front end problems. Kiyonari stayed ahead of Lavilla for second, and now Crutchlow took fourth, then Sykes, Walker, Hill, Haydon, Plater, Rutter, Chris Martin and Scott Smart - who had run onto the grass at the outside of Hairpin corner trying to hold off his team-mate.
Jonathan Rea's challenge to team-mate Ryuichi Kiyonari had been bolstered by this latest victory, but the disappointment inflicted on him in race one had been more costly. Still, this was the 50th win for Honda Racing UK since returning home from the Superbike World Championship for 2003. Mixed fortunes hit most riders on the day, which made a double second for Kiyonari all the more valuable as he closed in on the 2007 title. It marked his best weekend at Cadwell in his fourth visit.
Leon Camier's challenge for 'rookie of the year' honours had seen him fall behind Tom Sykes at Croft, with the Stobart man taking his first pair of podium results, but now the chance of that honour was ended. Although he looked better than most on the day, Camier ended up with no points, and his season was over. Meanwhile, Gregorio Lavilla had a mini revival, on the podium for the first time in ten races. Behind Kiyo, it was Sykes, Lavilla and Crutchlow with the most consistent results; with James Haydon, back on Dunlop tyres, getting his best results since last year.
Ryuichi Kiyonari raced a customer-spec Honda in MotoGP during 2003, following the death of HRC favourite Daijiro Kato, but has concentrated on BSB racing for the four years since then. But it seems his future is now elsewhere, as he seems most likely to move up with a Honda ride in World Superbikes next year, even if a Grand Prix return is his ultimate ambition. He looks likely to be a double champion in the UK when he leaves, but either way the statistics make him the dominant force in this series for three straight years.
Standings after twenty-two races: Kiyonari 388; Rea 347; Haslam 313; Lavilla 294; Byrne 257; Sykes 230; Camier 199; Walker 183; Hill 135; Crutchlow 125; Harris 107.