MotoGP win at home in Australia for Stoner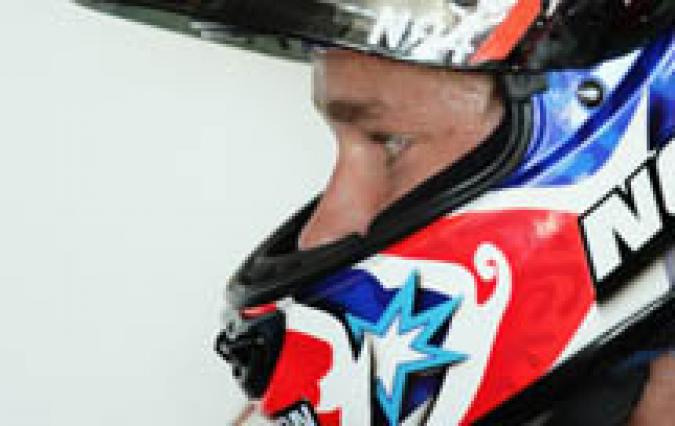 © Getty Images
By Dan Moakes
October 15 2007
Casey Stoner was the new MotoGP World Champion, but the next challenge for the young Australian was to win his home Grand Prix. This had been done by his predecessors Wayne Gardner (1989 and 1990) and Mick Doohan (1992, 1995 and 1998), both riding for Honda in the old 500cc top GP class. On his form in 2007, Stoner had a very good chance on the 800cc Ducati.
The title had been secured by Stoner, but with three races to go there were still five men with a chance of taking second place overall. Realistically, a podium result from Yamaha rider Valentino Rossi would deny all but Honda man Dani Pedrosa from challenging further; but at this stage John Hopkins, Chris Vermeulen and Marco Melandri were also still involved. But qualifying at Phillip Island would put this trio further onto the back foot, as it were.
The Australian race weekend was of significance to Suzuki, and in particular to rider Vermeulen. The first Suzuki rider to win the 500cc title had been Englishman Barry Sheene, with his first of two consecutive successes in 1976. Following Barry's retirement, he had settled in Australia, where he became part of the GP television commentary team. He also spotted and gave support to promising young riders, and he was therefore a mentor to Vermeulen.
In celebration of Barry Sheene, Vermeulen's GSV-R800 was decorated in the blue and white works Suzuki livery that had been seen on Barry's bikes in 1974-75. It also had the traditional yellow 500 plate, with the seven of Chris' number 71 scored through as Sheene had done. Chris also wore the black and gold with Donald Duck image Sheene helmet colours. Team-mate Hopkins stayed in the usual Rizla colours. With Carlos Checa going to Superbikes, Vermeulen will get to run with Barry's number 7 next year.
Due to Casey Stoner's 2007 success, and the presence of Vermeulen and Kawasaki's Anthony West, there was a sell-out crowd at Phillip Island, just off the coast of the mainland with its challenging circuit. The track is fast, with flowing gradients and bends linking into one another. There are two or three good overtaking spots, and the racing is usually well worth watching.
Motorcycle set-up time was compromised this year, with most of the practice sessions before qualifying being rain-affected. The vital session was dry, but the order was a bit shuffled from the norm. Pedrosa made it three pole positions in a row for Repsol Honda, with Stoner third for Marlboro Ducati. Between them came Rossi who, with Fiat Yamaha team-mate Colin Edwards, was on an unusually coloured bike. The two works Yamahas were mostly white with some red, in a Fiat Abarth livery. Rossi's crash helmet was also more colourful than usual.
The second of the Repsol and Marlboro riders appeared on the grid's second row, with Nicky Hayden fourth on the Honda, and Loris Capirossi fifth on the Ducati. The Italian matched his best performances of the year in this start position. Randy de Puniet was sixth for Kawasaki, with Pramac d'Antín Ducati rider Alex Barros seventh, in his best showing of 2007.
Shin'ya Nakano (Konica Minolta Honda) and Sylvain Guintoli (Dunlop Tech 3 Yamaha) completed row three, then came West and Edwards. Gresini Honda man Melandri was back in P12, from Checa on the LCR Honda. Hopkins was next, in his worst showing so far this year, from Makoto Tamada (Tech 3) and Vermeulen.
20-year-old Welsh rider Chaz Davies would make his second MotoGP start from P17, as the permanent replacement for Alex Hofmann on the other d'Antín Ducati. Chaz had been racing in the US, and stood in at Laguna Seca, but the d'Antín vacancy had been temporarily filled by Iván Silva and Shin'ichi Itoh at other venues. Toní Elías was way back on the second Gresini Honda, with last place going to Kurtis Roberts on the Team KR-Honda.
Conditions on race day were dry and bright, and it was the champion that left the start line in the lead, with Stoner followed by his predecessor Hayden, then Pedrosa, Rossi, Capirossi, Barros and Melandri. Hopkins soon took eighth from Nakano. On the second lap, with the first two starting to pull a gap over the rest, Rossi went into third at the right-handed Honda Corner hairpin, using the inside line where they brake after the fast left bend turn three.
Rossi managed to just run onto the dirt out of the final, long left-handed Swan Corner, onto the main Gardner Straight; which let Pedrosa pull ahead again on acceleration. Valentino got by once again with a move at Doohan, the right-handed first bend, but only briefly. Stoner set fastest lap, but this then went to Melandri, who was making good early progress. Having passed both Barros and Capirossi, Marco then got involved with Pedrosa and Rossi. This time, the Yamaha man went by his Honda rival on the inside through turn three, with Melandri also passing Dani when the Spaniard went deep into Honda hairpin.
Stoner and Hayden were now clear of the next group. Seventh man Barros was dropping back on his own, but Capirossi was closing in behind Rossi, Melandri and Pedrosa. Marco passed Dani tight on the inside at Honda, but the works rider used the slipstream to recover along the main straight. While they raced each other, and again swapped over at Honda Corner, Rossi was getting away from them in third, and setting the new fastest lap.
Hayden was still in touch behind Stoner at one-third race distance, even as the field behind began to spread out more. Nicky's bike was seen to slide at Lukey Heights, a left-hander over the brow before the dive down to the tight right-handed MG corner, and it was at about this time that Stoner began to pull away, and Rossi to close in. Valentino rode past on Nicky's right out of the Doohan turn and towards the Southern Loop. Rossi also pulled away, and now Pedrosa closed on his team-mate.
From a promising start, now it really went wrong for Hayden. He kicked out his left leg through the fast right Hayshed bend, before Lukey Heights, signalling that he was slowing. The Honda had just emitted a puff of smoke and he pulled out moments later. Stoner now led Rossi, Pedrosa, Melandri, Capirossi and Barros. Davies soon joined Hayden, saying later that his Ducati had first locked up and then shut down on him. This was about half-distance.
Stoner was now well out on his own, and Rossi was comfortably ahead of the next group of riders. Melandri tried to get by Pedrosa at the Hayshed, without success, and then felt an attack from Capirossi. The gaps between riders continued to fluctuate, with Pedrosa moving closer to Rossi and further from the men behind. Melandri's spell in fourth was to end when Capirossi used the slipstream and got by on his inside at Doohan. Marco would drop from the group now, his softer choice Bridgestone tyres no longer able to cope with the pace.
Pedrosa passed Rossi for second on the short straight from Doohan to the well-named Southern Loop left-hander. Dani's Honda had a moment of stardom when the front tyre managed to get into a rapid side-to-side wobble, but the rider stayed in control. Meanwhile, Capirossi was catching to make it into a three-man tussle. By now, Stoner was already seven seconds up the road.
Capirossi showed the form of the GP7 Desmosedici machine and used the straightline slipstream effect to pass Rossi along the Gardner stretch. The momentum helped him to also pass Pedrosa on the inside for Southern Loop, and now Ducati were first and second. Rossi passed Pedrosa at Honda so as to have another go at Loris, and now Dani also dropped off from these two. Over the last few laps, Capirossi had the pace to creep out of range of his countryman, and the final four were Stoner, Capirossi, Rossi and Pedrosa.
Melandri had dropped back into range for Barros, who made his pass in between the turn eleven and Swan left-handers. Alex secured fifth as Marco dropped even further, losing four more places to end up tenth. From his early eighth, Nakano had also successively lost positions. West had taken over behind Hopkins, but the Kawasaki man was also relegated by de Puniet and Checa. The French rider got the verdict over Hopkins for a secure sixth at the end.
Hopkins was seventh, but it was Vermeulen and Edwards who came through for the next two slots, from Melandri, Checa, West, Nakano, Guintoli, Elías, Tamada and Roberts. There were just the two non-finishers, with Davies having been ahead of the last four finishers before his problems. Elías, who scored just a single point here, is thought likely to be getting the second d'Antín ride next year, but Chaz has two more chances to make a mark before that.
Casey Stoner was a winner again, no doubt to the delight of the Australian spectators, and he managed it even with a tyre gamble - going for a softer front Bridgestone that he hadn't tried. Most of the other leaders had gone with medium compound fronts and hard rears. This was a first one-two for Ducati in 2007, and another good result from Loris Capirossi closed him up on the battle for fourth overall, with the other three riders involved each having a disappointing day. At the same time, Loris went past 1500 points in the top GP class. Who will be making a point in Malaysia?
Standings after sixteen races: Stoner 322; Rossi 230; Pedrosa 201; Hopkins 165; Vermeulen 160; Melandri 154; Capirossi 150; Edwards 115; Hayden 112; Barros 102; Elías and de Puniet 88.
Ducati 349; Honda 268; Yamaha 267; Suzuki 217; Kawasaki 124; Team KR 14; Ilmor 0