Ten wins in MotoGP for champ Casey Stoner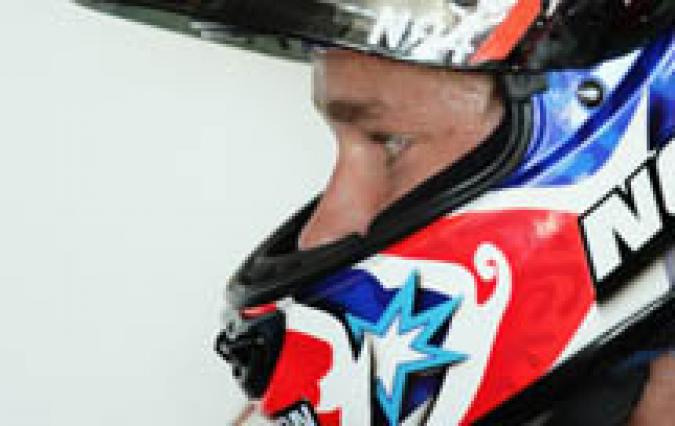 © Getty Images
By Dan Moakes
October 21 2007
With nine race wins in the bag, including at home in Australia, new MotoGP World Champion Casey Stoner really had nothing left to prove. It sounds obvious, but to be a winner you have to want to win. Round 17 of the series, at Sepang in Malaysia, would therefore be another occasion for Casey to try to get the best of the usual challengers, and to keep on building his reputation.
Sepang is a lengthy and fast circuit, particularly when it comes to the pair of straights linked by the final, left-handed turn fifteen hairpin. It also has some fast bends, and offers passing opportunities and good racing. Due to bumps on some parts of the track surface, there had been resurfacing at certain sections since last year, but this meant inconsistent grip, especially bearing in mind the usual hot local temperatures.
With much behind the scenes talk about tyre supply arrangements for 2008, qualifying gave Michelin's Repsol Honda rider Dani Pedrosa his third consecutive pole position, and the fourth of his season. His team-mate, Nicky Hayden, was on row two of the grid, in sixth position. Bridgestone's leading runners occupied all the slots in between, on three different makes of motorcycle. Stoner was second for Marlboro Ducati, joined on the front row by Gresini Honda rider Marco Melandri.
In their best joint result of the season, Kawasaki's riders were fourth and fifth, with Randy de Puniet in front of Anthony West. Rizla Suzuki's lead man was Chris Vermeulen, seventh, with John Hopkins in tenth. This race saw a third GSV-R800 pilot, with usual test rider Nobuatsu Aoki trying out the 2008 chassis with the 2007 engine. Nobu has eleven full GP seasons in his pocket, which included a 250cc race win back in 1993, and he would start from P19.
Toní Elías was eighth for Gresini Honda, and this meant that Yamaha had their worst qualifying of the season to date, with works Fiat rider Valentino Rossi back in ninth as their best man. He had been worse off at Assen, but with Colin Edwards on the second row that time. Colin had P13 here. Behind Hopkins came Loris Capirossi on the works Ducati, and then Alex Barros on the customer d'Antín version. Chaz Davies took P17 on the final Desmosedici.
The final third of the grid saw Shin'ya Nakano in P14, for Konica Minolta Honda, and then came Sylvain Guintoli (Dunlop Tech 3 Yamaha), Carlos Checa (Honda LCR), Davies, Makoto Tamada (Tech 3), Aoki and Kurtis Roberts, twentieth with the Honda-powered Team Roberts machine.
The race start saw Stoner straight into the familiar position of leader, the man in red ahead of Pedrosa, de Puniet, Melandri and Elías. The early corners resulted in Toní being shuffled back behind West, Vermeulen and Hopkins, to be followed by Capirossi and Rossi. The first lap ended with Stoner leading them along the fast blast that ends with the heavy braking turn fifteen. At the hairpin, he managed to take the Ducati beyond the apex and wide, but he was able to cut inside to fire out onto the main Kuala Lumpur Straight, which took him back past Pedrosa.
Turn one is another slow one, with more heavy braking for a long, winding right-hander. Pedrosa attacked Stoner again here, but without success. Meanwhile, Hopkins passed Vermeulen for fifth at this early stage, but somehow managed then to lose out to the Australian, and also to Hayden and Capirossi. Stoner, Pedrosa and de Puniet had made themselves a small gap back to Melandri, but the Italian set fastest lap to close in, leaving West to fall back at the head of the second group.
In fact, West's useful position in fifth was soon to be lost, as the 26-year-old was to have a pitlane ride-through penalty imposed, for lining up in the wrong start position. For now he led Elías, who would soon lose out to Rossi. Vermeulen was next, but with Hayden about to pass, then Capirossi, Hopkins, Edwards, Barros, Checa, Aoki, Nakano, Davies, Tamada, Guintoli and Roberts.
Fastest lap again had taken fourth man Melandri onto the tail of Stoner, Pedrosa and de Puniet. Marco was able to attack when Randy had a serious slide at turn eight, the right-handed KLIA Curve. Turn nine is an acute, uphill left-hander, at the end of a short straight. It is also a known passing spot, and de Puniet was able to get back in front of Melandri using the inside line.
Meanwhile, Rossi had caught up to West, yet to take his penalty, and he pushed the Kawasaki man out as he went through with an inside pass at turn four, or right-handed Langkawai Curve. This also allowed Elías the room and momentum to go by in the fast, left-handed turn five curve. Melandri passed de Puniet for third, and by now the gap to next man Rossi was already at three seconds. The West penalty at this stage dropped him to the back of the field.
For a number of laps the first four riders continued in a close group, first with a small gap from second to third, then from third to fourth. Stoner continued to slide his Ducati on braking for turn fifteen, but he would soon pull the pin and start to forge away from the others. Just before that, Melandri had passed Pedrosa, and this set the scene for a battle between the two Honda men. With Casey heading for a 1.5s lead, the gap to fourth man de Puniet also started to widen.
Rossi was now in a clear fifth place, leaving Elías to deal with the fast arriving Hayden. This seemed to inspire the Spaniard to get a bit closer to Valentino, but in the end it was another Honda-Honda race that developed. Nicky was right behind in time to launch an attack at turn fifteen, and he braked on the inside of Toní. But he was very late stopping, and succeeded in going straight on into the gravel trap. He rejoined the circuit, but not before three more riders had passed.
Stoner took his lead out to two seconds with several laps yet to run, but it was nearer 1.5 in the last few. However, he once again had his rivals covered, and duly converted to his tenth win with the Ducati, and he added a new lap record. Melandri shifted clear of Pedrosa by the flag, with de Puniet taking fourth before apparently running out of fuel. Rossi had a gap of almost three seconds to make up in the final stages, but somehow the Yamaha-Michelin combination was not up to it, but fifth was his reward from ninth on the grid.
Following Hayden's incident, Elías finished in a clear sixth. Behind him, there had been a close tussle between the two regular Suzuki riders, with a number of changes. To begin with, Vermeulen led, but Hopkins got by into turn one. Later the situation reversed again, and Vermeulen had edged away by the flag. Hayden recovered to overtake Edwards, and was close to Hopkins at the end.
Capirossi had lost out to Edwards, but he recovered a place from Barros to take eleventh. Aoki got the best of Checa, whereas West, who had got back to thirteenth, ended up behind the two veterans. Nakano and Davies were next, with both the Dunlop tyre runners Tamada and Guintoli outside the points for the first time during the season. Roberts was last home, having taken a gravel trap excursion earlier in the race.
Casey Stoner was yet again the man to beat, with Ducati and Bridgestone, and yet again the others failed to beat him. Despite problems with the tube from his drinks bottle, Marco Melandri put in a good run to second, and this result shifted him from sixth in the points table, past the Suzuki pair to fourth - which will still be in dispute at the final race.
But the other big issue to come out of this weekend was the question of tyres for 2008. The decision about whether there will be a control tyre was delayed, with one or two controversial issues intruding. Rossi has said that he wants Bridgestone tyres on the Yamaha, even though his team-mate will not have them. Pedrosa is thought to have felt the same, but the works Honda team have confirmed their continued Michelin supply. Rossi has apparently even said that he will leave MotoGP if he doesn't get the tyres he wants, but we will know more when they get to Valencia.
Standings after seventeen races: Stoner 347; Rossi 241; Pedrosa 217; Melandri 174; Hopkins 173; Vermeulen 169; Capirossi 155; Edwards 121; Hayden 119; Barros 106; de Puniet 101; Elías 98.
Ducati 374; Honda 288; Yamaha 278; Suzuki 226; Kawasaki 137; Team KR 14; Ilmor 0