Dani Pedrosa wins Valencia MotoGP race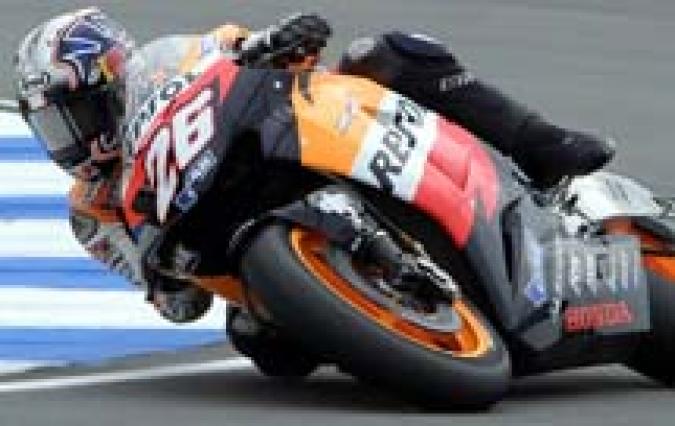 © Raceline Photography
By Dan Moakes
November 5 2007
There was one more race left in the 2007 MotoGP World Championship, with only the minor places left to be decided. Second place could still be taken away from Valentino Rossi, but really it was the race for fourth that had most action still in it, with three riders close and another one within range. But would new champion Casey Stoner once again take the limelight in Valencia?
Repsol Honda rider Dani Pedrosa is currently the most prominent of three Spanish MotoGP riders, and the Valencia race marks the third visit to Spain for the series. The circuit is a modern one with plenty of turns fitted into a small area. Some of them are quite fast, though, and there is a long main straight, which gives a good passing place at the left-handed turn one.
Rossi had lost the 2006 title race at Valencia, somewhat unexpectedly, and this time he would secure the next-best runner-up slot again by scoring just one point with the Fiat Yamaha, whatever Pedrosa did. Fourth place would be disputed by Marco Melandri (Gresini Honda), John Hopkins and Chris Vermeulen (both Rizla Suzuki), but Ducati rider Loris Capirossi could still do it in the unlikely event that all the other three missed the top eight.
There was plenty of talk about Rossi's wishes on 2008 tyre supply, but meantime his chances in the race were somewhat diminished when he crashed in qualifying and managed to injure his right hand. As a result, the 28-year-old Italian secured only 17th position on the grid, but he was resolved to race. Pramac d'Antín Ducati rider Chaz Davies was not able to make the same commitment, after sustaining an injury of his own, and the Welshman's absence meant there would be no points scored by a British rider for the first season ever in the top Grand Prix class.
Spanish fans had one of their own on pole position, with Pedrosa taking the slot for the fourth event running. A mixture of different bikes and tyre suppliers filled the leading positions. Pedrosa on the Honda-Michelin combination was joined by team-mate Nicky Hayden, third. Bridgestone's leading runners were second-placed Stoner, on the Marlboro Ducati; and Randy de Puniet, fourth for Kawasaki. The second row was completed by the Dunlop Tech 3 Yamaha riders, with Sylvain Guintoli fifth, then Makoto Tamada. Guintoli was in his best position of the season.
Hopkins was the first of the men looking for fourth in the series, starting seventh, and followed by Capirossi. The 34-year-old Italian had qualified fifth three times, but this eighth meant that it was his first year in the top GP class without starting from the front row of the grid - not that it necessarily matters with his starting technique. Melandri and Vermeulen led row four, behind ninth man Carlos Checa - the LCR Honda rider doing quite well despite an apparently significant stomach or intestinal ailment.
Twelfth place went to the Pramac d'Antín Ducati team leader Alex Barros, with the 37-year-old Brazilian about to start his final race before retirement, after two decades in Grands Prix. The Honda RC212V machines of Shin'ya Nakano (Konica Minolta) and Toní Elías (Gresini) were next, then the first works Yamaha of Colin Edwards. Anthony West on the second Kawasaki headed Rossi, with Kurtis Roberts last on the KR-Honda.
The race started with Stoner once again into the lead, and in fact starting to build a small advantage as the first lap unfolded. Hayden was ahead of Pedrosa until the second corner, an acute left-hander. Hopkins was fourth, from Capirossi, Melandri, Barros, Tamada, de Puniet, Guintoli, Elías, Vermeulen, Nakano, Checa, West, Edwards, Rossi and Roberts. Stoner was quick to improve on the existing 990cc lap record with the 800cc Desmosedici, but Pedrosa was going with him. Melandri made an early pass on Capirossi, the man he replaces next year.
The first two didn't take much time to move clear of the pack, which left a battle for third. Frenchman de Puniet found his way past Tamada and Barros to tag onto this. Melandri threatened Hopkins for fourth, but it was the Suzuki man to make progress, as he overtook Hayden at turn two. John then eased away, leaving the two Honda riders to fight it out. There was some place swapping as Marco got by at turn one, but let Nicky back through. Melandri would go ahead again at turn two and start to pull away.
By that time, Pedrosa had taken over in the lead. To the delight of the crowd, and after a new fastest lap, Dani used the slipstream from Stoner's Ducati to pull ahead and take the inside route for turn one. With the Spaniard leading, Rossi was still outside the points in 17th. Team-mate Edwards had overtaken West, but Valentino remained behind the Australian. It meant that Pedrosa could take second in the championship. However, the positions soon changed, and it looked like West had let Rossi go by.
The lead of Pedrosa over Stoner was in the range of 0.5s to one second, with third man Hopkins now out on his own. Melandri's lead over Hayden, Capirossi and de Puniet began to diminish again, and those last two were shuffling and swapping at this stage. Barros and Vermeulen were next, with the Suzuki rider getting by the man he had briefly partnered at Camel Honda in 2005.
Edwards had passed Checa and Nakano to tag on behind 12th man Tamada, and Rossi also followed Checa past Nakano. This put the injured Italian into fifteenth, and gave him the point he needed to stay in front of Pedrosa in the final table. Edwards next passed Tamada, with Checa then doing so on the inside at the looping, right-handed turn eleven. Rossi also got through on the former race winner, but did not stay there for too long.
Rossi seemed to out-brake himself on the M1 Yamaha, skirting the edge of a gravel trap and being passed again to be back in P16. One theory might have been that his right hand had gone numb through the effect of pain killers, and soon 'the Doctor' had pulled into the pits to retire. However, it was to come out later that the Yamaha engine had failed. With Pedrosa leading, Rossi was in line to be dropped to third overall.
Indeed, Pedrosa was now 1.5s clear of Stoner, perhaps with the hard compound front and medium rear Michelins coping better than the all-round soft Bridgestones of his rival. Dani saved a front-end twitch from the Honda at turn one, and a less obvious one on the rear, to take his lead to 1.8s and then two seconds. This came down a little, but went up again in the last laps as Stoner settled for second - admitting afterwards that he had experienced rear tyre problems. And so Pedrosa unexpectedly took second in the championship.
Hopkins was in a well secure third, but there was action still for the places behind him. Vermeulen took his turn behind Capirossi as de Puniet dropped back, but the Melandri-Hayden tussle caught the eye. On one lap, Hayden went past at turn one, was re-passed at two, and went again at turn four. Melandri took it again at turn one, but was seen by his onboard television camera to have a loose strand of rubber on his rear tyre. Despite this, he just eased away for fourth to the end.
Melandri was not challenged further as Capirossi homed in on Hayden, with Vermeulen following his future team-mate past the 2006 champion - Chris getting by at turn two. The number 65 and 71 men took fifth and sixth, as Hayden dropped back and lost out to Barros, who had already got de Puniet. Elías, Guintoli, Checa, Edwards, Nakano, Tamada and West completed the finishers, with Rossi having joined early retirement Roberts.
The day belonged to Spain, to Dani Pedrosa, to Honda and to Michelin - especially because of the bonus that Valentino Rossi had handed to them, by one point. Despite this success for Michelin, their second rider home had been eighth-placed Nicky Hayden. In Yamaha's worst race of the year, Sylvain Guintoli was their first man home in 11th. Casey Stoner made it fourteen podium visits in an impressive year, and John Hopkins took a fourth rostrum visit to overhaul Marco Melandri in the points table. Four rostrums were more than Hayden had managed, and John hit 500 GP points in this race. For Anthony West, it was his first no-points race with the Kawasaki.
With reference to the tyre supply situation, and after Michelin had been beaten by Bridgestone for the first time, Rossi had made it clear that he preferred to swap from the French to the Japanese rubber for 2008 - even though his new team-mate will be kept with the existing supplier. He also said that he now felt he was prepared to switch bikes after the 2008 season, if at the time he felt that Yamaha had in any way let him down in the race for the championship. It was thought that the above meant that a deal with Bridgestone had been done for the Italian, which indeed turned out to be the case. It is also suggested that Rossi is not keen on Jorge Lorenzo's arrival in the team, as perhaps he might prove capable of challenging in the way that Colin Edwards has not.
A few other details for 2008: The Tech 3 Yamaha team are to move from Dunlop to Michelin tyres. Team KR are rumoured to be potential Ducati engine customers. MotoGP says goodbye to Makoto Tamada, Carlos Checa (who moves to the Ten Kate Honda World Superbike ride), and Alex Barros (see below), who was given a cake and champagne send off.
Final standings after eighteen races:
1 Casey Stoner, Ducati, 367
2 Dani Pedrosa, Honda, 242
3 Valentino Rossi, Yamaha, 241
4 John Hopkins, Suzuki, 189
5 Marco Melandri, Honda, 187
6 Chris Vermeulen, Suzuki, 179
7 Loris Capirossi, Ducati, 166
8 Nicky Hayden, Honda, 127
9 Colin Edwards, Yamaha, 124
10 Alex Barros, Ducati, 115
11 Randy de Puniet, Kawasaki, 108
12 Toní Elías, Honda, 104
13 Alex Hofmann, Ducati, 65
= Carlos Checa, Honda, 65
15 Anthony West, Kawasaki, 59
Ducati 394; Honda 313; Yamaha 283; Suzuki 242; Kawasaki 144; Team KR 14; Ilmor 0
The full season review will follow soon
---
Veteran Brazilian racer Alexandre 'Alex' Barros retires after 22 years on the scene. His first Grand Prix was on the 4th of May 1986, in the 80cc class at Járama, in Spain. He was 15½ years of age at the time, but had given his birthday as a year earlier to gain entry before he reached 16. Today he can look back on 282 GPs, and race wins with 500cc Suzuki and Honda machines, plus on the 990cc Honda; and a diversion to take victory in Superbike racing. Fast, and a demon braker, Alex started in the 500s with Cagiva in 1990, and looked good next to some experienced team-mates in his three-year apprenticeship.
He broke through in 1993, as Suzuki team-mate to Kevin Schwantz, but also showed his erratic side as he threw away a couple of potential wins before eventually reaching the top step in the final race. Honda was his usual home from 1995, although mostly without works machines, and he became more consistent as he finished fourth overall in five seasons - probably looking best in 2000. 2002 saw him impress in just four races with the new four-stroke RCV, but he never quite followed that up and took just one more win to make it seven in total. His GP career saw 2123 points scored, five pole positions, 14 fastest laps, and 32 podium results.