Ferrari wins, but tough road ahead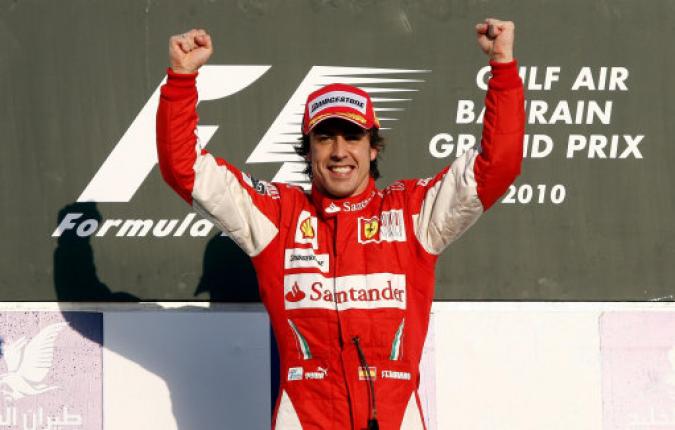 Perfect Start
By Jay
March 14 2010
Ferrari made a perfect start to season, with a 1-2 finish at the first Grand Prix for the season in Bahrain. Fernando started at the third position in the grid, behind Red Bull's Sebastain Vettel and team-mate Felipe Massa. He was quickly up to second place, overtaking Massa at turn-1, while constantly putting pressure on Vettel, and finally overtaking the German on lap 34.
In a race that saw many cars having reliability issues, the F10 came up triumphs in it's reliability and control, as Alonso and Massa cruised to victory trouble free.
However, notably, the Ferrari was not at equal pace with the Red Bull, as Vettel was constantly increasing the gap from the start. However, after the pit-stops, Fernando and Felipe, drove brilliantly to keep up the pressure on the German, forcing the Red Bull to run out of power, that opened the floodgates for both the red cars to take the lead.
There were also unconfirmed reports that Vettel started with 10 kgs lesser fuel than others, which could have been the reason for his quick pace. This hints at the Red Bull being good on fuel economy, thus having a lighter car advantage.
Speaking to the media after the race, Fernando said, "It is a very special day for me. Coming back to the top of the podium is special but it is even more special with Ferrari, with all the history behind the team and the expectation the driver has. There is no better way to start the relationship. I'm at the best team in the world. First and second is the result that all the guys deserve."
Massa coming back after a life-threatening injury last season, took a brave and deserved 2nd place, rounding off a perfect weekend for the Scuderia. "It's just fantastic to be here. Thanks to God that I am fine and thanks to everybody that supported me both at home and in every country" Massa said.
Massa also pointed out that he was saving fuel in the last 30 laps, and that it was not an easy race, but overall the best start he has had at Ferrari.
Lewis Hamilton took the third place for McLaren, while the veteran and 7xWDC Michael Schumacher, driving the Mercedes car, finished 6th, behind his team-mate Nico Rosberg.
With the next race in two weeks at Melbourne, Ferrari wouldn't be resting, and would definitely be working more on pace and fuel, to catch up the Red Bull and the fast improving McLaren and Mercedes teams.
--------------------------------------------------------------------------------
New to this site?
Have a comment or view to put forth? Then join us. It's free and takes hardly few seconds to get

registered

.
Discuss races, reviews, team strategies etc., in our Discussion Forum or just play the fun
F1 Prediction Game
etc., with the free forum membership.