Ferrari scores but disappoints at Spanish GP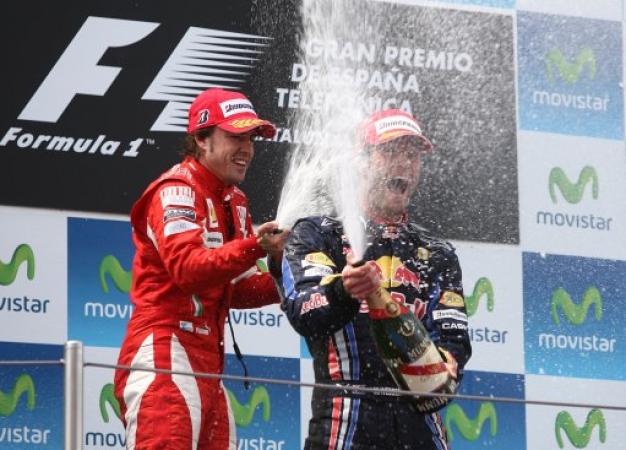 By Jay
May 10 2010
Ferrari fans in Spain came in for disappointment as the team struggled to match the Red Bulls on the race track.
It was a combination of luck and determined driving from their local hero Fernando Alonso that got them something to cheer about, as he managed a second place on the podium, while his team-mate Felipe Massa was behind at 6th position.
With all the news on big updates, and the f-duct that would help it close the gap in front, the red team disappointed its fans by running almost a full second slower than the Red Bulls in qualifying.
Alonso who expressed his dismay, said post-qualifying: "You can fight for victory if the gap is two- or three-tenths, not if it is a second or something like that. If you are a second behind, like we are, you can only expect at best to close the gap and be not too far away."
Ferrari, he said, had suffered through a relative lack of grip and down-force compared to the excellence of the Red Bull cars.
With Lewis Hamilton suffering a tyre failure in the penultimate lap and Vettel going off-track, the red's fans were a tad less disappointed, as Fernando got important points that took him closer to the championship leader, Jenson Button.
Alonso said, "I am happy with getting this second place in front of my fans. I am happy for them, but especially for the team, who have worked so hard this weekend without making mistakes.
"It's true the result came in an unexpected way, but that's racing. We knew we could expect a difficult Grand Prix, because on tracks like this we still don't have enough aerodynamic downforce to fight for pole position and the win, even if the races are very long and that was confirmed yet again today."
After five races, Ferrari lies second in the Constructors' championship. Team Boss, Stefano Domenicali echoed, ""Our aim today was to make the most of the package we had and we can claim to have succeeded in that."
The only positive thing that came out, was that there was no technical / mechanical glitches to the car. "The team worked very well, perfect pit stops, no technical problems on either car," Chris Dyer said.
The team now heads to Monaco this weekend, a track, which has not been to Ferrari's liking, but the teams hopes to put up a good show.
______________