ALONSO WINS MONZA FOR FERRARI AFTER 4 YEARS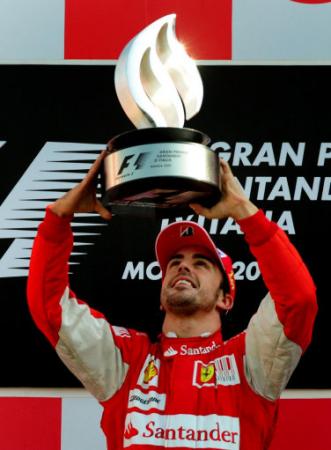 By Jay
September 12 2010
Fernando Alonso drove a brilliant race to snatch victory at home GP for Ferrari in Monza, Italy. Felipe Massa was third, making a Ferrari 1-3.
Alonso started hesistantly that saw Jenson Button take the lead, while Felipe Massa maintained his position and was quick on Alonso's tail.
With the briton running away initially, it seemed that Ferrari would have to settle with 2nd and 3rd position for the day.
However, Alonso kept the pressure up, once the tyres got up to temperature, putting in continuous quick laps
Alonso stayed on track, as Button pitted, and in the next lap came in to pit and held off button on the first corner, which sealed his win.
Speaking at the press conference, Alonso said, the win was very special for him.
"This win is comparable to my 2006 win at home race in Barcelona, and hence a special moment."
"We tried to concentrate on getting a good result, but after the start (when Button went ahead), it was difficult. However, we did a great pitstop and we have a good result."
Jenson Button, who was disappointed for not getting a win, said he struggled for grip after the pitstop, but overall it was a tough race mentally.
"It was very difficult race, with ferrari's straight line speed, I spent time looking in mirror where Alonso was. After the pitstop I struggled a bit on the grip. However, it's a good result for our championship race."
Felipe enjoyed his race at Monza and said it was great to race in front of all the Ferrari fans. On asked about Lewis Hamilton, who touched the back of his car, that saw him damaging his tyre and losing control, and eventually ending his race in the gravel, Felipe said he didn't see Hamilton as he was running outside just behind Alonso, while Hamilton was trying to come in.
On being prompted what were his plans now, Alonso said, "This is a good weekend after what happened at Spa, and we are going to enjoy this win for the moment."
Alonso is now third in the championship with 166 points, behind new leader, Mark Webber with 187 and Lewis Hamilton with 182 points.
Blog Link - Preview F1 Italian GP - Ferrari hopes for a good show