Valencia Day 3 - Ferrari Report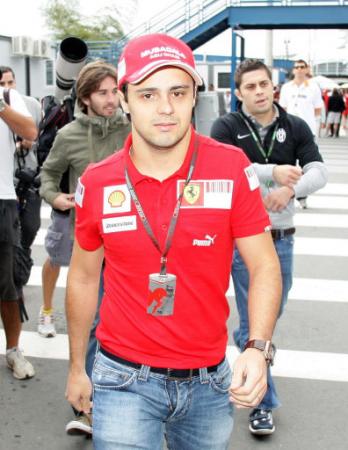 By Jay
February 4 2011
A broken clamp spoiled Felipe Massa's first full day testing schedule as his car was up in smokes early morning losing valuable track time.
Ferrari confirmed that there was an oil leak in Felipe's car due to the broken clamp, which led to a small fire breaking out, causing damage to the car.
Massa finally got back in to the car at 2.30pm local time, getting very less mileage out of the car, but managing to post fifth fastest timing of the day @ 1.14.017.
"We had a problem right at the start of the morning, when I was out on very old tyres. It was not nice having to stop pretty much before I'd started the real work, but then, it was a relief to find out it was nothing that serious. Unfortunately, I lost a lot of time and, in the afternoon I tried to make up for it and get a feeling for the new car," he said.
Speaking on the how the F150 was coping with the new tyres, he said he was pleased so far with how the tyres worked.
"I am pleased with how they behaved. I think that the fact there is a definite level of degradation is a positive thing in terms of the spectacle. It's a shame I wasn't able to do more laps, but the feeling I had was similar to the one from Abu Dhabi, even if that was at the wheel of a very different car. In my opinion, there is not that much that needs changing and I think Pirelli is working in the right direction. We did not try the hardest tyre here, because this track is not best suited to them: when we have done that, then it will be possible to give a more complete evaluation of them."
Ferrari's Technical Director Aldo Costa stated, "There are still so many questions hanging in the air that it's impossible to have a realistic view of the situation, starting with the tyres."
"In the very short time at its disposal, Pirelli has done a great job of bringing tyres here that, from a construction point of view, which effectively means in terms of reliability, are on the right track. And now they are developing the compounds, which according to the Milan-based company, will now evolve from there. Then it is up to us to work on the mechanical set-up of the car to improve the tyre behaviour."
"Looking at our own work in isolation, we can be pleased with what we have done. We are more or less where we expected, even if there is still work to do to have a full understanding of the handling of the car, especially when it comes to aerodynamics and tyres."
With tyres turning out to be the most important factor, teams now move on to Jerez for the second phase of testing from February 10-13, followed by Barcelona and finally Bahrain.
You can join the discussion on F1 winter testing sessions at our Ferrari Forum - Here