Ferrari fastest on final day's testing at Barcelona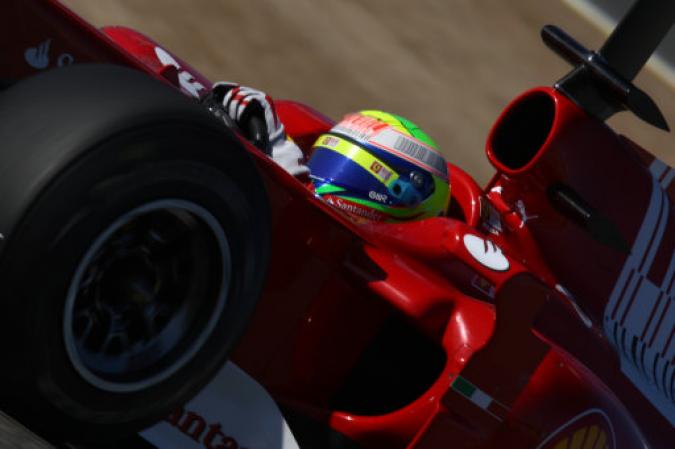 By Jay
February 22 2011
Felipe Massa posted the fastest time of all the four days of testing, when he clocked 1:22:625 seconds in the final half-hour at the Barcelona circuit.
Massa worked on running different fuel loads with various tyres of Pirelli tyres, with different set-ups to sum up Ferrari's 4 day testing schedule at the Barcelona.
However, Ferrari and others would once again return to the circuit for final four days testing, as the original venue viz., Bahrain has been cancelled due to civil unrest in that country.
Massa covered a total of 121 laps, and was quite positive of the outcome.
He said, "The outcome of testing up to the end of today has been positive."
"We really did a lot of kilometres and I think our team actually completed more than anyone else. Both myself and Fernando did a real and genuine race simulation and we tried all the types of Pirelli tyre with different fuel levels."
Speaking on where does he feel Ferrari stands in comparision to others so far, he said it is impossible to say, though he tipped Red Bull looks quicker.
"Where are we compared to the others? I don't know and until we are all doing the same things at the same time, in other words at the first race, then we won't know for certain. The Red Bull is definitely very quick and that's a fact. Today, we did a good lap time and I think we are not off the pace: however, yesterday Rosberg was quick for example and you definitely cannot rule out McLaren and some other teams."
He predicted there would be more pitstops this season due to the higher degradation of the Pirelli tyres.
"It's easy to predict there will be more pit stops compared to recent years. Degradation is higher and it's definitely not easy to look after the tyres. It's true they give good grip, especially on the softer tyres, while the medium and hard are not so good in this respect, although their degradation is similar to the others. From what we have seen so far, it means the race strategies could be very different to previous seasons," he added.
Speaking on the cancelling of Bahrain GP, he said, "You can have a Grand Prix for the fans to bring them a bit of light relief, but I don't think this is the right moment for the people of Bahrain to host a Formula 1 race. It's a shame we cannot start the championship there, because I have always felt really good in this country: the people are very welcoming and pleasant and apart from that, I have always gone very well at the Sakhir circuit. Let's hope we can go back there soon."
Massa would be driving the Ferrari for the first two days, when they return to Barcelona for the final testing from March 8-11, while Alonso will takeover testing for the last two days, before they head to season opener in Australia on March 27.