Jorge Lorenzo wins an eventful French GP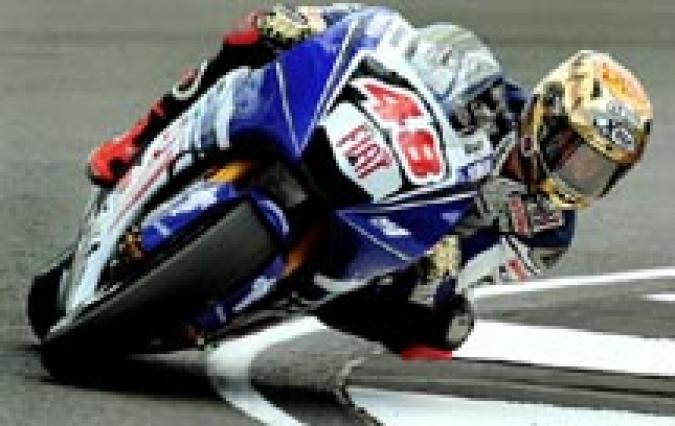 © Empics / PA Photos
By Dan Moakes
May 18 2009
Having won the Spanish Grand Prix and opened an eleven-point championship lead, was MotoGP World Champion Valentino Rossi about to start the surge for yet another title in 2009? The Le Mans circuit was hosting round four, with Rossi a three-time French GP winner and the lap record holder. He was one of several with wins at the track, but would he do it again this year?
Valentino matched his Spanish qualifying efforts, but that meant fourth for the Fiat Yamaha rider. The same three men were ahead, but in a different order. Pole position did not go to Jorge Lorenzo on the other Fiat machine, who was in fact second. Marlboro Ducati rider Casey Stoner matched his efforts at Jeréz with third, and that meant a Honda was fastest for the first race this season, with Repsol man Dani Pedrosa ahead although still not 100% fit.
Repsol Honda's second rider was fifth as Andrea Dovizioso joined the Yamahas of Rossi and Colin Edwards (sixth) on the second row. Colin's Monster Tech 3 partner, James Toseland, was in P12. Three unsponsored bikes made up row three, the Suzukis of Chris Vermeulen (seventh) and Loris Capirossi (eighth), without Rizla livery, were ahead of Marco Melandri (ninth) on the Hayate Kawasaki.
Randy de Puniet had crashed his number one LCR Honda in qualifying but still took tenth, ahead of the injured Toní Elías for Gresini Honda. Behind Toseland were Nicky Hayden (Marlboro Ducati), Mika Kallio (Pramac Ducati), Yuki Takahashi (Scot Honda), Alex de Angelis (Gresini) and Niccolò Canepa (Pramac). A crash on Saturday had given Sete Gibernau a collarbone injury, and he would not therefore be racing his Hernando Ducati. Meanwhile, Hayden had a new crew chief after the previous incumbent had moved into a role overseeing the data from all the five Ducatis.
Conditions were uncertain for the race, which was declared wet after earlier rain. The track was damp, but cool and breezy weather meant it was expected to dry. However, no-one was going to start with slick tyres, so pit stops were inevitable as the flag-to-flag rules allowed for a bike swap as and when required. The start was delayed just slightly as Lorenzo first lined up in the wrong slot, just off-centre on the front row.
Away from the grid Stoner moved into second behind Pedrosa, with Lorenzo pushing the Ducati man, then Rossi, Vermeulen, Dovizioso, Elías, Melandri and Capirossi. Edwards managed to lose quite a lot of ground. Lorenzo did the opposite, getting ahead of Stoner on the back straight, and soon after he went by Pedrosa for the lead on the inside into the right-left Garage Bleu 'S'. Dovizioso was soon past Vermeulen also as they all gauged the tricky grip conditions.
Lorenzo already looked like he was going to start stretching out his lead, and so Stoner went into second from Pedrosa, going to the inside through the first and fast right-curving Courbe Dunlop. But Casey managed to go wide at the right-hander Virage du Garage Vert, which let Dani back through, followed by Rossi. Then it was Dovizioso, Vermeulen, Melandri, Capirossi, de Puniet and Toseland, with Elías already dropped back to head Hayden, Takahashi, de Angelis, Kallio, Edwards and Canepa.
Lorenzo continued to go clear, and was soon over two seconds in front, but this left the men behind racing for second. The braking zone for the left-right Chicane Dunlop, after Courbe Dunlop, saw Rossi pass Pedrosa and at the same time Dovizioso pass Stoner. Melandri had just got by Vermeulen. This gave a Fiat Yamaha one-two and Repsol Honda three-four, which changed order as Andrea passed Dani through on the inside at the long left loop of Courbe du Musée.
Rossi had gained a slight gap over Pedrosa, but Dovizioso now closed this. Dani did not show his dry qualifying pace at this stage, and Melandri now went past, also on the inside at Musée. Vermeulen passed Stoner for sixth, as Capirossi tagged on to the group and left the rest dropping back. With Lorenzo clear, Dovizioso attacked Rossi. Vermeulen was doing the same to Pedrosa, but was in fact run a bit wide and let Stoner through again.
Just a few laps in, second man Rossi decided it was time to switch bikes for dry weather tyres and settings. Pedrosa and Capirossi followed suit, but soon after they rejoined the track Valentino was caught out and suffered a lowside crash. The Yamaha was damaged, and it took him a while to get it up, but he did get going and slowly made it back to the pits. His only option at this point was to go back to the 'wet' bike and let the team work on fixing the 'dry' bike. His pit visit earned him a penalty for speeding, so he had to ride through once more and lose further time.
While Rossi had his nightmare few minutes, Lorenzo stayed out, and the likes of Melandri, Toseland, de Puniet and then de Angelis waited just a bit longer before pitting for their bike switches. Dovizioso now had a secure looking second, from Stoner, Vermeulen, Hayden, Takahashi, Elías, Edwards and Canepa. Timing was everything, as decent pace with the dry bike would be harder to achieve until the track conditions allowed.
Until everyone had stopped there were two races, the second involving those who had come in and dropped behind those who hadn't. Capirossi, de Angelis and Toseland were racing as part of that group, behind Pedrosa, but Melandri was the leading man on slicks. Toseland was quickest of these guys at this stage, though. But where would they emerge after the leaders had also stopped? Hayden came in now, then Takahashi, Edwards, and then it was time for Dovizioso, Stoner and Vermeulen to pit and change bikes. Lorenzo had an eleven second lead and stayed out, with Elías emerging second as he also stayed out.
Earlier stopper Melandri was now setting fastest lap times, and so Lorenzo finally pitted two laps before half-distance, followed by Elías. The revised order shook down with Lorenzo still first and a way clear, Melandri second, then Dovizioso. These three were not close together, but after them Stoner was pursued by Vermeulen and Pedrosa. Toseland, Capirossi, Elías, Hayden, de Angelis, Takahashi, Edwards, de Puniet, Canepa and Rossi made up the list, with Kallio having crashed out. Rossi now collected his repaired second bike, but was two laps down for all his troubles.
With Lorenzo getting back up to speed on his second bike, second man Melandri was catching him, the gap at about four seconds. Dovizioso was almost three times as far away in third, then there was the battle for fourth. Stoner held that position until Pedrosa, after overpowering Vermeulen, went through on the inside at Virage de Raccordement, the final double right-hander. Casey seemed to be slow onto the straight, which meant Vermeulen also went ahead, but he didn't appear to be in trouble after that and stayed with the Suzuki.
Lorenzo's efforts now allowed him to stabilise the gap to Melandri, and from there he was able to increase his lead. From five seconds, the later laps saw this go out to more than fifteen, until Jorge eased off to take the flag for his second win of the year - of course, he then went on to plant his own flag. Marco had enough in hand to secure a well deserved second place for himself and the new Hayate team. And then there was the race to secure third place in the final laps.
Repsol Honda provided the entertainment, with Dovizioso heading Pedrosa. A 4.6s advantage was eaten into as Dani set a new fastest lap on three separate occasions. With two laps left to run the RCV pair were just 0.8s apart, and Pedrosa was looking threatening. The last lap challenge was inevitable, and Dani slipstreamed Andrea along the back straight, going to the inside on the brakes for the Virage du Chemin Aux Boeufs, a left-right chicane. The pass completed, he headed his team-mate over the line a few corners later. Stopping later had worked for Dovizioso, but Pedrosa was just faster in the end.
Stoner had regained fifth from Vermeulen with a pass on the inside through Courbe Dunlop, but sixth was still a good result for the Suzuki rider. The man in seventh at the finish had put in a good performance, with Edwards having passed six riders after all the pit stops. P7 had been in dispute between Toseland and Capirossi, with the Italian rider getting past and clear, by which time Colin had been homing in on James. The swap came at Courbe Dunlop, with the Texan on the inside and squeezing his rival out wide. His pass on Loris was then at Raccordement. Behind Capirossi and Toseland at the flag was Elías, with Hayden beaten by de Angelis for P11, then Takahashi, de Puniet, Canepa, and with Rossi out of the points.
It had been a tactical race, with Valentino Rossi getting it wrong and Jorge Lorenzo getting it right. But in truth the Spaniard had been setting the pace before the pit stops, whilst Dani Pedrosa had moved at the same time as Rossi and then recovered well when conditions stopped demanding such caution. A steady race for Casey Stoner made for a very close points position with him and the two Yamaha men. Pedrosa, by the way, took his 30th podium in MotoGP.
But surely the hero was Marco Melandri, the 2006 winner at Le Mans. A year with the Ducati had damaged his reputation, but here he was on a semi-works Kawasaki putting that to rights. KRT had taken one podium per year in 2004-07, and Hayate have done the same now in four races. Kawasaki had just 26 points at this stage last year, with two riders. This time they are ahead of Suzuki. Melandri, by the way, took his 20th podium in MotoGP.
Standings after four races: Lorenzo 66; Rossi and Stoner 65; Pedrosa 57; Dovizioso and Melandri 43; Edwards 35; Vermeulen 31; Capirossi 27; de Puniet 26.
Yamaha 95; Ducati 65; Honda 63; Kawasaki 43; Suzuki 38.