Casey Stoner makes it eight wins in San Marino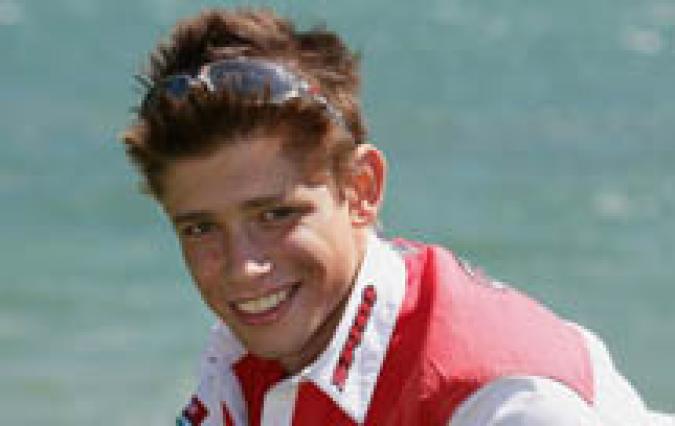 © Getty Images
By Dan Moakes
September 2 2007
There was a 'new' venue to greet the teams and riders of MotoGP, as the San Marino Grand Prix returned to the calendar for the first time since 1993. This year, fans at Italy's second race would have a rider or a motorcycle to cheer for, as star racer Valentino Rossi (with Yamaha) looked to get his challenge against Ducati (with rider Casey Stoner) back on track.
The San Marino GP has always been a tag used so that a second race can be held in Italy, but that has not happened for motorcycles in fourteen years. Mugello is now home to the Italian GP, so this event marked a return to the circuit at Misano. The last Grand Prix to be held here had been in 1993, although Superbikes have had an event here in every season since then. But all of this meant that not many of the current field had experience of the track.
Alex Barros, Loris Capirossi and Carlos Checa are the veterans, and each had done GP racing at Misano. Former Superbike men Colin Edwards and Chris Vermeulen had also visited the venue, and of course Barros was in that series only last year. But only Anthony West had any particularly useful experience of the track, as a World Supersport substitute rider earlier this year - when he had been the winner.
The fundamental difference between Misano of old and the current circuit is that the direction of racing has been reversed, and they now go clockwise round the track. This change is for safety reasons, as a series of ever faster left-handers, down towards a tight turn without a great run-off, is now a series of right-handers, where they have to slow up a bit for each one. What used to be the last few corners are now the first few, but in a redesigned layout, making for a longer back straight.
The new/altered venue meant that an extra practice session was factored into the weekend, but this came to nothing as the whole place was under floods on Friday with an unfortunately timed day of rain. A double session on Saturday was therefore held, but it amounted to just three hours for riders to get familiar and for their teams to get the bikes set up. Marco Melandri was returning from injury, and he didn't help his prospects by smashing up his bike in a big accident.
Qualifying therefore ended up with a good mix of different machinery up at the front end of the grid. Stoner and the Marlboro Ducati made it four pole positions in a row, with Fiat Yamaha rider Rossi in second, returning to the front row after four races away. Champion Nicky Hayden was third for Repsol Honda, with team-mate Dani Pedrosa a row back in sixth. Fourth went to Kawasaki (Randy de Puniet), and fifth to Suzuki (John Hopkins).
Carlos Checa did well to get the LCR Honda into seventh, from Vermeulen on the second Rizla Suzuki, and Edwards on the second Yamaha. West led row four on the second Kawasaki, then came Sylvain Guintoli (Tech 3 Yamaha), before Melandri (Gresini Honda) and Capirossi (Marlboro Ducati). Shin'ya Nakano, Toní Elías, Makoto Tamada, Barros and Kurtis Roberts followed, with Pramac d'Antín Ducati rider Alex Hofmann last on his comeback from injury.
The new Misano has a right-left chicane that follows the start-finish straight, with the right being Curva Rimini, and the left being Variante del Parco. The shuffle through here on the first lap would provide some drama, as the start saw Stoner, Hopkins, Rossi and Vermeulen lead away. Vermeulen forced his way ahead of Rossi, but just behind four men came to grief. Turning into the left of del Parco, de Puniet was looking to get on the inside of Pedrosa, and the pair collided. Both machines went down, and out to the gravel trap, and both Hayden and Roberts had to take evasive action - returning to the track at the back of the field. The other two were out.
Stoner led from Hopkins, Vermeulen and Rossi, with Capirossi, Edwards, Checa, West and Nakano following on after the accident. Stoner was looking to build a margin of advantage as Hopkins came under close attention from team-mate Vermeulen. Meanwhile, Melandri was on the charge, quickly going past Nakano, Checa and West to tail Edwards. He soon got the Yamaha man, too, with Checa passing West on the inside at a right-hander.
Hopkins set an early fastest lap as the first three moved clear of Rossi, and behind him the gap to Capirossi was growing even more, as Melandri put his countryman under attack. Marco passed Loris on the inside at del Parco, and seconds later they were both zipping past Rossi, who was going slow and wide at turn three, a right-hander Curva del Rio. Valentino had just cut across turn two, and was in trouble with an engine problem that meant he had to tour back to the pits and park it.
Rossi had not raced at Misano previously, but the circuit is close to his home town, and so there were more than enough supporters to be disappointed for him. With Edwards now back in eighth, it was already a bad day for Yamaha. And with both Pedrosa and Rossi out, race leader Stoner was looking like making a big gain over his only two realistic title rivals.
Stoner was only concentrating on the race at hand, though, and again he was starting to move into a comfortable lead. Vermeulen looked faster than Hopkins, and he duly went past at del Parco, then set a couple of fastest laps as he chased the leader. Small margins started to open between the first three, but meanwhile fourth man Melandri was well out of touch, as he began to stretch clear of Capirossi. The racing now would involve the next group.
Stoner's lead over Vermeulen fluctuated between about 0.8s and 1.2s for a time, whilst Hopkins found himself dropping back from the pair. Bridgestone tyre runners were in the ascendancy now, with the Ducati man not troubled by his harder compound rear, even though Hopkins was using the same and could not match Vermeulen on the medium. Melandri and Capirossi also race for Bridgestone, making it a top five.
Stoner improved the fastest lap as he increased his lead, beyond two seconds then beyond three, and the 21-year-old Australian made it another convincing win on the Ducati Desmosedici GP7 800. The gap from Vermeulen to Hopkins was much larger at eight seconds before the last few laps, and they duly finished in that order. Even allowing for Chris' win in France, it was the best joint result of the year for the Suzuki team, and in fact the first time that they'd had two men on the podium since Valencia, in September of 2001.
Melandri had made fourth secure, and for a time the five men behind him were from that select group that had raced at Misano before. Capirossi had gradually got away from Checa to take fifth, with the Spaniard well clear of the next group. Carlos was therefore sixth, matching his best result of the year so far. He was also the first Michelin tyre runner to finish, with all their usual fast men out of the picture. Behind, West and Edwards had been joined by Elías and Barros, with the Brazilian looking on form as he continued to move up.
Alex passed Toní at the tight right-handed Curva del Carro, before the final two left-handers, then dealt with West. He then passed Edwards for seventh, out of the left-hander that completes the new section between Curva del Rio and Curva della Quereia. Barros was on his way to try and challenge Checa when his d'Antín Ducati stopped, ending a good run from 17th up to seventh.
Edwards was dropping back, passed by both West and Elías, and with Nakano moving onto his tail. Toní therefore battled with Anthony for seventh. He went past on the inside through the fast Curvone Veloce right-hand bend, but was taking himself wide for the next right, which let the Kawasaki in again. He made the move stick on the inside at Curva Rimini. Edwards held ninth from Nakano, Hofmann held eleventh from Guintoli, and Hayden caught and passed Tamada to salvage three points, with Roberts getting the last one.
Casey Stoner's eighth win in the top GP class meant that he had matched former Marlboro riders Luca Cadalora and Kenny Roberts Jr. It also meant that the Marlboro company had taken their highest number of wins in a single year of MotoGP competition. But of more significance in the event were the non-finishes of Valentino Rossi and Dani Pedrosa. With a points lead of 85, Stoner does not need to extend himself in the last few races to keep ahead and win the title. As if to rub it in, his Ducati ran out of fuel on the slow down lap - just too late to help out Rossi or Pedrosa.
2008 signings: Colin Edwards now has a one-year deal to join James Toseland in the Tech 3 team, quite possibly with Michelin tyres on their works Yamahas. West will stay with Kawasaki for 2008. LCR have hired de Puniet, with Checa perhaps going into Superbikes. Guintoli is being targeted by d'Antín. And Gresini have not yet confirmed any riders, although Elías might be expected to stay.
Standings after thirteen races: Stoner 271; Rossi 186; Pedrosa 168; Vermeulen 144; Hopkins 140; Melandri 126; Edwards 100; Capirossi 98; Hayden 92; Barros 83; Hofmann 65; Elías 63; de Puniet 58.
Ducati 283; Honda 219; Yamaha 213; Suzuki 192; Kawasaki 90; Team KR 14; Ilmor 0