Podium joy for John McGuinness at Macau Grand Prix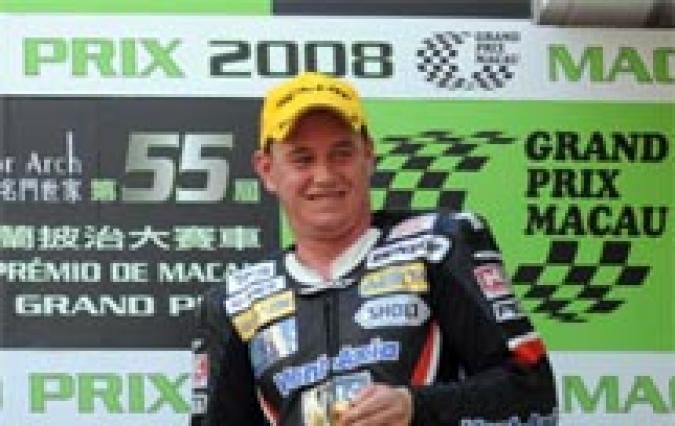 © Stephen Davison
By Phil Wain
November 16 2008
Morecambe's John McGuinness put in a superb ride on Saturday when he finished in third place in the Macau Grand Prix. Riding the Vent Axia/VK Honda Fireblade, the 36-year-old chalked up his 8th podium in 11 appearances at the 3.8-mile circuit, thus ensuring his up and down 2008 season ended on a high note.

© Stephen Davison - Pacemaker Press International
Qualifying went well for McGuinness, and he ran consistently inside the four six with weather conditions absolutely perfect at the Far East venue. Second in the first 45-minute session, John went quicker in final qualifying held early on Friday morning, with a time of 2m27.521s - but such was the frenetic pace being set around the tough, challenging road circuit he found himself shuffled back to fourth place overall. Nevertheless, this still put him on the front row and hopes were high going into the 15-lap race.
A solid start saw John slot into fifth place at the end of the first lap as Michael Rutter, Cameron Donald and Stuart Easton led the field round, and although he was relegated to sixth by Conor Cummins a lap later, he was still very much in touch with the leading pack. Having overhauled good friend Ian Hutchinson, John moved back up to fifth on the third lap and, with some consistent laps, he was able to pull away from the group of riders behind. Secure in fifth, it was very much a lonely race for John - but with both Donald and Cummins being forced out with machine problems, he moved up into third on the eighth lap. Although the leading two of Easton and Rutter were out of reach, John was very secure in third and here he finished to end his 2008 season with an excellent result.
Speaking afterwards, McGuinness said:
"It was a good race and a good ride but, as has been my problem all year, I made a lazy start. You can't let people get away here, and Cameron and Stuart were running a pace you wouldn't believe, so I just settled into my own race. Conor came by and was riding well so I couldn't hold on to him, and it was fortunate for me that he had problems. The bike never missed a beat and that's my eighth podium in eleven years of coming here, so I've got to be happy with that - I just don't seem to be able to win the damn thing again! It was quite a lonely race for me but I enjoyed it, and it's great to see Stuart win. I was his first team-mate and I've seen his career progress and he thoroughly deserved it. I've got some good bikes for 2009 and know what I need to do, so I'll get stuck in again next year."