More wins for Ryuichi Kiyonari at Oulton Park in BSB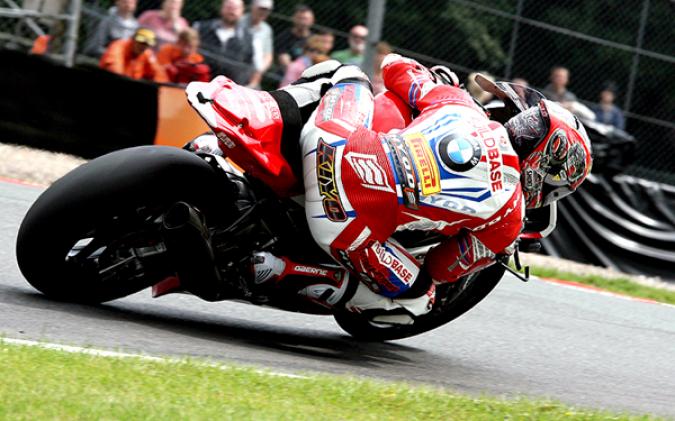 © Glynne Lewis
By Dan Moakes
October 6 2014
Shane 'Shakey' Byrne had taken victory in only one of the previous six races in the 2014 British Superbike Championship, but the 37-year-old Kawasaki rider was still in a commanding position as the series returned to Oulton Park for the triple-header in August.
Byrne recorded his fourth pole position of the season in qualifying at Oulton, one of four Kawasaki riders in the top six on the grid. His Rapid Solicitors team-mate, Stuart Easton, missed out on a leading position, but the other top ZX riders were Dan Linfoot (third for the Quattro Plant team), Barry Burrell (a season's best fifth on the WD40 machine) and Chris Walker (sixth for GBmoto). In amongst them were the Milwaukee Yamahas of Josh Brookes (second) and Tommy Bridewell (improving to fourth).
Seventh went to Tyco Suzuki rider John Hopkins, with team-mate Josh Waters in P12. Between them were Peter Hickman (RAF Reserves Honda), Jakub Smrž (Millsport Ducati), Ryuichi Kiyonari (Buildbase BMW Motorrad) and Michael Rutter on his BMW backed by Bathams Prize Winning Ales. Kiyonari was back in tenth after a qualifying crash, the same fate that befell Jon Kirkham on the Halsall Kawasaki.
Oulton Park
Form guide: BSB wins
Ryuichi Kiyonari · 2005 (x2), 2006 (x2), 2007 (x2), 2010 (x3), 2011
Shane Byrne · 2003 (x2), 2008 (x2), 2012, 2013 (x2), 2014
Chris Walker · 1997, 2000, 2012
Michael Rutter · 1998, 2002, 2005
Stuart Easton · 2009, 2010
Josh Brookes · 2013, 2014
John Hopkins · 2011
James Ellison · 2013
Saturday's race one saw Byrne maintain the lead at the start, from Brookes, Walker, Linfoot, Bridewell and Hopkins. The fast left at Island Bend then saw Brookes briefly ahead but with Byrne getting back through, whilst in the early stages Walker began to be pushed back, initially to fifth. The steepest downhill section at Oulton leads to the left-hander at Cascades, then on to the Lakeside straight and into Island. Brookes passed Byrne at Cascades, but when he went wide onto the exit kerb it meant Shakey got back through at Island.
Byrne, Brookes, Linfoot and Bridewell were the men at the front, but Kiyonari was on his way through, passing Hopkins for sixth on the inside at the final right-handed Lodge Corner. At the same moment, fifth man Walker went wide and this put him back in eighth behind Hickman, and ahead of Burrell, Waters, Rutter, Howie Mainwaring (Quattro Plant Kawasaki), Easton, Smrž and Glen Richards on the Kawasaki. The 40-year-old Australian was back in British racing as a rider for Anvil Hire TAG Racing, with Richard Cooper out after Thruxton.
'Kiyo' soon caught the leaders, and he overtook Bridewell on the inside through Island. His next target was Linfoot, who he overtook on the inside at the first right-hander, Old Hall Corner. By this time, Brookes had taken the lead at Lodge and started to build a gap over Byrne. Bridewell would go on to pass Linfoot for fourth at Lodge, the corner where Walker would soon crash out. This left sixth man Hopkins heading Hickman, Waters, Mainwaring, Easton, Rutter, Smrž, Burrell, Patric Muff (Bathams BMW) and Richards.
The later stages saw more from Kiyonari, with the BMW rider taking second from Byrne on the inside at Lodge, then making his next move down into the right-left-right Hizzys chicane. His pace then took Ryuichi clear of Brookes fairly rapidly, with Byrne left trailing. The last lap saw Josh close in again, but Kiyo was able to respond for the win. Behind came Byrne, Bridewell, Linfoot, Hopkins, Hickman, Waters, Easton, Mainwaring, Smrž, Muff, Burrell, Kirkham, Lee Jackson (Buildbase BMW) and Richards. Rutter had crashed at Lodge when the rear of his BMW got away from him.
For race two on Sunday, the new grid was headed by Brookes, then Kiyonari, Byrne, Bridewell, Hopkins, Linfoot, Waters, Smrž, Walker, Hickman, Mainwaring and Rutter. This time round the circuit was damp, but starting to dry as the weather was bright. Riders were faced with late tyre choices, with Hopkins opting for intermediate Pirellis, and pole man Brookes amongst those going for slicks.
From the start, Hopkins made up a place to run behind Brookes, Kiyonari and Byrne, followed by Linfoot, Bridewell, Rutter, Waters and Walker. As they got used to the conditions there were small gaps between each of the first few, but soon Kiyo closed on Brookes, and by the end of the first lap Byrne was with them and there was a gap to Hopkins and the rest - with Easton now up to eighth, ahead of Walker, Waters, Hickman and Smrž.
There was changes aplenty early on, and soon there was a dry line on the track. Hopkins went straight on at Hizzys, losing out on a leading position, and meanwhile Easton and Walker were among those moving forward. With Stuart up to fourth, the Shell Oils Corner, a banked loop to the right, saw him go wide and let 'the Stalker' past. At this stage they headed Linfoot, Bridewell, Rutter, Waters, Smrž, Kirkham and Hickman - until the latter crashed at Cascades.
Brookes had a small advantage at the front, but Kiyonari closed in again to launch an attack, with Byrne still on the pace and the rest well behind. The lead changed with Kiyo's move into Hizzys, but by the time they were into their last five laps, with the track now very dry, Josh was on the attack himself. Ryuichi twice improved on the fastest lap, held by the Australian just previously, but his last lap saw Kiyo have a 'moment' out of the final left at Brittens chicane. Brookes was on him at Hizzys, but the Japanese rider held on to the advantage to the flag.
Byrne was third, with Linfoot fourth after passing Walker on the inside at Lodge. These two were closely followed home by Easton, Bridewell, Kirkham and Waters. Then it was Muff, Rutter, Smrž, Keith Farmer (PR Racing Kawasaki), Richards, Scott Smart (also returning to BSB with TAG Kawasaki), Jackson and Gary Mason (Tsingtao WK Kawasaki). Hopkins had stopped in the pits.
For race three the grid was headed by Byrne, from Kiyonari, Brookes, Linfoot, Easton, Bridewell, Kirkham, Waters, Muff, Walker, Smrž and Rutter. There had been more rain, but the race was declared dry, and most riders went for slick tyres. Linfoot apparently chose an intermediate front. Brookes led away again, and from the start he began to pull out his advantage over Byrne and the rest, with Easton third, then Kiyonari, Linfoot, Waters, Bridewell, Kirkham, Walker, Farmer and Rutter.
In fact, Brookes would soon be clear in the lead and not challenged further, despite spots of rain starting to fall during the race. In the end he won by 7.5s, with Byrne still second at the finish. Early on, Shakey had similarly extended his gap over Easton, who would race with Kiyonari and Linfoot. In the slightly uncertain conditions, a group of six or seven closed in on the championship leader, with Linfoot earning the right to challenge Byrne.
To begin with, Waters had got back up to sixth after losing out to Bridewell at Old Hall, with Josh then getting past Linfoot and putting pressure on Kiyonari. But as Kiyonari and Easton fought over third, it was Linfoot who prevailed with two moves at Old Hall, and Waters was now back in sixth, ahead of Bridewell, Walker and Kirkham. Dan was the man to challenge Shane for second, getting ahead on the inside at Old Hall, but a 'moment' out of Cascades let Byrne back through, with Easton and Kiyonari tagging on behind the Quattro Plant rider.
Kiyo was fast and threatening towards the end, passing Easton at Hizzys chicane, but Linfoot held third position for his début podium appearance in BSB. Byrne had eased the gap open and retained second. Easton took fifth, not quite in touch with Kiyonari at the end, ahead of Waters, Walker, Bridewell, Kirkham, Smrž, Rutter, Richards, Hickman, Smart, Mainwaring and Jackson. Hopkins had run a fast pace coming from the lower reaching points positions, but had finally crashed out.
Josh Brookes therefore took his 20th BSB race victory, and the 30th for an Australian rider in the series (the others having gone to Troy Bayliss and Josh Waters). It was his fourth on a Yamaha, after five for Honda and the rest for Suzuki. Brookes was the top scorer of the weekend, just ahead of double race winner Ryuichi Kiyonari. Shane Byrne was next, but therefore he lost 13 points of his championship advantage. Will the gap close further next time out?
Standings after fifteen races: Byrne 313; Brookes 244; Kiyonari 202; Linfoot 156; Bridewell 142; Walker 136; Ellison 124; Easton 119; Hopkins 90; Waters 75.
podium credits: Byrne 50, Brookes 35, Kiyonari 25, Ellison 9, Waters 5, Walker 4, Cooper 3, Bridewell, Easton, Farmer and Linfoot 1.