Casey Stoner wins an eventful Italian GP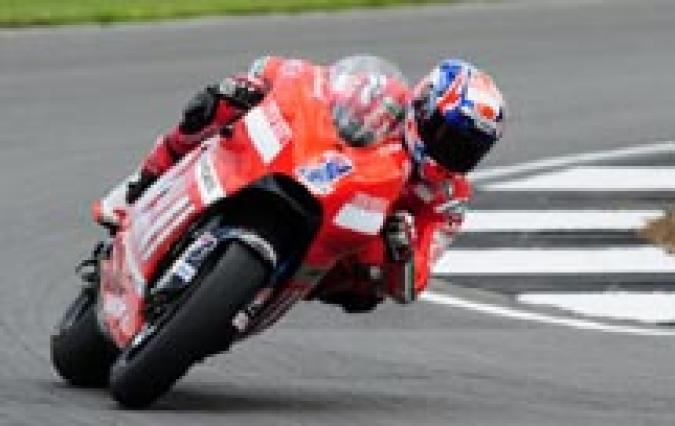 © Empics / PA Photos
By Dan Moakes
June 1 2009
It was all very close at the top of the 2009 MotoGP World Championship, as Yamaha rider Valentino Rossi failed to score in France. His team-mate Jorge Lorenzo led the way, with two wins from four races, and Rossi tied with Ducati's Casey Stoner just a point behind. But round five was on Rossi's home ground - he has won the last seven Italian Grands Prix at Mugello.
Rossi has ridden for two manufacturers in the MotoGP class, winning at Mugello in 2002-03 on a 990cc Honda, in 2004-06 on a 990cc Yamaha, and in 2007-08 on an 800cc Yamaha. But on top of that you can add his GP wins on a 125cc Aprilia in 1997, and a 250cc Aprilia in 1999. If anyone is the favourite at this track it has to be Valentino, and most of the fans there feel the same way. Only four of his current rivals have past GP wins at Mugello, and all were in the 250 class, apart from Loris Capirossi's 500cc success back in 2000.
But then again, how would Rossi get on if conditions matched the flag-to-flag wet-dry race at Le Mans two weeks earlier? On that occasion he'd got the tactics wrong and missed out on a podium finish for the first time since Assen last summer. It was his first no-score since the end of 2007. On race day in Italy it looked like being another rain affected event, but surely Rossi always learns from his mistakes and is too good to make many in the first place.
Before race day there was qualifying, and Fiat Yamaha had their man on pole position - but Rossi was fourth, and that meant Lorenzo was fastest on the sister bike. Second went to lap record holder Stoner on the Marlboro Ducati, and third was a bit more unexpected as it went to Rizla Suzuki rider Capirossi. The 36-year-old had not been on the front row of the grid since this race last year. Next to Rossi, the leading Honda was that of fifth man Randy de Puniet, with his LCR customer machine.
Colin Edwards completed the second row with his Tech 3 Yamaha, and only then did the works Repsol Honda guys appear, with Andrea Dovizioso seventh and then Dani Pedrosa. Toní Elías made it three Hondas on that row with his Gresini team example ninth. Another Honda in tenth was ridden by Yuki Takahashi, the best qualifying so far for the class rookie from the Scot Racing team.
P11 was occupied by Chris Vermeulen for Rizla Suzuki, and then came Gresini Honda man Alex de Angelis. Another best qualifying saw Niccolò Canepa, presumably with circuit knowledge, take P13 for Pramac Ducati. James Toseland (Tech 3) was next, from Marco Melandri (Hayate Kawasaki), Nicky Hayden (Marlboro Ducati) and Mika Kallio (Pramac). Sete Gibernau was absent with the injury sustained in France.
Race day did indeed see wet weather hit the partly resurfaced track, but this had passed by the time of the action. However, the surface was wet and drying, riders would not be starting on dry weather tyres, and so the flag-to-flag rules came into effect. Even before that, pole man Lorenzo managed to crash his first bike on the warm-up lap, proving the slippery nature of the wet circuit. He had to go to the final grid on his alternative bike, set up for the dry but with wet weather tyres. His team would fix his main bike before the pit stop period.
With this in mind, Lorenzo got a bad start, which he would explain as being down to the rear Bridgestone tyre sliding. The man going to the lead initially was de Puniet, followed by Pedrosa, neither from the front row, with Dani quick to take over in front of the Frenchman. Also prominent initially were Vermeulen and Dovizioso, then Stoner. As positions shuffled while riders gauged the grip available, Chris, Andrea and Casey were all quick to squirm past Dani and Randy. Rossi was next, with Lorenzo recovering to pass Capirossi for P7; then Edwards, Melandri, Elías, Toseland and Hayden.
Vermeulen, Dovizioso and Stoner seemed to have the best wet weather pace, but Stoner also had the best straightline speed with his Ducati. He had moved into second, and then used the bike's power to go past the Suzuki on the left along the lengthy main straight, Rettilineo, with Chris also having to fend off Andrea on the inside for the right-handed San Donato first corner. With de Puniet already dropping back into the pack, Rossi took over fourth from Pedrosa, with a battle between Lorenzo, Capirossi and Melandri following.
Dovizioso was back into second when he went to the inside of Vermeulen across the start-finish line. He then had a go at passing Stoner for the lead, only to see the Ducati go straight back through. Meanwhile, Rossi was setting fastest lap as he distanced himself from those behind. Lorenzo had dealt with Capirossi and then gone past Pedrosa, and it was Jorge who was fastest now, with Melandri tagging on behind.
Vermeulen sat behind in third as Stoner and Dovizioso disputed first place. Andrea was in front but then Casey went back in front on the power, only for the Italian rider to reverse this on the brakes for San Donato. Rossi was catching them, and soon it was more like a four man group. Melandri passed Lorenzo for fifth, with Pedrosa and Capirossi still in touch. From 14th, four laps into the race Toseland decide to gamble on an early bike change stop, his other bike being on the harder compound slick tyres.
Dovizioso was now moving into a lead of around 0.8s, and at this stage Rossi was able to use the slipstream from Vermeulen's Suzuki to go past on the inside for San Donato. Valentino then got through on Stoner for second, getting on the inside for the long left-handed final Bucine corner. All the while Melandri had been catching the first four, and he now went to the right of Vermeulen across the line, and made the pass. Next he went past Stoner on the inside for the Casanova right-hander. Dovizioso led Rossi, Melandri, Stoner, Vermeulen and Lorenzo. Capirossi passed Pedrosa as these two lost touch.
Two laps after Toseland saw Canepa change bikes, and therefore to the softer slicks. A lap later it was the turn of de Puniet and Hayden, but the leaders stayed out as their pit crews no doubt watched the lap times of the men who had gone over to dry settings - Toseland was 2.4s off still. Rossi overtook Dovizioso on the line, with Melandri also homing in. At this stage, Lorenzo went past the two Australians in front of him for fourth. Now following Capirossi and Pedrosa were Elías, Edwards, Kallio and de Angelis.
Italian riders were one-two-three, and Melandri moved into second place behind Rossi when he got by Dovizioso inside at the long Correntaio right-hander. Andrea opted for his own pit stop at this stage, nine laps in, followed by Vermeulen, Capirossi, Pedrosa and Edwards. The first two continued on their way, and Melandri remarkably put his almost-works Kawasaki into the lead with a pass on Rossi. Lorenzo, Stoner, Elías, Kallio and Takahashi held the next positions, then the leading men who'd stopped - Dovizioso, Vermeulen and Capirossi.
Those who had not changed bikes made the switch a lap after Dovizioso. One man who had done so was de Angelis, but at this stage he managed to crash in one of the gravel traps, although he did get his bike going again. Takahashi did the same and it was game over. With the final pit-stoppers emerging again, Melandri retained his lead but, with a lap's momentum, Dovizioso was soon with the Kawasaki and going past. Third man Rossi was also quickly overhauled by Lorenzo and Stoner (who was straight out of the pits with the Italian pair), and Capirossi also passed Valentino.
Dovizioso was back into a reasonable lead, but Melandri was having a bit of difficulty. After passing Lorenzo, Stoner got ahead of Marco coming out of Bucine as the Kawasaki went wide. Jorge then dived inside the 26-year-old Hayate rider at San Donato. In no time, Melandri was also losing out to Capirossi and then Rossi, with Loris then battling Lorenzo for third. Eleventh man Toseland was now setting the fastest lap and he scorched past riders, including Vermeulen and de Puniet, to pop up in seventh.
Now Dovizioso's lead was over Stoner, with Capirossi in tow. Lorenzo held fourth, and then came Rossi (with hard slick tyres on his Yamaha). But Casey was fastest at this stage, and he went back in front on the power over the line on the right hand side of the Honda. The other Repsol rider was having a worse time, as Pedrosa crashed going out of Casanova and had to be stretchered as he seemed to have hurt his already injured hip.
With the track now mostly dry, Capirossi passed Dovizioso for second, and he then prevented former team-mate Stoner from pulling away as these two raced for the lead. Loris went to the inside of Casey over the line to overtake, but the Ducati had more power than the Suzuki next time through. In front again, Stoner bettered Rossi's recent fastest lap and now proceeded to build enough of a lead to be comfortable. Valentino was in touch with fourth man Lorenzo, but then the 22-year-old found better pace and caught Dovizioso.
The final laps saw Stoner maintain his advantage, but behind him Lorenzo was charging. He went into third on the inside of Dovizioso at Bucine, then went after Capirossi who was using the softer rear tyre. Lorenzo went ahead over the start-finish line and Capirossi then braked late for San Donato, going wide but at least staying in front of the closely pursuing Rossi - Valentino had by now got Andrea at San Donato.
The last two laps saw Lorenzo apparently getting closer to leader Stoner, but it wasn't enough to make a challenge. Casey would say that he'd won despite some clutch problems. Meanwhile, Capirossi was unfortunate enough to lose third to Rossi in a pass at Casanova, and at San Donato on the final lap he was also relegated by Dovizioso, who then followed the Yamaha man across the line. Valentino said that his harder tyres had prevented him challenging for the win.
Melandri's hold on sixth had been brief enough, with Toseland and de Puniet (also on a hard rear) the first to get by. These two had then battled for the position whilst Marco would also have Edwards, Canepa and Vermeulen getting ahead later on. Hayden dropped back from holding ninth at one stage. James was in front of Randy by the time Colin caught them, and then the Texan went past both in the last couple of laps. He was sixth, from Toseland, de Puniet, Canepa, Vermeulen, Melandri, Hayden, Kallio, Elías and the lapped de Angelis.
Valentino Rossi's run of wins at Mugello was broken, but he was reasonably happy to secure third given the circumstances of the race. But Casey Stoner had ridden the best race, and had the right tactics, and surely benefited by being less tentative straight out of the pits than some of his rivals. His 18th class win equalled that of compatriot Wayne Gardner. Given his pre-race misdemeanour, Jorge Lorenzo was delighted to come through into second place, and described it as his best ride. Andrea Dovizioso had done a notable job despite not reaching the podium, and will perhaps now be a more likely challenger than team-mate Dani Pedrosa in overall terms after the Spaniard's crash. They are now only a point apart.
An Italian bike came in first, and Italian riders third and fourth, but two of their number had gone well only to be disappointed. Loris Capirossi couldn't sustain the lead on his Rizla Suzuki, but was still well up there in the late stages and at least held onto fifth for his best finish of the year to date. Marco Melandri also made his mark, this time before the pit stops, but again couldn't sustain what might have been another miracle result for Hayate Kawasaki. Eleventh seemed less than he deserved. The second Italian bike was that of Niccolò Canepa, in a good ninth, and then Nicky Hayden moved onto a GP points total of 1000 with his relatively lowly P12 on the works Ducati. Will it be fully dry next time?
Standings after five races: Stoner 90; Lorenzo 86; Rossi 81; Pedrosa 57; Dovizioso 56; Melandri 48; Edwards 45; Capirossi 38; Vermeulen 37; de Puniet 34.
Yamaha 115; Ducati 90; Honda 76; Suzuki 49; Kawasaki 48.