Sunny end for Ferrari, Alonso and fans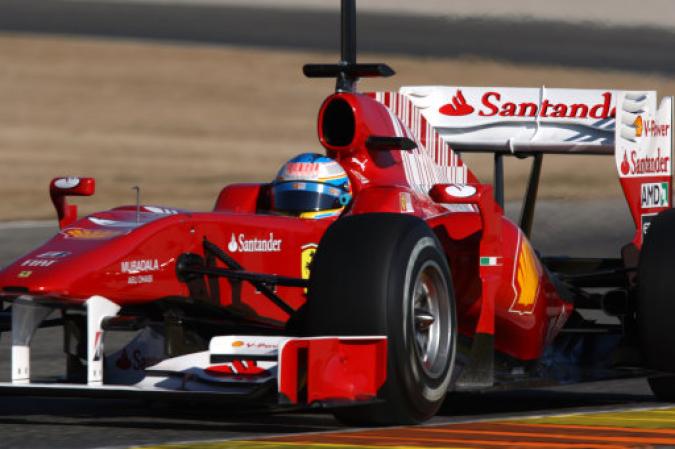 No rain, all gain
By Tifosa
February 20 2010
Ferrari had its best day yet, as the test in Jerez closed out today in much better fashion than the first two days. Sunshine greeted the many fans who thronged the venue to see Fernando Alonso in action and he did not disappoint as the rain finally stayed away completely.
Cheered on by fans in the packed grandstands, Alonso completed 137 laps in total, including a 50-lap race simulation in the afternoon. His best time of 1m.20.436s placed him 6th and he also worked on different set-ups during the day. Meanwhile, world champion Jenson Button had the quickest lap of 1m.18.871s.
In general, Alonso was happy with what was accomplished over the past two days and wasn't particularly bothered by the other pace-setters. "I think that someone showed his muscles today, while we didn't," he said.
"We worked on the long run today and the signs we got are really positive." He admitted that Ferrari would like to improve but was coy regarding exactly what had to be worked upon. "Where we have to improve? There's always something to do, but telling you would mean I'd be like a goalie telling you about his weak point so all the strikers would hit there!"
After the miserable start to this test and the issues that plagued Felipe Massa, Ferrari can be satisfied with how things ended.While the team remains quite tightlipped about the mechanical gremlins that forced the Brazilian to stop for long hours on both his days in the car, it is possible these problems were related to new parts and not necessarily the new chassis.
The final test before the 2010 season opener at Bahrain, takes place at Catalunya from 25-28 February. The 4-day test kicks off with Alonso scheduled to drive for the first 2 days, and Massa the concluding 2 days.
Like to have your say? Join us in our Discussion Board and share your views!