SAUBER Enjoys Successful Rollout of C24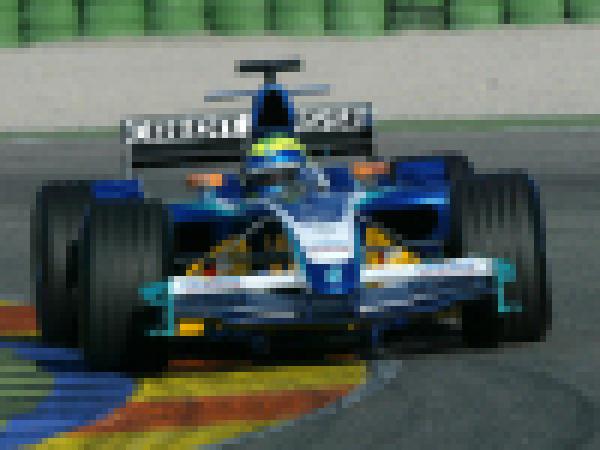 Good start for C24
By Jamie Makin
January 20 2005
After cancelling Tuesday's planned C24 launch in Kuala Lumpur, team SAUBER PETRONAS took to the test track in Valencia, Spain today with little fuss or ceremony. The C24 is the first effort created entirely in the team's new wind tunnel and the results are striking. The car is an all new design with features not seen on any other car to date. Most prominent are the curved sidepods and new upper element on the front wing. New 2005 regulations have dictated major changes to the front and rear wings as well as the diffuser.

Felipe Massa took the controls of the team's new challenger to give it its first workout. He completed 64 laps and set a fast time of 1:12.080. Despite the intention of the new regulations to cut speeds, this time is within a second of the times set by last year's C23. This is pretty remarkable considering the focus of today's test was more on reliability than on pure speed.

"The scheduled functionality and system tests such as cooling and electronics checks went well and we were able to get initial impressions of the car balance after the first set-up changes", Technical Director Willy Rampf explained. "The only problem we experienced was an overheating of the bodywork around the exhausts, but this was solved pretty quickly and we could continue to work according to plan. Overall things went well and I'm quite happy with the roll-out of the C24."

Felipe Massa was thrilled to be the one to have the first shot at the new car. "The fact that the team gave me the chance to do the baptism of our new car shows me that they put a lot of confidence and trust in me, which fills me with pride and makes me very happy," Massa said.

A driver's first impression of a new car can often indicate whether it will be a productive season or an uphill battle. Judging by Massa's optimism, it seems that SAUBER could be ready for a really good year. "I concentrated on giving as many comments on the car as possible to allow us to improve on the set-up, which we did quite a bit over the day. I think the C24 is really reliable, which will be an even more important issue this season. Running nearly 70 laps without major problems gives me an optimistic and positive feeling about the car. I believe we had a good start, although we will only see in Melbourne where we are."

Felipe Massa will continue tomorrow before Jacques Villeneuve takes over to complete the test on Sunday.
---