China: Massa Gives SAUBER a Happy Ending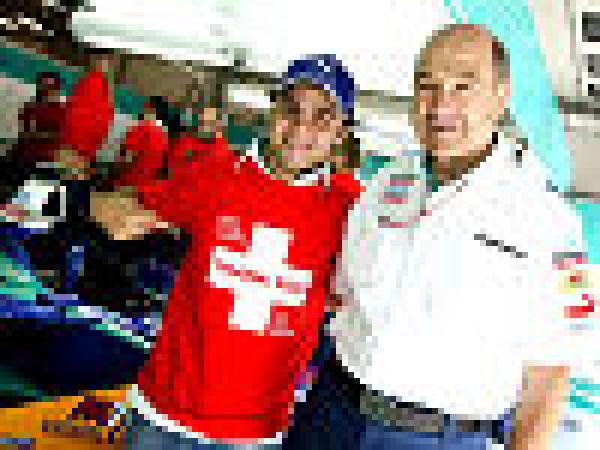 By SAUBER PETRONAS
October 16 2005
In Peter Sauber's last race as a Formula One Team Principal, Team SAUBER PETRONAS drivers Felipe Massa and Jacques Villeneuve finished 6th and 10th respectively in the season-ending Chinese Grand Prix in Shanghai.

Jacques Villeneuve:

"I was unlucky because I lost out in both safety car incidents. On each restart I had trouble getting heat into the front tyres. But later on I was very lucky to avoid getting involved in Karthikeyan's accident. I saw smoke everywhere and thought he would come back across towards me, which he did. I just missed him and the nose of his car which had become detached, but I did hit some debris. After that I had good clean fights with Monteiro and Trulli. It's frustrating because we ran low downforce and were quick on the straight, and overall our pace was good today."

Felipe Massa:

"The car was much better than I expected. The turning point of the race was when we decided to stay out when the second safety car period began. But on the restart I really had to push massively hard to open out enough of an advantage to make a later stop. I had flat-spotted the left front tyre and that lost me a lot of grip, but towards the end I had no trouble keeping Webber behind me. After I crossed the line Peter promised me a car for finishing sixth, so I'm really glad I didn't have to give it up! On a more serious note, it was a wonderful way to thank Peter and this great team and to finish the World Championship and the history of the Sauber era. For me, P6 was as good as a podium today."

Peter Sauber (Team Principal):

"This was one of the most emotional days of my time in Formula One, for both myself and for the team. It was a very exciting race with a happy ending. When the safety car came out the second time Willy Rampf decided on a high-risk strategy to keep Felipe out, and Felipe rose superbly to the occasion to do everything he needed to do to make that work. It was perfect teamwork, which complemented the reliability of the SAUBER PETRONAS C24. Jacques' race was going well until the first safety car period, after which he lost the rhythm.

"I want to thank everyone on the team for doing an excellent job today and over the past 13 years, and all our fans back home in Switzerland and around the world for the unfailing support we have enjoyed so much during our memorable time in Formula One."