China: JV and JPM Clash Over Suzuka Incident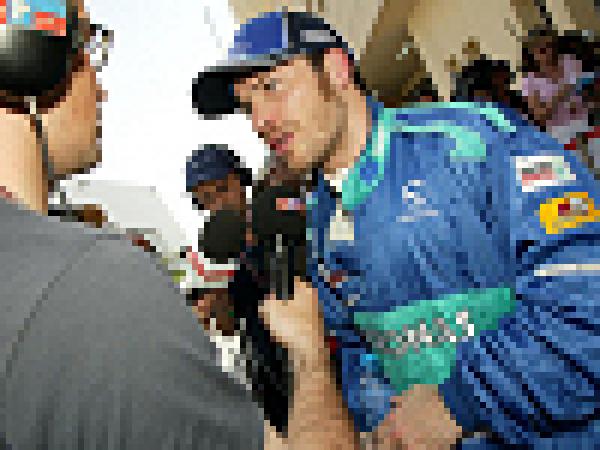 By FIA
October 15 2005
Jacques Villeneuve and Juan Pablo Montoya were forced to face each other in the FIA's Thursday press conference leading up to this weekend's Chinese Grand Prix. Not surprisingly, they disagreed on their incident at Suzuka last weekend.

Q: The last time you two (Juan Pablo Montoya is sitting beside him) were side-by-side might have been in Suzuka and it didnít come off so well. What was your version of it, Jacques?

JV: I was a bit surprised when I saw Juan Pablo in the wall. When youíre racing and you go through a corner, you only leave room if the guyís next to you. If the person is still behind you just take your line and you expect the other person to lift, because he hasnít won the corner. Thatís all. I was concentrating on the straight line and once I got on the straight, I looked in the mirrors to see where he was and I saw him in the wall so I was a bit surprised. I guess Juan Pablo judged that he would be next to me by the time we got to the exitÖ

Juan Pablo MONTOYA: I was.

JV: No you werenít. If you had been next to me, it would have been front wheel against front wheel. Being next to one means that your front wheel is next to his front wheel. If youíre behind the front wheel, then youíre not next to the person, youíre not in the line of sight.

Q: So you didnít agree with what the stewards had to say.

JV: No, definitely not. I spent all my career always accepting blame when Iíve done something wrong, and this time I wonít accept blame and I find it very very disappointing because the next step is when someone tries to overtake you, you just lift in the middle of the straight line and let him by. I find that a little bit dangerous, mostly when you see that some drivers will put another one on the grass in the middle of a straight-line and thereís no punishment for that. So I find that a little bit difficult to accept.

Q: Juan Pablo?

JPM: What heís saying in a way is true. The rules are so inconsistent with everybody that itís very hard to judge. In a way he got a penalty, but in a way he didnít. He got a 25 second penalty when he finished 12th. What does that matter? It doesnít change anything. Itís kind of ridiculous that you give a penalty to someone who finished 12th which is probably going to drop him a place. Wow, 13th. I think I was side-by-side with Jacques. When I came out of the chicane, he came across the track to block me. I went the other way, when I came down the circuit I was beside him. It doesnít matter. It happens. He said he didnít see me and when he looked it was too late butÖ I tried not to hit wheels. If you touch wheels you would probably end up in the grandstand or something and I would just rather finish one car in the wall than one in the grandstand.