Last Test as Team SAUBER PETRONAS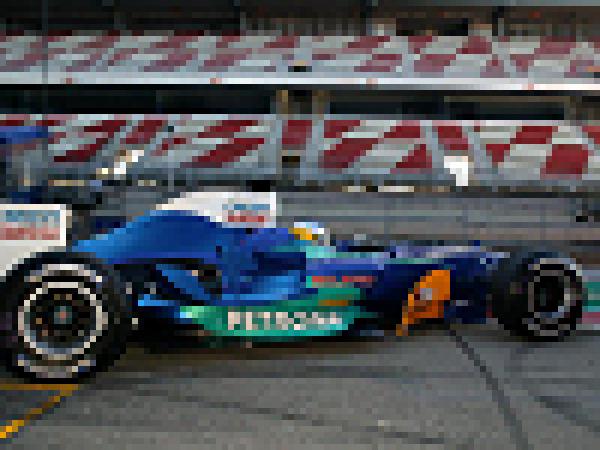 By Jamie Makin
December 15 2005
The Sauber Petronas team wrapped up their three-day test session at Jerez today with Nick Heidfeld at the wheel. They worked on tyre, engine and cooling system tests but their running was cut short by an exhaust system problem that could not be fixed at the track.

Today marks the last time the team will appear under Peter Sauber's ownership and the SAUBER PETRONAS name. When they return to testing at Jerez from 11 to 13 January, they will be under BMW's control. BMW will debut their new 2006 car the following week at Valencia.

For full 2005 post-season test results click here.


| | | | | | | | |
| --- | --- | --- | --- | --- | --- | --- | --- |
| P | Driver | Team | Engine | Car | Tyre | Best Lap | Gap |
| 1 | M Schumacher | Ferrari | Ferrari | F2005 | B | 1:18.953 | -:--.--- |
| 2 | Massa | Ferrari | Ferrari | F2005 | B | 1:19.060 | 0.107 |
| 3 | Montagny | Renault | Renault | R25 | M | 1:19.066 | 0.113 |
| 4 | Kovalainen | Renault | Renault | R25 | M | 1:19.100 | 0.147 |
| 5 | Davidson | BAR | Honda | BAR007 | M | 1:19.877 | 0.924 |
| 6 | Zonta | Toyota | Toyota | TF106 | B | 1:20.035 | 1.082 |
| 7 | Montoya | McLaren | Mercedes | MP4/20 | M | 1:20.168 | 1.215 |
| 8 | Carroll | BAR | Honda | BAR007 | M | 1:20.170 | 1.217 |
| 9 | Panis | Toyota | Toyota | TF106 | B | 1:20.342 | 1.389 |
| 10 | de la Rosa | McLaren | Mercedes | MP4/20 | M | 1:20.492 | 1.539 |
| 11 | Rosberg | Williams | Cosworth | FW27 | B | 1:20.597 | 1.644 |
| 12 | Heidfeld | Sauber | BMW | C24B | M | 1:20.700 | 1.747 |
| 13 | Webber | Williams | Cosworth | FW27 | B | 1:21.453 | 2.500 |