BMW Announce Sauber Purchase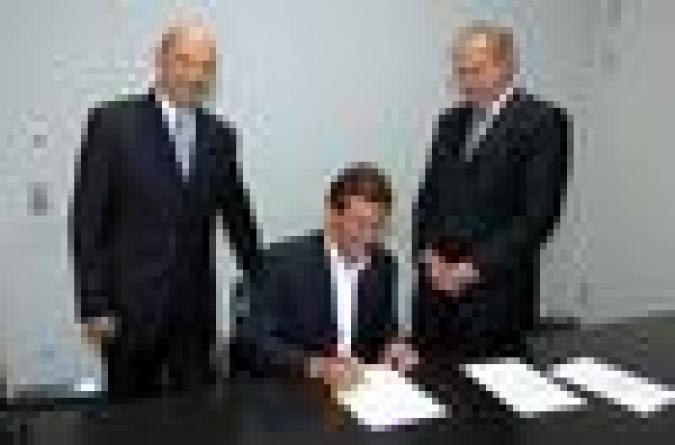 By BMW Motorsport
September 17 2005
BMW is striking out on a new path in Formula One. After acquiring a majority shareholding in the Swiss Sauber team, a BMW managed team will contest the Formula One World Championship as early as 2006. This was decided by the BMW Board of Management on Tuesday. It means that, for the first time in company history, BMW will be competing independently in Formula One.

Professor Burkhard Göschel, BMW Board Member for Development and Purchasing:

"This decision is a strong, long-term affirmation of BMW's commitment to Formula One. We anticipate that Formula One will emerge strengthened from the current restructuring phase and that it will continue to represent the top echelon of motor sport for the future as well. For BMW, Formula One is thus the right platform for demonstrating our competence as a car manufacturer.

"Success in Formula One increasingly depends on the perfect interplay of all factors. That is why we have resolved to extend our involvement beyond our present role of engine partner. With a team managed by BMW we will, as of next year, take on responsibility for the entire package, which will include the key factors of the chassis, tyres and drivers.

"Naturally this decision impacts on our partnership with WilliamsF1. We want to discuss the future options together with WilliamsF1 in order to find the right way forward for both sides.

"We do not expect instant success from the new constellation, but we are convinced that we have chosen the right path for the long term."

Dr Mario Theissen, BMW Motorsport Director:

"The realignment of our Formula One strategy is based on two insights. Firstly, the influence of the engine on the winning potential of the overall package has diminished; the car, tyres and drivers play a greater role than they used to. Secondly, from our point of view, an optimal overall package can only be achieved with a fully integrated team and coherent processes throughout.

"In restructuring we are taking account of these insights. At Sauber we have found a solid foundation for vehicle development and production, along with the requisite know-how and one of the most modern wind tunnels. The results achieved there so far are worthy of respect in the light of the team's limited budget.

"BMW will not only maintain this foundation but build on it. That applies both to the facilities and to the staff. Additional workplaces will be created at the Sauber headquarters in Hinwil. The new team will be managed as a fully integrated project from two locations, as has long been standard practice at BMW for series production.

"We are aware that we face a learning curve, that although you can plan success you can't buy it off the peg. After showing that BMW is capable of building the best Formula One engine, we are starting out as it were at apprenticeship level on the complex task of tackling the vehicle as a whole. That demands patience and stamina. We possess both, as well as a concrete work programme. The technical cooperation has already begun.

"In the partnership with WilliamsF1 we have celebrated successes together and taken the team forward. Both partners today are stronger than at the outset of our joint venture and are thus equipped for the future. What that future will look like will be decided over the next weeks. Irrespective of that decision, we are concentrating on the current season. We still have quite a few goals for this year and we will apply all our powers and professionalism to implement them together with WilliamsF1."

In parallel with that, based on the Board's decision, the new structure with managerial and key positions, including the driver line-up, and the name of the new team will be worked out by the takeover date of 1st January 2006. Development of resources are being driven forward with urgency and immediate effect.

The team will present itself to the public at the beginning of 2006. The factory in Hinwil will continue to be operated as a legally independent Swiss company linked to BMW Motorsport.

The expansion of BMW's Formula One involvement will not impinge on other BMW motor sport projects. In future, BMW will continue its commitment to touring car racing – both in the new World Touring Car Championship (FIA WTCC) and in leading individual events such as 24-hour races. Formula BMW with its four series in Asia, Britain, Germany and North America will also continue. This year it will feature a world final for the first time.

Peter Sauber:

"For Sauber, the partnership with BMW is an ideal solution as it supports the two goals which have always been paramount for me: firstly, to offer the team the possibility of improving their sporting performance, and secondly, to safeguard the site at Hinwil and the jobs of today's 300-strong workforce.

"The involvement of six car manufacturers has resulted in significant changes to Formula One in recent years. For the private teams in particular it has become increasingly difficult to secure the kind of solid financing that will also allow for sporting success. For some years I have also been thinking in terms of succession planning – in the light of the very specific demands of Formula One, that is no easy matter.

"The partnership with BMW guarantees continuity. For that reason, too, it represents an ideal solution, because I know it will give the workforce a very good outlook. Over more than 35 years, I have guided this company through often stormy seas, which is why it is so important for me to know that it will be in good hands in future as well."

"The new partnership is also made possible by Credit Suisse, which over the next three years will successively sell off its shares in Sauber Holding AG to BMW as well. Credit Suisse took over these shares in 2002 with a view to placing them with suitable investors in due course.

Urs Rohner, Member of the Executive Board of Credit Suisse Group:

"We are looking forward to working with BMW. What you associate with BMW and Sauber are, on the one hand, longstanding experience in motor racing and, on the other, efficiency and dedication. That creates an ideal basis for a successful team. Credit Suisse, moreover, will be an Official Partner of the team for the next three years."