Jacques Villeneuve Returns to Testing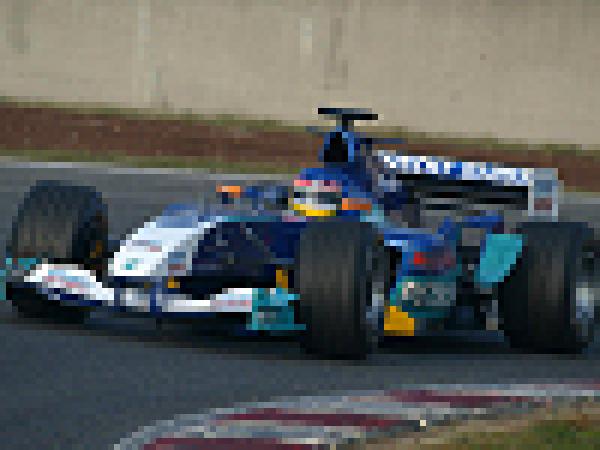 By Jamie Makin
December 13 2005
Jacques Villeneuve returned to the cockpit of the Sauber for the first time since BMW confirmed him as one of their race drivers for next season. His first lap of Jerez with the new BMW V8 engine did not start off well, when the engine shut down due to an oil filter problem. However, he was able to complete 62 laps in the afternoon after the engineers sorted out the problem.

Despite this, Villeneuve remained positive about the experience. "It's always nice to get into the car after the break. Furthermore, it was the first time for me with BMW and the V8 engine, and this was nice," said the Canadian.

"Of course, it's hard to compare the V8 with the V10, but I was expecting a bigger loss of power and more vibrations. It was not too bad and actually quite nice to drive. In fact you do feel a little loss of power, but it doesn't make driving less fun. The speed in the corners seems to be the same while you are going slower on the straights. Nevertheless, the driving will still be exciting and physical. Hopefully since we are all going less fast on the straights this will give us a bigger tow and this could mean more overtaking in the future."

Villeneuve will be back behind the wheel tomorrow as the team continues to test and develop the V8 engine.

For full 2005 post-season test results click here.


| | | | | | | | |
| --- | --- | --- | --- | --- | --- | --- | --- |
| P | Driver | Team | Engine | Car | Tyre | Best Lap | Gap |
| 1 | Badoer | Ferrari | Ferrari | F2005 | B | 1:18.327 | -:--.--- |
| 2 | Button | BAR | Honda | BAR007 | M | 1:19.094 | 0.767 |
| 3 | Kovalainen | Renault | Renault | R25 | M | 1:19.287 | 0.960 |
| 4 | Montagny | Renault | Renault | R25 | M | 1:19.483 | 1.156 |
| 5 | Briscoe | Toyota | Toyota | TF106 | B | 1:19.563 | 1.236 |
| 6 | Trulli | Toyota | Toyota | TF106 | B | 1:19.935 | 1.608 |
| 7 | Webber | Williams | Cosworth | FW27 | B | 1:20.343 | 2.016 |
| 8 | Rosberg | Williams | Cosworth | FW27 | M | 1:20.464 | 2.137 |
| 9 | Paffett | McLaren | Mercedes | MP4/20 | M | 1:20.484 | 2.157 |
| 10 | Rossiter | BAR | Honda | BAR007 | M | 1:20.603 | 2.276 |
| 11 | Coulthard | Red Bull | Cosworth | FW27 | B | 1:20.854 | 2.527 |
| 12 | Wurz | McLaren | Mercedes | MP4/20 | M | 1:20.895 | 2.568 |
| 13 | Klien | Red Bull | Cosworth | FW27 | B | 1:21.08 | 2.753 |
| 14 | Gene | Ferrari | Ferrari | F2005 | B | 1:21.122 | 2.795 |
| 15 | van Hooydonk | Midland | Toyota | TF106 | B | 1:21.625 | 3.298 |
| 16 | Villeneuve | SAUBER | PETRONAS | C24B | M | 1:21.684 | 3.357 |
| 17 | Monteiro | Midland | Toyota | TF106 | B | 1:24.367 | 6.04 |