China: Michelin Sets Pace on Opening Day in China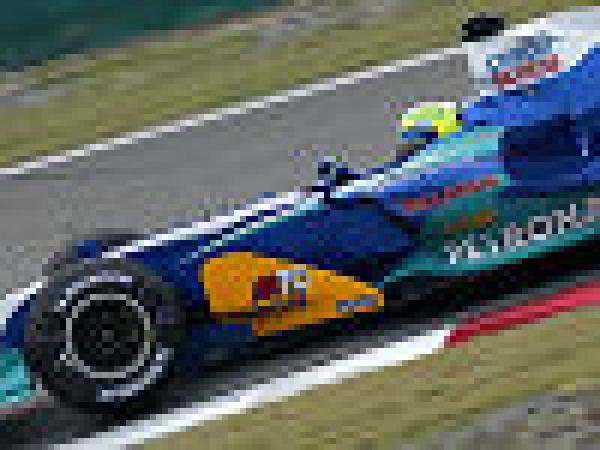 By Michelin Sport
October 15 2005
McLaren/Michelin test driver Pedro de la Rosa posted the fastest time on the opening day of the season's 19th - and final - world championship grand prix at the Shanghai International Circuit.

The Spaniard lapped the 5.451-kilometre (3.424-mile) track in 1m 32.854s this afternoon, 0.143s clear of fellow test driver Ricardo Zonta (Toyota).

Kimi Räikkönen (Team McLaren Mercedes) was third on aggregate and swiftest of the regular racers, on 1m 34.092s. World champion Fernando Alonso (Renault, fourth) led the remaining Michelin runners, ahead of Juan Pablo Montoya (Team McLaren Mercedes, fifth), Giancarlo Fisichella (Renault, seventh), Mark Webber (BMW WilliamsF1 Team, eighth), Jenson Button (B·A·R -Honda, ninth), Felipe Massa (Sauber-Petronas, 10th), David Coulthard (Red Bull Racing, 11th) and Vitantonio Liuzzi (Red Bull Racing, 12th).

The Chinese Grand Prix is also the last scheduled event for team principals Peter Sauber (who has sold out to BMW) and Paul Stoddart (whose Minardi operation will become a Red Bull junior team in 2006).

Pierre Dupasquier, Michelin Motorsport Director:

"Although our engineers gathered plenty of data when we first raced on this track in 2004, the rules governing tyres and aerodynamics have changed significantly since then so we have had to factor in a new range of parameters."

"There hasn't been a great deal of difference between our 'prime' and 'option' compounds today, but that is a by-product of the unexpectedly cool track temperatures. Their individual performance characteristics should be amplified in the warmer conditions we expect tomorrow - and that's something our engineers will have to bear in mind when finalising compounds this evening. From what we have seen so far, however, it is likely that both will be used in the race."

"As for the damaged right -rear tyre on Christian Klien's Red Bull, it is clear that he ran over something sharp and quite large. There was a significant hole in the tread surface - and it was far too big to have been caused by a shard of carbon."