Productive Final Day at Barcelona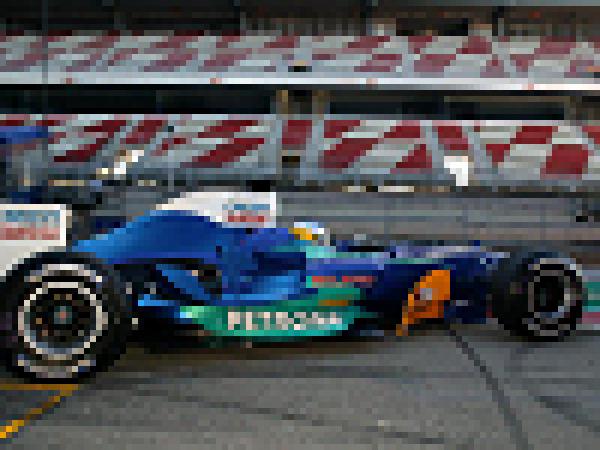 Nick Heidfeld
By Jamie Makin
December 13 2005
After yesterday's test session was cut short with a fuel leak, the SAUBER and BMW mechanics worked hard overnight on repairing the problem. They also worked out new setup changes in hopes of improving laptimes. Their efforts paid off as Nick Heidfeld's fastest time of the day eclipsed their previous best by over three seconds. Additional data on the BMW P86 V8 engine was obtained before switching to tyre testing for Michelin.

BMW Motorsport Director Mario Theissen was pleased with the team's progress. "This was a successful first joint test," he declared. "It was important that we could run the BMW P86 engine in the Sauber chassis at this early stage, in order to integrate all technical systems. This is the beginning of the testing season, and there is naturally a lot of work to be done. The co-operation at the track as well as the preparation of the interim chassis went very well - it was the first joint task of the new team. This test was the first one of our four that we will be conducting with the interim car before launching the 2006 contender on January 16 and 17."

The team will take a week's break before kicking off a three-day test in Jerez, Spain on 8 December.

For full 2005 post-season test results click here.


| | | | | | | | |
| --- | --- | --- | --- | --- | --- | --- | --- |
| P | Driver | Team | Engine | Car | Tyre | Best Lap | Gap |
| 1 | Button | BAR | Honda | BAR007 | M | 1:14.111 | -:--.--- |
| 2 | Montagny | Renault | Renault | R25 | M | 1:15.848 | 1.737 |
| 3 | Trulli | Toyota | Toyota | TF106 | B | 1:17.019 | 2.908 |
| 4 | Zonta | Toyota | Toyota | TF106 | B | 1:17.44 | 3.329 |
| 5 | Heidfeld | SAUBER | PETRONAS | C24B | M | 1:17.559 | 3.448 |
| 6 | Coulthard | Red Bull | Cosworth | RB1 | M | 1:18.392 | 4.281 |
| 7 | Lopez | Renault | Renault | R25 | M | 1:18.428 | 4.317 |
| 8 | Klien | Red Bull | Cosworth | RB1 | M | 1:18.471 | 4.360 |
| 9 | Liuzzi | Toro Rosso | Cosworth | RB1 | M | 1:19.065 | 4.954 |
| 10 | Webber | Williams | Cosworth | FW27 | B | 1:19.625 | 5.514 |
| 11 | Rosberg | Williams | Cosworth | FW27 | B | 1:20.444 | 6.333 |