Villeneuve Posts Fastest Time at Jerez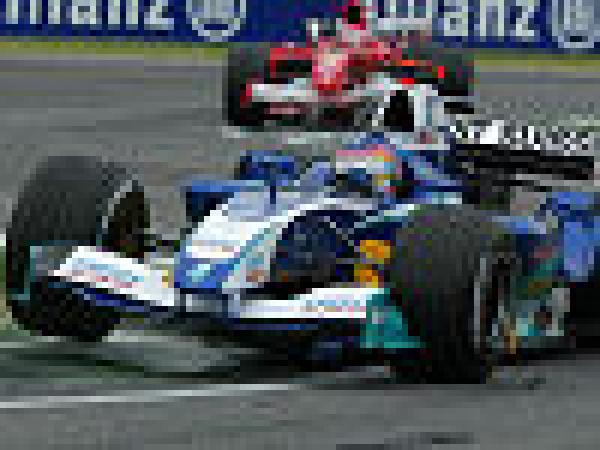 By Jamie Makin
December 13 2005
Jacques Villeneuve's first week of testing this winter ended on a high as he set the fastest lap out of ten drivers today at Jerez. He logged 101 trouble free laps in the C24B, concentrating on engine and tyre development work.

The team will resume testing next wee at Jerez from 13 to 15 December.

For full 2005 post-season test results click here.


| | | | | | | | |
| --- | --- | --- | --- | --- | --- | --- | --- |
| P | Driver | Team | Engine | Car | Tyre | Best Lap | Gap |
| 1 | Villeneuve | SAUBER | PETRONAS | C24B | M | 1:18.782 | -:--.--- |
| 2 | de la Rosa | McLaren | Mercedes | MP4/20 | M | 1:19.533 | 0.751 |
| 3 | Zonta | Toyota | Toyota | TF106 | B | 1:19.805 | 1.023 |
| 4 | Trulli | Toyota | Toyota | TF106 | B | 1:19.870 | 1.088 |
| 5 | Wurz | McLaren | Mercedes | MP4/20 | M | 1:20.219 | 1.437 |
| 6 | Gene | Ferrari | Ferrari | F2005 | B | 1:20.246 | 1.464 |
| 7 | Winkelhock | Midland | Toyota | EJ15B | B | 1:20.856 | 2.074 |
| 8 | Rusinov | Midland | Toyota | EJ15B | B | 1:21.990 | 3.208 |
| 9 | Albers | Midland | Toyota | EJ15B | B | 1:22.683 | 3.901 |
| 10 | Del Monte | Midland | Toyota | EJ15B | B | 1:24.350 | 5.568 |