China: Alonso Secures Michelin's 100th F1 Pole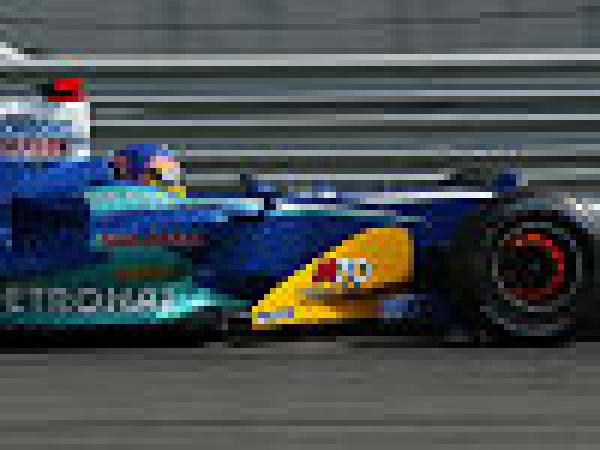 By Michelin Sport
October 15 2005
Fernando Alonso (Renault) has taken Michelin's 18th pole position of the season - and the 100th in the company's illustrious Formula One history. The 2005 world champion lapped the Shanghai International Circuit in 1m 34.080s

to outpace team-mate Giancarlo Fisichella by 0.321s and take the ninth F1 pole of his career.

Kimi Räikkönen will line up third for Michelin partner McLaren Mercedes, while Michelin drivers Jenson Button (B·A·R -Honda, fourth), Juan Pablo Montoya (Team McLaren Mercedes, fifth), David Coulthard (Red Bull Racing, seventh), Ralf Schumacher (Toyota, ninth) and Mark Webber (BMW WilliamsF1 Team, 10th) have also qualified in the top 10.

Kimi Räikkönen (McLaren -Mercedes/Michelin) was fastest in this morning's final free practice sessions. The Finn lapped in 1m 33.212s - 0.342s clear of team-mate Juan Pablo Montoya.

After missing part of yesterday's free practice when a suspension problem caused him to spin, Williams driver Antonio Pizzonia was in the wars again this morning. He missed part of the first morning session after running off the track at Turn Nine.

Pierre Dupasquier, Michelin Motorsport Director:

"This 100th F1 pole is a nice way to sign off my career. Life has changed considerably over the years - I remember in 1979 that we'd bring 12 sets of qualifying tyres per car to each race, six batches of two different compounds! We were very successful in those days but have also mastered the more restrictive regulations of recent seasons."

"Our 'prime' and 'option' tyres will both feature in tomorrow's grand prix. Thus far we haven't been generating particularly spectacular first- lap performance - but our speed and consistency over long runs has been excellent."

Nick Shorrock, director of Michelin F1 activities:

"Track temperatures still haven't reached the levels we were anticipating and our engineers have put in a fantastic amount of effort to fine-tune set-ups that improved operating conditions for our tyres. We would prefer slightly higher temperatures tomorrow, but in the circumstances I've been very pleased with our performance and would like to thank the whole group for its unstinting hard work. It is also fitting that we are celebrating our 100th F1 pole position ahead of Pierre's final race - a significant landmark at the end of a long and very distinguished career."

Pat Symonds, executive engineering director, Renault F1 Team:

"Michelin provided us with two very competitive dry-weather compounds this weekend and it wasn't easy to make a final selection. That is a tribute to the quality of its products. Whatever the outcome tomorrow, the whole 2005 season has been a testament to the high standard of Michelin's work."