C24 Shows First Gremlins on Final Day of Test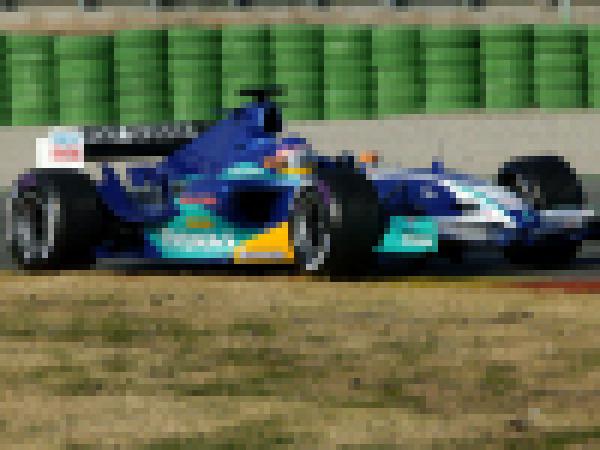 A difficult day
By Jamie Makin
January 16 2005
Jacques Villeneuve was eager to have his first run in the SAUBER PETRONAS C24 today but the car encountered its first problems limiting his running. He managed only 23 laps due to electrical and hydraulic problems. As such his best time was just 1:14.239, over 2 seconds slower than the best Felipe Massa set the prior two days. This test session was not about speed though, but about reliability and is intended to diagnose and correct these problems early in the car's life cycle. As such, the team still gained useful information.

"After two almost trouble-free days we lost a lot of valuable running time today due to a few minor technical problems with the electric and the hydraulic system," explained Technical Director Willy Rampf. "However, to find out such difficulties in an early stage is the reason why we have roll-outs."

"Overall we are quite happy with the results of these test days. On Friday we successfully completed the roll-out of the C24, and we were able to confirm that all major systems such as cooling and brakes are working properly."

The test also confirmed that the changes to the 2005 regulations have made the car more nervous and require more driver skill to tame. Villeneuve had a spin today and his comments echo those made by Felipe Massa. "At the first day you always have to expect problems. Although Felipe had two good days, my day today wasn't very useful," rued Villeneuve. "However, concerning the car itself I can say that I feel comfortable in it, but because I couldn't do a lot of test work I cannot tell a lot. I'll see more on next Wednesday. But you can feel that the car is more nervous now. The reasons for this are mainly the different end of braking and turning into the corner. I now look forward to the next test where we will start to work on the car's balance."

Villeneuve will be at the wheel of the C24 again on Wednesday and Thursday in Valencia. Will these same mechanical problems haunt him again? "For the forthcoming test, which we will conduct here in Valencia instead of Barcelona, we will have solved these problems and start with the set-up work," Rampf assured.

The team had planned to move to Barcelona for a test from 19 to 21 January, but problems with the new track surface has forced them to stay in Valencia. Oil has been seeping through Barcelona's new tarmac making it slippery and test results meaningless. Most of the teams had planned to test in Barcelona next week, including Ferrari, Williams, BAR, Renault, Toyota and Red Bull. There is no word yet on whether these teams will join Sauber in Valencia or move to other tracks.
---