More Productive Day in C24 for Villeneuve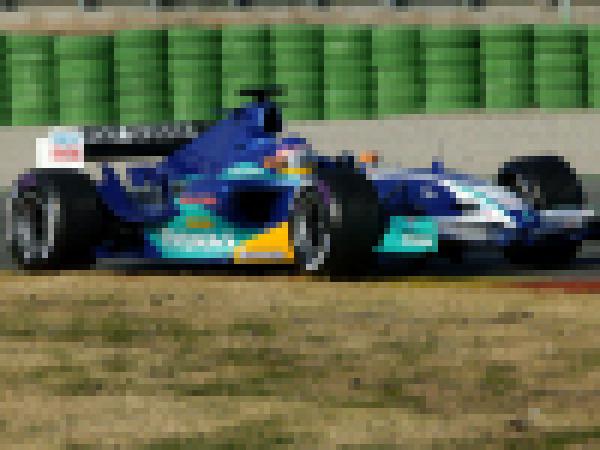 Jacques Villeneuve
By Jamie Makin
January 20 2005
Jacques Villeneuve was back in action in the SAUBER PETRONAS C24 at Valencia, Spain today. Despite persistent high winds at the circuit, he enjoyed a far more productive day than his first test on Sunday. Villeneuve completed 92 laps to set a fast time of 1:12.225. His time compares favorably with the times set by teammate Felipe Massa last week and against the rival teams present at this week's test. He was a mere 0.010 second behind the BAR Honda of Jenson Button and 0.068 ahead of Takuma Sato. BAR Honda was running their new 2005-spec BAR007 today and is expected to be one of the most competitive teams in the coming season. SAUBER's times compare favorably with BAR which could indicate the small Swiss team has made big strides over the winter break. It should also be noted that SAUBER and BAR were the only teams present running full 2005-spec cars, while McLaren and Renault were running hybrids. Still, SAUBER will be searching for more pace in forthcoming tests.

Villeneuve had a lot more time to familiarize himself with the new car and begin working on set-ups. "Today was a good and long work day, and much better than my last test," said the French-Canadian. "In the morning the handling of the car was a bit difficult, particularly because of the very windy weather conditions, but at the end it was much better. However, we still have to work on it. The long-runs we did were consistent and comparative, but the one-lap pace still leaves room for improvements."

Villeneuve's new race engineer, Giampaolo Dall'Ara agreed with is view. "I think it was a good and productive day. At the beginning it was a bit difficult to get up to pace, but this is normal at the beginning of a new season," he assured.

These are still early days for the C24 and work on basic set-up and reliability are still the focus of the team's work. "The strong wind today made it quite difficult and was affecting the test, but apart from this we had a trouble-free day and covered a lot of laps. This was particularly important as we are still in the stage of getting to know the car and to check its functions and systems in order to gather further information on its reliability," Dall'Ara explained. "We basically worked on the set-up of the C24 and did some Michelin tyre comparisons to get used to the tyres according to the new regulations. If everything goes in line with the plan we will start with more in-depth Michelin work with Felipe on Friday."

Tomorrow will be Villeneuve's final day at the wheel of the C24 for this week's test.


| | | | | | | | |
| --- | --- | --- | --- | --- | --- | --- | --- |
| P | Driver | Team | Engine | Car | Tyre | Best Lap | Gap |
| 1 | Montoya | McLaren | Mercedes | MP4/19 | M | 1:11.307 | -:--.--- |
| 2 | Montagny | Renault | Renault | R24 | M | 1:11.371 | 0.064 |
| 3 | Button | BAR | Honda | BAR007 | M | 1:12.215 | 0.908 |
| 4 | Villeneuve | SAUBER | PETRONAS | C24 | M | 1:12.225 | 0.918 |
| 5 | Sato | BAR | Honda | BAR006 | M | 1:12.293 | 0.986 |
For full 2005 pre-season test results
click here.
---