Mixed Results from Barcelona Test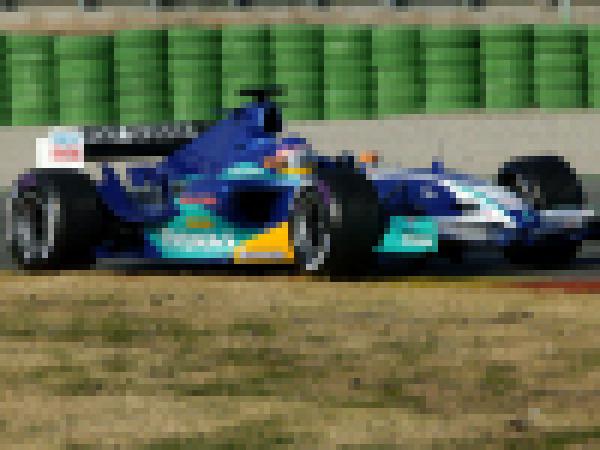 Jacques in action
By Jamie Makin
January 30 2005
Team SAUBER PETRONAS completed its three-day test at the Circuit de Catalunya today. The conditions remained cold and unfavorable to the Michelin tyres which was reflected in the laptimes. Jacques Villeneuve only managed a best time of 1:18.117 over 80 laps, which was 2.7 seconds off the pace of the leading Ferrari. The times for both SAUBER and Ferrari remained consistent throughout the three day session.

The team continues to struggle with finding a setup that will give them a quicker pace. "Unfortunately our test here in Barcelona ended not the way we have wished for. At the final timed lap Jacques experienced oversteer while accelerating out of turn 9 and went off track," said technical director Willy Rampf. "Fortunately Jacques was unharmed, but we now, of course, have to analyse the data to get a correct and thorough picture of the reason for this incident."

On the positive side, the C24 and the Petronas-badged Ferrari engine have clearly inherited the teams' trademark reliability which could give them a distinct advantage in the coming season. "The positive aspect of this test is that we achieved our set goal to complete an engine long-run," said Rampf. "We simulated a two-race weekend situation and covered almost 1,400 kilometres with one PETRONAS engine without any problem. Overall, the last three test days demonstrated the reliability of the C24. Our target for the forthcoming tests - whereby we will run with two cars from now - will be to further work on the car's set-up and hence the improvement of the balance."

Jacques Villenueve is still working on making himself at home in the team an finding a comfortable setup on the car. "Today we mainly concentrated on aerodynamic tests and assessed several different front wings, and were able to gather quite a lot of useful data and information. Of course, I'm disappointed that I went off track at our penultimately scheduled lap, but at least it was just before the finish of today, so we didn't lose much valuable time," the French-Canadian driver said.

SAUBER will return to the test track at Jerez, Spain from 8 to 10 February with two cars scheduled to run each of the three days.


| | | | | | | | |
| --- | --- | --- | --- | --- | --- | --- | --- |
| P | Driver | Team | Engine | Car | Tyre | Best Lap | Gap |
| 1 | Badoer | Ferrari | Ferrari | F2004 | B | 1:15.41 | -:--.--- |
| 2 | M Schumacher | Ferrari | Ferrari | F2004 | B | 1:15.975 | 0.565 |
| 3 | Villeneuve | SAUBER | PETRONAS | C24 | M | 1:18.117 | 2.707 |
For full 2005 pre-season test results
click here.
---