SAUBER Still off the Pace as Testing Resumes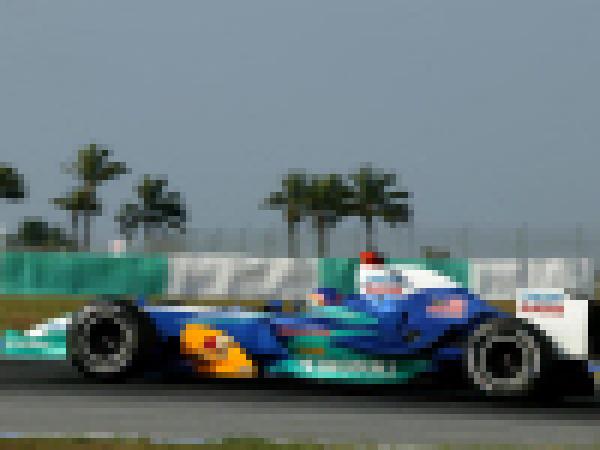 By Jamie Makin
April 10 2005
Team SAUBER PETRONAS started their first test since the season began at the Circuit de Catalunya in Barcelona, Spain today. Jacques Villeneuve was at the wheel of chassis C24-05 and set a best time of 1:18.100. Unfortunately for Villeneuve and the team, that time fell 3.7 seconds short of the days quickest driver, Pedro de la Rosa in his McLaren Mercedes. Villeneuve came closest to the time of Olivier Panis' Toyota, who was just under a second ahead of him. With twelve other drivers from seven other teams present, SAUBER knows they still have a lot of work ahead of them.

Even though today's test focused evaluating new parts and working on car setup, the results were not the encouragement the team hoped for. "The two main issues this week will be aerodynamic work and – testing here in Barcelona the last time before May – race preparation for the Spanish Grand Prix," explained race engineer Giampaolo Dall'Ara.

"Today we focused on set-up and aerodynamic work and were able to find some valuable results. However, we are still not where we want to be and need to work on it. Tomorrow we have also planned to run Michelin tyre tests."

SAUBER will spend two more days at the Spanish circuit with Villeneuve on duty again tomorrow and Massa taking over on Friday.

For full 2005 pre-season test results click here.


| | | | | | | | |
| --- | --- | --- | --- | --- | --- | --- | --- |
| P | Driver | Team | Engine | Car | Tyre | Best Lap | Gap |
| 1 | de la Rosa | McLaren | Mercedes | MP4/20 | M | 1:14.398 | -:--.--- |
| 2 | Zonta | Toyota | Toyota | TF105 | M | 1:14.510 | 0.112 |
| 3 | Coulthard | Red Bull | Cosworth | RB1 | M | 1:14.715 | 0.317 |
| 4 | Alonso | Renault | Renault | R25 | M | 1:14.951 | 0.553 |
| 5 | Wurz | McLaren | Mercedes | MP4/20 | M | 1:15.200 | 0.802 |
| 6 | Heidfeld | Williams | BMW | FW27 | M | 1:15.344 | 0.946 |
| 7 | Pizzonia | Williams | BMW | FW27 | M | 1:15.448 | 1.050 |
| 8 | Fisichella | Renault | Renault | R25 | M | 1:15.455 | 1.057 |
| 9 | Davidson | BAR | Honda | BAR007 | M | 1:15.498 | 1.100 |
| 10 | Gene | Ferrari | Ferrari | F2005 | B | 1:15.726 | 1.328 |
| 11 | Button | BAR | Honda | BAR007 | M | 1:16.119 | 1.721 |
| 12 | Panis | Toyota | Toyota | TF105 | M | 1:17.120 | 2.722 |
| 13 | Villeneuve | SAUBER | PETRONAS | C24 | M | 1:18.100 | 3.702 |