Massa Takes Over Testing One Day Early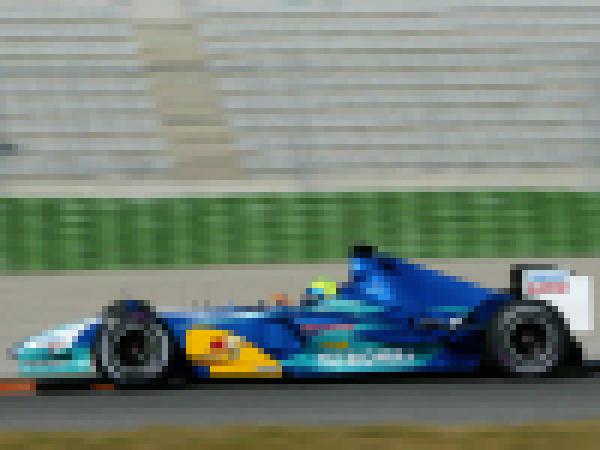 By Jamie Makin
April 10 2005
Rumours of Jacques Villeneuve's replacement were reignited today when the team made the surprise move to put Felipe Massa in the car for testing at the Circuit de Catalunya in Barcelona, Spain today. But Hanspeter Brack claimed there was nothing sinister about the team's decision. "The objective of our test in Barcelona is to evaluate new aerodynamic components," Brack told Pitpass.com. "Our times were so slow and inconsistent on Wednesday, that the engineers are not certain about the cause. It was therefore decided to continue the test with Felipe Massa in order to have another reference."

Villeneuve was probably breathing a bit of a sigh of relief by the end of the day though, as Felipe Massa's best time was not much better than his own. Villeneuve had been 3.702 seconds behind the leading McLaren Mercedes of Pedro de la Rosa yesterday. Massa drove 83 laps in chassis C24-05 but could only come as close as 3.390 seconds of today's leading car, the BAR Honda of Jenson Button.

While Villeneuve may take some comfort in knowing that the problem seems to lie in the C24 instead of himself, the team as a whole has clearly got a long road ahead of them to get the C24 competitive. Their development and testing budget are limited compared to their richer rivals, but that hasn't stopped the small Swiss squad from staying optimistic.

"In the morning we first adapted the car's set-up to Felipe's driving style," said race engineer Giampaolo Dall'Ara. "We then mainly concentrated on evaluating mechanical development parts as well as new aerodynamic components. At the end of the test day we did a long-run with decent pace as part of our race preparation. Overall, we could feel an improvement today, but still need more understanding to meet our goals."

With rain in the forecast, Felipe Massa will finish the week's test tomorrow. There appears to be an upcoming test at Fiorano but we do not have dates or a confirmation on that just yet. Fiorano is Ferrari's private test track and we had previously understood that SAUBER's switch to Michelin this year would prevent them from testing there. We will clarify this situation as soon as information becomes available.

For full 2005 pre-season test results click here.


| | | | | | | | |
| --- | --- | --- | --- | --- | --- | --- | --- |
| P | Driver | Team | Engine | Car | Tyre | Best Lap | Gap |
| 1 | Button | BAR | Honda | BAR007 | M | 1:13.552 | -:--.--- |
| 2 | Trulli | Toyota | Toyota | TF105 | M | 1:14.231 | 0.679 |
| 3 | Sato | BAR | Honda | BAR007 | M | 1:14.247 | 0.695 |
| 4 | Wurz | McLaren | Mercedes | MP4/20 | M | 1:14.391 | 0.839 |
| 5 | Barrichello | McLaren | Mercedes | MP4/20 | M | 1:14.645 | 1.093 |
| 6 | Alonso | Renault | Renault | R25 | M | 1:14.670 | 1.118 |
| 7 | Badoer | Ferrari | Ferrari | F2005 | B | 1:14.761 | 1.209 |
| 8 | Zonta | Toyota | Toyota | TF105 | M | 1:14.826 | 1.274 |
| 9 | Raikkonen | McLaren | Mercedes | MP4/20 | M | 1:14.929 | 1.377 |
| 10 | Heidfeld | Williams | BMW | FW27 | M | 1:14.932 | 1.380 |
| 11 | Coulthard | Red Bull | Cosworth | RB1 | M | 1:14.957 | 1.405 |
| 12 | Fisichella | Renault | Renault | R25 | M | 1:15.018 | 1.466 |
| 13 | Pizzonia | Williams | BMW | FW27 | M | 1:15.141 | 1.589 |
| 14 | Webber | Williams | BMW | FW27 | M | 1:16.050 | 2.498 |
| 15 | Massa | SAUBER | PETRONAS | C24 | M | 1:16.942 | 3.390 |
| 16 | Bernoldi | BAR | Honda | BAR007 | M | 1:17.243 | 3.691 |