Massa Wraps up Testing in Jerez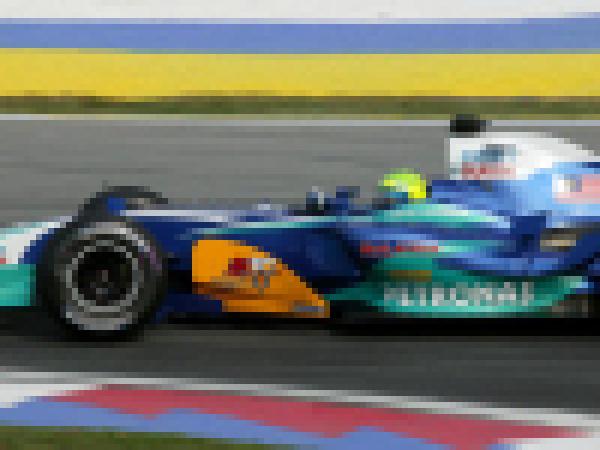 By SAUBER PETRONAS
June 24 2005
Team SAUBER PETRONAS completed its three-day test at the Circuito Permanente de Jerez today. Felipe Massa covered 87 laps in chassis C24-05 to set a best time of 1:17.376s. Paul Russell (Test Engineer):

"In the morning we further tested new aerodynamic parts and the new front wing which we brought here to evaluate worked well. Later we concentrated on long-runs to choose tyre options for Magny-Cours and achieved competitive lap times. We believe that we could set a good basis for the final tyre choice for the French Grand Prix.

"Overall, it was a decent test this week with good results and we were able to complete our programme as scheduled."

Team SAUBER PETRONAS will be testing again from 13 to 15 July in Jerez.

For full 2005 pre-season test results click here.


| | | | | | | | |
| --- | --- | --- | --- | --- | --- | --- | --- |
| P | Driver | Team | Engine | Car | Tyre | Best Lap | Gap |
| 1 | Button | BAR | Honda | BAR007 | M | 1:17.164 | -:--.--- |
| 2 | Alonso | Renault | Renault | R25 | M | 1:17.197 | 0.033 |
| 3 | Raikkonen | McLaren | Mercedes | MP4/20 | M | 1:17.346 | 0.182 |
| 4 | Massa | SAUBER | PETRONAS | C24 | M | 1:17.376 | 0.212 |
| 5 | Trulli | Toyota | Toyota | TF105 | M | 1:17.430 | 0.266 |
| 6 | Montagny | Renault | Renault | R25 | M | 1:17.649 | 0.485 |
| 7 | Sato | BAR | Honda | BAR007 | M | 1:17.669 | 0.505 |
| 8 | de la Rosa | McLaren | Mercedes | MP4/20 | M | 1:17.686 | 0.522 |
| 9 | Pizzonia | Williams | BMW | FW27 | M | 1:17.970 | 0.806 |
| 10 | Heidfeld | Williams | BMW | FW27 | M | 1:18.136 | 0.972 |
| 11 | Bernoldi | BAR | Honda | BAR007 | M | 1:18.570 | 1.406 |
| 12 | Speed | Red Bull | Cosworth | RB1 | M | 1:18.619 | 1.455 |
| 13 | Zonta | Toyota | Toyota | TF105 | M | 1:18.658 | 1.494 |
| 14 | Davidson | BAR | Honda | BAR007 | M | 1:18.678 | 1.514 |
| 15 | Liuzzi | Red Bull | Cosworth | RB1 | M | 1:19.681 | 2.517 |