Massa's Big Shunt Halts Jerez Test Session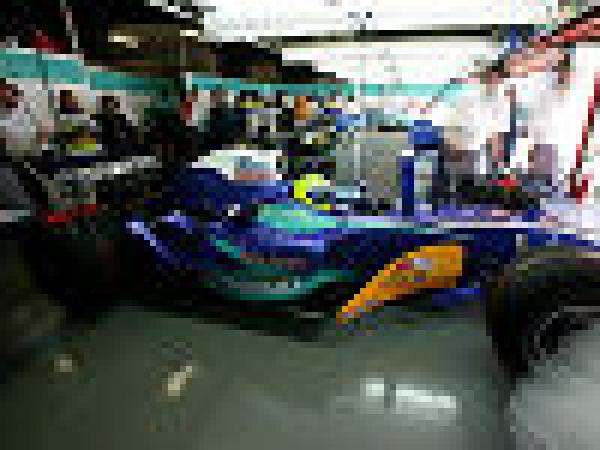 By SAUBER PETRONAS
July 15 2005
Team SAUBER PETRONAS continued its three-day test at the Circuito Permanente de Jerez today. Felipe Massa covered 39 laps in chassis C24-05 to set a best time of 1:16.843s. Tomorrow Jacques Villeneuve will take over the driving.
Paul Russell (Test Engineer):

"In the morning we had a very good session and achieved a decent lap time. Things went really well and we were trying to catch up the time we lost yesterday with the red-flag periods. Then Felipe unfortunately experienced a rear left rim failure caused by a foreign object trapped inside the suspension components. He went off track at the entry of turn 5 and damaged the car in such a way that it was not possible to go on with the test today. It's really a shame, but it's more important that Felipe is okay.

"We will rebuild the car and have it ready tomorrow morning for Jacques to concentrate on the major development programme items."

For full 2005 pre-season test results click here.


| | | | | | | | |
| --- | --- | --- | --- | --- | --- | --- | --- |
| P | Driver | Team | Engine | Car | Tyre | Best Lap | Gap |
| 1 | Montoya | McLaren | Mercedes | MP4/20 | M | 1:16.278 | -:--.--- |
| 2 | Sato | BAR | Honda | BAR007 | M | 1:16.755 | 0.477 |
| 3 | Massa | SAUBER | PETRONAS | C24 | M | 1:16.843 | 0.565 |
| 4 | Wurz | McLaren | Mercedes | MP4/20 | M | 1:16.896 | 0.618 |
| 5 | Montagny | Renault | Renault | R25 | M | 1:17.095 | 0.817 |
| 6 | Button | BAR | Honda | BAR007 | M | 1:17.132 | 0.854 |
| 7 | R Schumacher | Toyota | Toyota | TF105 | M | 1:17.542 | 1.264 |
| 8 | Fisichella | Renault | Renault | R25 | M | 1:17.665 | 1.387 |
| 9 | Zonta | Toyota | Toyota | TF105 | M | 1:18.192 | 1.914 |
| 10 | Coulthard | Red Bull | Cosworth | RB1 | M | 1:18.265 | 1.987 |
| 11 | Klien | Red Bull | Cosworth | RB1 | M | 1:18.582 | 2.304 |
| 12 | Heidfeld | Williams | BMW | FW27 | M | 1:18.843 | 2.565 |
| 13 | Pizzonia | Williams | BMW | FW27 | M | 1:21.831 | 5.553 |
| 14 | Panis | Toyota | Toyota | TF105 | M | 1:23.805 | 7.527 |