Villeneuve Continues Work in Monza Test Session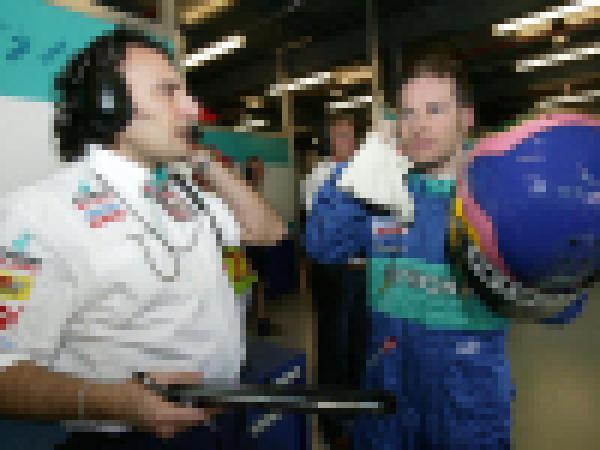 By SAUBER PETRONAS
August 25 2005
Team SAUBER PETRONAS continued its three-day test at the Autodromo Nazionale Monza today. Jacques Villeneuve covered 119 laps in chassis C24-05 to set a best time of 1:21.924s. Tomorrow Felipe Massa will take over to complete the test.

Paul Russell (Test Engineer):

"Today we finalised the race specification for Jacques' car and confirmed the aerodynamic parts for Monza. We also started to work with Michelin on the tyre selection programme for the forthcoming Grand Prix, which we will continue with Felipe tomorrow. Apart from this Felipe will help us to validate Jacques' results from the last two days and work out a basic set-up for his car for the Italian Grand Prix."


| | | | | | | | |
| --- | --- | --- | --- | --- | --- | --- | --- |
| P | Driver | Team | Engine | Car | Tyre | Best Lap | Gap |
| 1 | Montoya | McLaren | Mercedes | MP4/20 | M | 1:19.814 | -:--.--- |
| 2 | Raikkonen | McLaren | Mercedes | MP4/20 | M | 1:20.072 | 0.258 |
| 3 | M Schumacher | Ferrari | Ferrari | F2005 | B | 1:20.287 | 0.473 |
| 4 | Fisichella | Renault | Renault | R25 | M | 1:20.769 | 0.955 |
| 5 | Webber | Williams | BMW | FW27 | M | 1:20.983 | 1.169 |
| 6 | Alonso | Renault | Renault | R25 | M | 1:21.094 | 1.280 |
| 7 | Button | BAR | Honda | BAR007 | M | 1:21.243 | 1.429 |
| 8 | Sato | BAR | Honda | BAR007 | M | 1:21.448 | 1.634 |
| 9 | Badoer | Ferrari | Ferrari | F2005 | B | 1:21.508 | 1.694 |
| 10 | Coulthard | Red Bull | Cosworth | RB1 | M | 1:21.718 | 1.904 |
| 11 | Heidfeld | Williams | BMW | FW27 | M | 1:21.803 | 1.989 |
| 12 | Klien | Red Bull | Cosworth | RB1 | M | 1:21.909 | 2.095 |
| 13 | Villeneuve | SAUBER | PETRONAS | C24 | M | 1:21.924 | 2.110 |
| 14 | R Schumacher | Toyota | Toyota | TF105 | M | 1:22.148 | 2.334 |
| 15 | Montiero | Jordan | Toyota | TF105 | M | 1:23.39 | 3.576 |
| 16 | Doornbos | Jordan | Toyota | TF105 | M | 1:24.805 | 4.991 |
| 17 | Pastorelli | Jordan | Toyota | TF105 | M | 1:24.806 | 4.992 |
| 18 | Carroll | BAR | Honda | BAR007 | M | 1:25.099 | 5.027 |
| 19 | Kiesa | Jordan | Toyota | TF105 | M | 1:25.104 | 4.817 |
| 20 | Panis | Toyota | Toyota | TF105 | M | 1:26.125 | 5.356 |