Massa's Last SAUBER Test Complete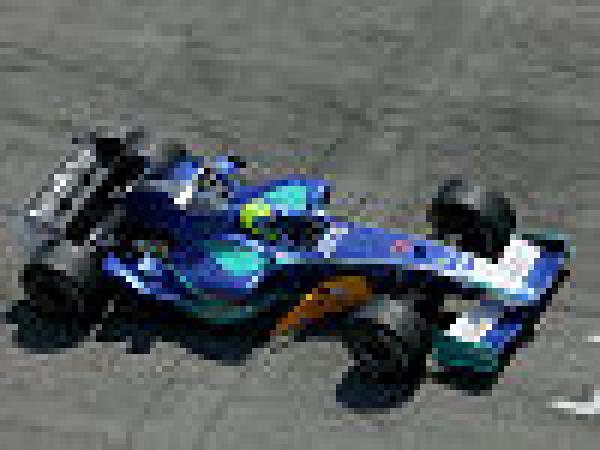 By SAUBER PETRONAS
August 26 2005
Team SAUBER PETRONAS completed its three-day test at the Autodromo Nazionale Monza today. Felipe Massa covered 88 laps in chassis C24-05 to set a best time of 1:22.094s.

Paul Russell (Test Engineer):

"In the morning the track was wet, but nevertheless we were able to sort out the Monza race specification for Felipe's car and finished our tyre selection work in the afternoon. In the course of the day we had to change the engine as it has reached it's mileage. Although this interrupted our schedule we could still complete our programme.

"This was the final test this season for us, and also the last one we did with Felipe and the Ferrari crew.

"Overall it was a good test and we gained decent results. Therefore we believe to be quite well prepared for the Italian Grand Prix next week."

Team SAUBER PETRONAS will be testing again from 28 to 30 November in Barcelona.


| | | | | | | | |
| --- | --- | --- | --- | --- | --- | --- | --- |
| P | Driver | Team | Engine | Car | Tyre | Best Lap | Gap |
| 1 | Alonso | Renault | Renault | R25 | M | 1:20.432 | -:--.--- |
| 2 | Fisichella | Renault | Renault | R25 | M | 1:21.183 | 0.751 |
| 3 | Davidson | BAR | Honda | BAR007 | M | 1:21.284 | 0.852 |
| 4 | Trulli | Toyota | Toyota | TF105 | M | 1:21.355 | 0.923 |
| 5 | Sato | BAR | Honda | BAR007 | M | 1:21.415 | 0.983 |
| 6 | M Schumacher | Ferrari | Ferrari | F2005 | B | 1:21.418 | 0.986 |
| 7 | Coulthard | Red Bull | Cosworth | RB1 | M | 1:21.608 | 1.176 |
| 8 | Heidfeld | Williams | BMW | FW27 | M | 1:21.644 | 1.212 |
| 9 | Klien | Red Bull | Cosworth | RB1 | M | 1:21.669 | 1.237 |
| 10 | Carroll | BAR | Honda | BAR007 | M | 1:21.748 | 1.316 |
| 11 | Massa | SAUBER | PETRONAS | C24 | M | 1:22.094 | 1.662 |
| 12 | Badoer | Ferrari | Ferrari | F2005 | B | 1:22.189 | 1.757 |
| 13 | Rosberg | Williams | BMW | FW27 | M | 1:22.327 | 1.895 |
| 14 | Karthikeyan | Jordan | Toyota | TF105 | M | 1:22.662 | 2.230 |
| 15 | Albers | Minardi | Cosworth | RB1 | M | 1:24.011 | 3.579 |