Profile: Alex Lloyd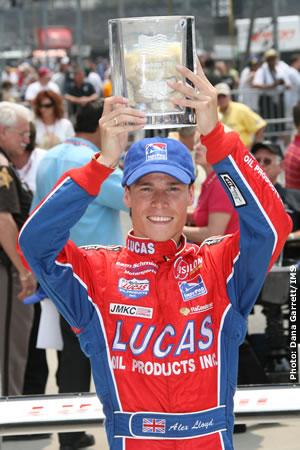 By Andrew Cutler
October 30 2007
2007 was been a whirlwind year for Alex Lloyd. The young Englishman has won the Indy Pro Series championship in dominating fashion and become a first-time father. Then he landed a contract with one of IndyCar's top teams; Target Chip Ganassi Racing.
Alex Lloyd's path through the lower echelons of racing started - of course - with karting, where he would become the 1999 British Open Champion. Stepping up to cars in 2001, Alex would place second in the Formula Ford Series race at Spa. That winter he ran in the Formula Renault UK Winter Series, finishing 3rd in the championship.
Alex moved to the Formula Renault Series in 2002, finishing 9th in the championship. For 2003 he was on to the UK Formula Renault Series, where he finished 2nd in the championship behind F1 driver Lewis Hamilton. In 2005 Lloyd competed in 7 F3000 races, claiming three poles and one victory. In 2007 he dominated the Indy Pro Series (the last stop on the developmental ladder to the IndyCar Series), winning eight of the sixteen races.
Besides serving as a test driver for the Ganassi squad in 2008, Alex would compete in the Indianapolis 500 in a joint effort between Ganassi & the Rahal-Letterman racing team. He would qualify 19th & finish in 25th spot after a late race crash.
Lloyd wouldn't see action again until the 2009 Indy 500, where he finished in the 13th spot. Frustrated with his situation at Ganassi, he left the team to explore his options elsewhere. Alex landed a drive for Newman-Haas-Lanigan for the season finale at Homestead-Miami, and finished an impressive 8th in what was undoubtedly an "audition" for a seat with them in 2010.
While his ride with Newman-Haas didn't result in a contract with them for 2010, it did attract the attention of dale Coyne Racing, who gave him a full time seat in the #19 car. Lloyd would help the small, shoe-string budget squad punch above it's normal weight class, posting an impressive 4th place finish at Indy and a further two top-ten results.
More IndyCar Racing headlines