Profile: Marco Andretti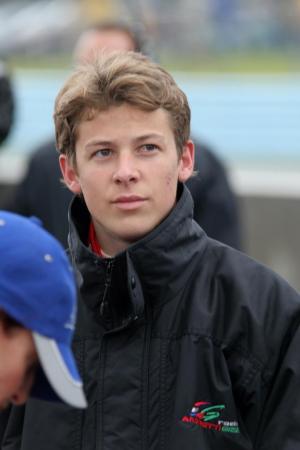 By Andrew Cutler
January 8 2008
Is there something in the genes of some families that makes them pursue the same sport for several generations, or is it simply that its all that they know as they are growing up? Whatever the reason, Marco is the third generation of the famous Andretti family to try and make his name in racing.
Marco reportedly "caught the racing bug" at the tender age of four when his father, Michael, won the CART season championship in 1991. By 1997, age ten, he was ready to start out in the world of karting. After compiling several regional series championships, Marco moved up to the national karting scene in 2002, where he quickly made a name for himself with several victories.
By 2003 Marco was ready to move up to cars. Joining the Skip Barber Dodge Eastern Series, he won eight races en route to the series championship and Rookie of the Year honors. 2004 saw him take championships in the Skip Barber Formula Dodge Southern Series and the Skip Barber national Series. For 2005 Marco ran a limited schedule in the Indy Pro Series, winning three times and gaining two other podium finishes in only six starts. He also drove in the Star Mazda Championship, notching three top fivie finishes.
By 2006 father Michael thought that young Marco (who had just turned nineteen) was ready for the INdyCar Series, and signed him to Andretti-Green Racing. After a lackluster first few races, Marco stunned - and impressed - the racing world with a stellar drive in the '06 Indy 500, being edged out at the finish line by Sam Hornish Jr. Later in the year Marco would claim his first - and, so far, only - IRL victory at the road course in Sonoma, CA.
The "sophmore slump" would plauge the young Andretti in 2007. Although he would place second twice and notch four other top five finishes, the rest of the seventeen race schedule would be marked by crashes and mechanical gremlins, and Marco would finish a distant eleventh in the championship standings.
2008 would be another up & down year, as Marco notched six top-five finshes, including a second at Homstead-Miami. He would also become the youngest ever pole winner, at Milwaukee. On the down side, there would be more crashes and mechanical gremlins, as well as two well-publicized on-track incidents with his teammates that gave rise to concerns about the intra-team "atmosphere" at AGR. Nonetheless, Marco would finish seventh in the championship hunt.
2009 would be another lack-luster year for Marco, who would only post two top-five results. He would improve on that mark in 2010 by notching three third place results, but his second career victory still eluded him.
Marco is expected back at Andretti Autosport in 2011.
More IndyCar Racing headlines