Profile: Will Power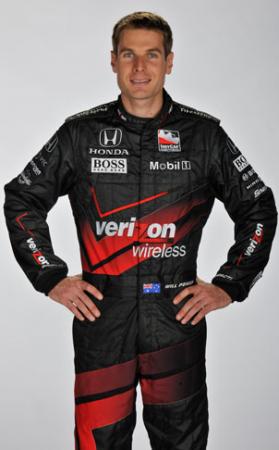 By Andrew Cutler
March 24 2008
Australia's Will Power is another promising young former CCWS driver who suddenly finds himself competing in the IndyCar Series after the last-minute merger of late February. This should be just the latest in a long series of challenges that he has proven himself capable of mastering.
After an early career that included finishing seventh in Australia's Formula Ford National Championship in 2000, and then 4th in 2001, Power did double duty in 2003, winning the Formula Holden Championship and placing second in the Australian F3 series.
In 2003 he moved to the UK to run in the British F3 series, notching four top-five results with a best of 2nd. The next year brought five podium finishes in F3, as well as a test with the Minardi F1 team.
2005 would be a busy year for Power as he competed in the World Series powered by Renault, winning twice and finishing seventh in the championship chase. He also competed for Team Australia in the A1GP weekend at Brands Hatch. Finally, he ran two CCWS events, placing 10th in the season-ender at Mexico City.
Since Power's 2005 stint in CCWs was so short, he was still eligible for rookie status in 2006, and he won the Rookie of the Year honors on the strength of three top-five and a further six top-ten finishes. He also qualified on pole for his "home" race, at Surfer's Paradise. 2007 would be a breakthrough year, with Power notching two victories, four polls and eight top-five results, leaving him fourth in the championship chase.
The move from CCWS to IndyCar has been especially strenious on Power, since his main sponser effectively pulled him from Walker Racing - the team that he had been driving for in CCWS - and moved him to KV Racing Technology at the last possible moment.
Power would notch six top-ten finishes in 2008, including a victory at the "Champ Car Finale" at Long Beach. After losing his sponsorship package when the IndyCar Series dropped the race at Surfers Paradise, Will looked to be without a ride for 2009. In January, however, he was announced by Team Penske as the replacement for Helio Castroneves while the Brazilian went on trial for tax evasion.
Will would run six races for Penske in '09, never finishing out of the top ten & winning at Edmonton. His stellar season won Power a full-time seat at Penske for 2010. he would take full advantage of the opportunity, scoring a season-best five wins, along with a further six top-five marks. He would place second in the championship chase.
Power will be back with Team Penske for the 2011 season.
More IndyCar Racing headlines