Profile: Raphael Matos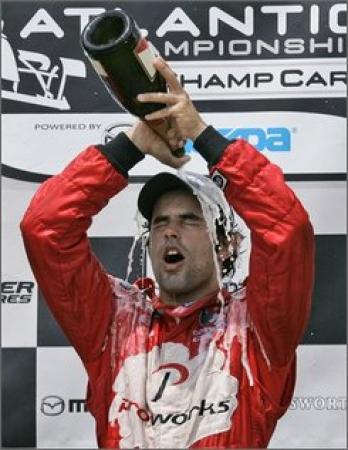 By Andrew Cutler
June 25 2009
Like many a young Brazilian, Raphael Matos grew up dreaming of becoming a race car driver. Setting out to turn his dream into a reality, "Rafa" - as most people call him - captured five karting championships as a teenager in his home country before moving to the US in 2002 to further his racing career.
Joining the Skip Barber Formula Dodge series in 2002, Matos would take the championship in 2003. Then it was on the the Star Mazda series in '04, capturing that championship in '05. It would be the same story in the Champ Car Atlantics ranks; rookie in '06 - champion in '07.
But while Raphael worked to conquer each successive series, he didn't pass up opportunities to dabble in others if the chace arose. In 2006 he ran in four Indy Pro (now known as Firestone Indy Lights) Series events, winning both races of double-header weekend at St. Petersburg, FL. Matos also ran a few select events in the 2006-2007 A1GP schedule for Team Brazil, and two American Le Mans Series races in 2007.
After capturing the 2007 Champ Car Atlantic Series tittle, Matos stunned the AOWR world by turning down the $2 million "scholarship" that would effectively buy him a seat in the Champ Car World Series for 2008, opting instead to join the Indy Pro Series full time, driving for Andretti-Green/AFS Racing. His move paid off as Champ Car would fold early in 2008, with several of the squads joining the IndyCar Series. Meanwhile, "Rafa" would go on the win yet another tittle, taking the Firestone Indy Lights (the name was changed early in 2008) championship in a tight battle with Richard Antinucci.
For 2009 Matos would move up to the IndyCar ranks, driving for Luczo-Dragon Racing, which has close ties to Team Penske and was expanding from a part time operation to runnig a full schedule for the first time. He would post eight top-ten finshes in what would be a "learning" year for both himself and the team.
Raphael was back with Luczo-Dragon Racing (the name changed to deFerran Dragon by mid-season) for the 2010 campaign, claiming two top-five finishes. However, there were only a further two top-tens to go along with them, resulting in a worse season overall than 2009.
It is not clear at this time what Matos' plans are for 2011, but the signing of Tony Kanaan by deFerran Dragon makes it doubtful that he will return to that squad.
View a Printer Friendly version of this Story.
Profile: Raphael Matos
Discussion started by Indy Racing League , 25/06/2009 13:04
Indy Racing League
25/06/2009 13:04
What do you think? You can have your say by posting below.
If you do not already have an account
Click here to Register
.
More IndyCar Racing headlines